Shiseido Co., Ltd.
A 30-day digital roadshow that conveys the appeal of Dolce & Gabbana beauty cosmetics [Second week] #Dolce & Gabbana Cosmetics

Proposing a smile that attracts happiness The Italian makeup brand Dolce & Gabbana Beauty, which offers a variety of beauty proposals as a brand that freely blooms charm and transforms into a gorgeous daily life, is by the DG family, who are loyal users of DG. Do a digital roadshow.
"THE CONFIDENT, FULLEST" that Dolce & Gabbana Beauty aims for will tell you about the appeal of Dolce & Gabbana Beauty cosmetics from various angles every day for two months in October and November. Please enjoy the moment that adds color and fun to your everyday life. [Image 1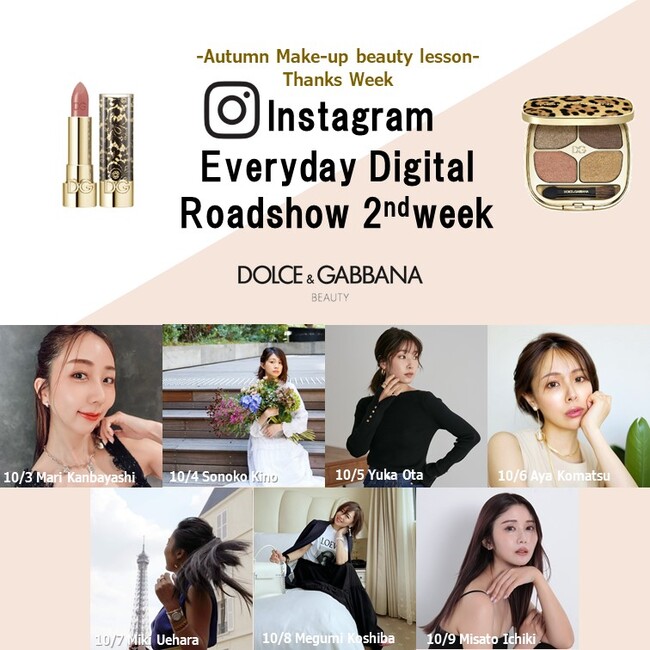 [Thanks Week Digital Roadshow ~ Week 2]
▶October 3 (Monday)
Mari Kanbayashi@maripo_jp
https://www.instagram.com/maripo_jp/
▶ October 4th (Tue)
Sonoko Kino@kinosonoko
https://www.instagram.com/kinosonoko/
▶Wednesday, October 5th
Yuka Ota@i_am_yuka19
https://www.instagram.com/i_am_yuka19/
▶October 6th (Thursday)
Aya Komatsu@i_am_ayakomatsu
https://www.instagram.com/i_am_ayakomatsu/
▶October 7th (Friday)
Miki Uehara@crazy_miki
https://www.instagram.com/crazy_miki/
▶October 8th (Sat)
Megumi Koshiba@megumi_koshiba
https://www.instagram.com/megumi_koshiba/
▶October 9th (Sun)
Misato Ichiki@misato_ichiki
https://www.instagram.com/misato_ichiki/
[Summary of recommended products for September]
[Image 2

Solar Glow Box -Set Product-
4 types: 5,000 yen each (5,500 yen each including tax)
An original set of two mini lips on a cushion foundation that creates a healthy and glossy skin reminiscent of the sparkling Mediterranean. *The foundation case is sold separately.
-set content-
Solar Glow Healthy Glow Cushion Foundation (Refill)*
The Only One Luminous Color Lipstick 150 Mini Size
The Only One Luminous Color Lipstick 670 Mini Size
・Contains Mediterranean Glow Complex (moisturizer)
・Oriental floral scent that makes you feel the Sicilian sun
[Image 3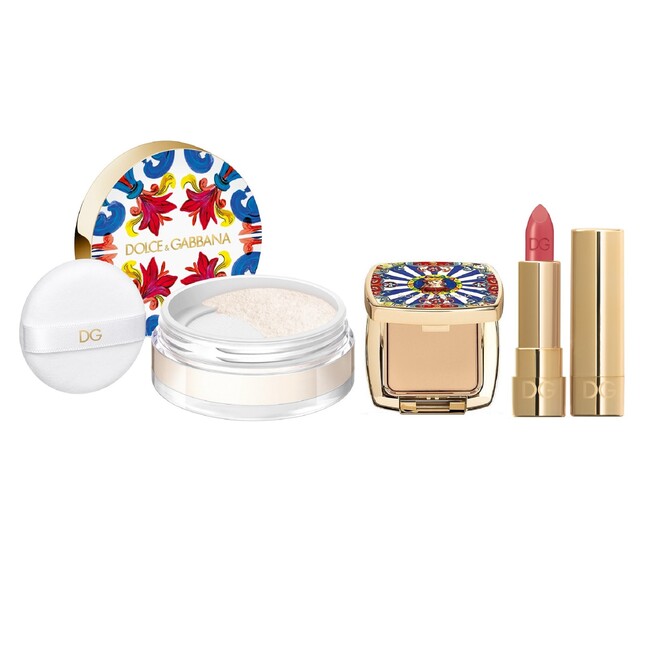 September 22 (Thursday) Nationwide sales
Dolce & Gabbana Mallorca Box II
2 types, 5,940 yen each including tax
The makeup set "Mallorca Box II" wraps the skin with a thin base to make it beautiful.
An original set of loose powder with a motif of Mallorca that makes you feel the Sicilian sun, mini pressed powder and mini lipstick. -set content-
・Solar Glow Translucent Loose Setting Powder 10g
・Solar Glow Ultra Light Bronzing Powder 00 Mini Size
・The Only One Luminous Color Lipstick 240 Mini Size
It blends into the skin like fixing makeup before you know it, giving you a bright skin tone. The powder, which does not feel heavy like air, creates an invisible veil that not only makes the skin beautiful and smooth, but also makes areas of concern less noticeable. The dedicated puff has an innovative design that evenly spreads the ultrafine powder. 1: Crystal and 2: Sand, which are versatile and reminiscent of the light of the Mediterranean Sea.