Applied Technology Co., Ltd.
A total of 50 sessions will be held under the theme of "co-creation" of architecture, civil engineering, and manufacturing.
A large-scale digital conference was held on October 26th with Professor Hiroaki Miyata of Keio University and Keishi Kouno, President of Autodesk Corporation.

"Insight&Solution Seminar" co-sponsored by Applied Technology Co., Ltd. (head office: Kita-ku, Osaka, President: Toshiro Funabashi, hereinafter referred to as Applied Technology) and transcosmos inc. (Co-presidents: Koichi Iwami, Masaaki Muta) 2022″ will be held. In this seminar, we will deliver more than 50 contents such as "cutting-edge case studies", "solution introduction" and "technical", divided into three categories: "BIM", "urban development" and "manufacturing".
[Image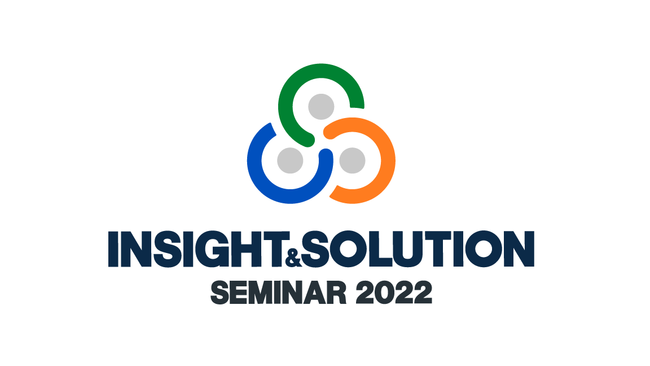 This year's main theme is "co-creation".
In order to realize your "Insight" with "Soluton," we believe that "co-creation" that transcends various fields, relationships, and objectives is essential. At this seminar, you can feel the form of "co-creation" practiced by experts from various fields, and we will provide you with hints for solving your problems.
Seminar overview
Title: Insight & Solution Seminar 2022
Date and time: October 26, 2022 (Wednesday) 10:30-18:00 (Archive viewing available until November 30)
Details and application: https://iss2022.event-info.com/
Embodiment: Online seminar (free)
(Viewable from a computer, tablet, or smartphone browser. No app installation required.)
-Session content (partial)-
・ "Let's talk about BIM in the future – Design BIM -" (Nihon Sekkei, Daiwa House Industry, Shimizu Corporation, Daikin Industries) ・"The future of manufacturing brought about by toDMG" (transcosmos, applied technology)
・"Environment and disaster prevention simulation using 3D city model (PLATEAU)" (applied technology)
*Lecturer company names are in no particular order.
*Lecture contents are subject to change.
*Please check the contents of all performances at
https://iss2022.event-info.com/
Introduction of keynote guest speakers
Hiroaki Miyata (Professor, Keio University School of Medicine) -profile-
Specializes in data science, scientific methodology, value
co-creation, data science, and other sciences to challenge social change and conduct research activities centered on contributing to improving reality. At the same time as working on various practices, including those outside the medical field, such as the National Clinical Database in which 5,000 hospitals participate in
collaboration with the specialist system, LINE and the Ministry of Health, Labor and Welfare's new corona national survey, we are also collaborating with various stakeholders such as the World Economic Forum. and create a new social vision.
One of Miyata's social visions for "co-creation" is a "resonant society" in which life resonates to create a diverse society, and each person shines while experiencing that world together.
Recommended for people like this
・I want to know the latest DX trends in the construction and manufacturing industries!
・I am working on DX, but I am not getting results
・Anyway, I want someone to consult about my company's DX
▼"Insight & Solution Seminar 2021 Report" held last year
[Video 2: https://prtimes.jp/api/movieim.php?url=www.youtube.com/watch?v=o-Nd-HkIDHg] ・"to BIM" YouTube channel https://www.youtube.com/c/toBIM/channels Application for this year's seminar https://iss2022.event-info.com/registration/ ●Applied Technology Co., Ltd.
Since its founding in 1984, Applied Technology has been an innovative company that transforms customer issues into value, with a two-pronged approach: solution service business utilizing manufacturing support, BIM/CIM, and GIS, and engineering service business targeting the disaster prevention and environmental fields. Growing up.
Applied Technology Co., Ltd. website https://www.apptec.co.jp/
Details about this release:
https://prtimes.jp/main/html/rd/p/000000002.000105632.html