Aeronext Co., Ltd.
Demonstration will start in October 2022 for the practical application of new smart logistics utilizing drones and self-driving buses in Sakaimachi, Ibaraki Prefecture.
-Aiming to implement Japan's first level 4 drone delivery service in urban areas by the end of 2023-

Sakaimachi, Ibaraki Prefecture (Mayor: Masahiro Hashimoto), Aeronext Co., Ltd. (Headquarters: Shibuya-ku, Tokyo, CEO: Keisuke Taji, hereinafter "Aeronext"), Seino Holdings Co., Ltd. (Headquarters: Ogaki City, Gifu Prefecture, President and CEO: Yoshitaka Taguchi, hereinafter "Seino HD"), BOLDLY Inc. (Baudry, Headquarters: Minato-ku, Tokyo, President and CEO: Yuki Saji, hereinafter "BOLDLY") and Senek Co., Ltd. (Headquarters: Tokyo) Shinjuku Ward, Tokyo, Representative Director: Yoshiyuki Miura, hereinafter referred to as "SENEC") will optimize logistics by combining drones and self-driving buses that operate regularly in Sakaimachi with existing logistics such as trucks in October 2022. We will start demonstrations for the practical application of "New Smart Logistics" and aim to implement Japan's first level 4*2 drone delivery service in urban areas*1 by the end of fiscal 2023*3. , signed a partnership agreement on October 3, 2022 to advance this initiative.
[Image 1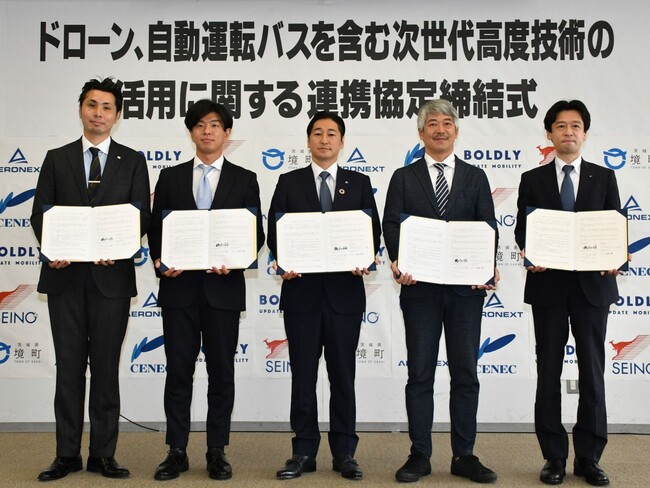 From the right side of the photo: Seino Holdings Executive Officer Hideharu Kawai, Aeronext CEO Keisuke Taji, Sakaimachi Mayor Masahiro Hashimoto, BOLDLY President and CEO Tomoki Saji, Senek Co., Ltd. Senek Executive Vice President Yoshiyuki Waka
[Image 2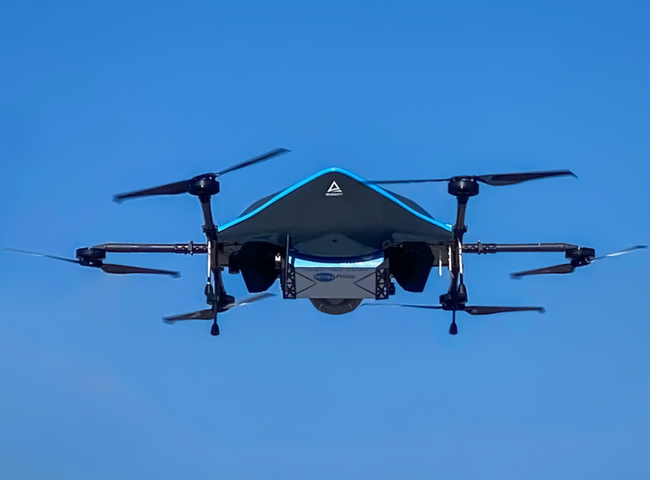 AirTruck, a Japan-made logistics drone used in the demonstration experiment In this initiative, we aim to build a logistics system that
efficiently delivers daily necessities at supermarkets and food from restaurants ordered by residents of Sakaimachi using a smartphone app by combining autonomous flying drones, self-driving buses, trucks, etc. , we will proceed with the demonstration while gradually expanding the flight area of ​​the drone in accordance with the legal system. First of all, after October 2022, two drones will be introduced in Sakaimachi, with drone stands (R)*4 (three locations, planned) that can be charged, etc., and a drone depot (R)*5 that will serve as a consolidation base for packages. (1 location), we will demonstrate flight beyond visual line of sight in uninhabited areas and flight within visual line of sight in urban areas, promote understanding of residents, and consider routes. After the lifting of the ban on level 4 drone flights scheduled for the end of 2022, we will conduct demonstrations for the practical use of drone flight beyond visual line of sight in uninhabited areas and urban areas. In areas where drones cannot fly, we will use self-driving buses and trucks for delivery. Logistics using technology
By optimizing, in the future, we aim to build a logistics system that can receive products within 30 minutes of ordering.
Japan faces challenges such as depopulation, maintenance of public transportation in rural areas, and a shortage of workers in the logistics industry. In order to solve the social issues facing the region, Sakai Town is actively promoting the maintenance of public transportation and the revitalization of the local economy by introducing self-driving buses that can be used by residents and tourists as a means of transportation. We are working on it, and in the supplementary budget for fiscal 2022, we have decided to construct a base facility (approximately 400 million yen) for research and development of drones and custom-made. By collaborating with the five parties, we will build an efficient logistics system that utilizes drones and self-driving buses to solve problems in the logistics industry and reduce CO2 emissions, as well as improve convenience for residents and revitalize the local economy. Aim for
Operation management of drones and self-driving buses will be performed by the operation management platform "Dispatcher" developed by BOLDLY. In September 2022, BOLDLY developed the "Dispatcher" function for drones ("Dispatcher for Drone"), making it possible to connect "Dispatcher" to both autonomous buses and drones and centrally manage them increase. This makes it possible to improve the efficiency and reduce costs of operation management work, and in the future, we can expect to use related data. "Dispatcher" has been used since the introduction of self-driving buses in Sakai-machi in November 2020, and Sakai-machi has the systems and operation structure necessary for the operation of self-driving buses. Based on this, we aim to smoothly implement a Level 4 drone delivery service. In addition, in the future, we will cooperate with other local governments nationwide to We will promote initiatives with a view to remotely monitoring drones flying in the area.
*1 Excludes densely populated areas designated by the Statistics Bureau of the Ministry of Internal Affairs and Communications. *2 Drones flying outside the line of sight without an assistant in inhabited areas such as urban areas.
*3 This initiative has been adopted by the Cabinet Office's digital garden city national concept promotion subsidy (digital implementation type TYPE2).
*4 Equipment or space for take-off and landing of drones installed at the starting and ending points of drone logistics.
*5 A base and warehouse for the collection and delivery of packages installed at the connection point between existing land logistics and drone logistics.
role of each person
Sakaimachi: Business entity and planning supervisor for the digital garden city concept project, including new smart logistics
Aeronext: Overall management of various initiatives to implement new smart logistics in Sakaimachi, provision of logistics-dedicated drone "AirTruck"
Seino Holdings: Building a joint delivery model, coordinating with local governments and businesses, and providing delivery know-how BOLDLY: Provision of "Dispatcher", overall management of the digital garden city national plan promotion subsidy (digital implementation type TYPE 2) project in Sakaimachi
Senek: Operation management of self-driving buses and drones at the remote monitoring center installed in Sakaimachi
About the drone to use
Aeronext will use the "AirTruck"*, a logistics-only drone with a payload capacity of 5 kg and a maximum flight distance of 20 km, developed from scratch for logistics applications.
* Logistics drone "AirTruck"
A mass-produced logistics drone from Japan jointly developed by Aeronext and ACSL Co., Ltd. Aeronext's unique aircraft structure design technology 4D GRAVITY (R) realizes stable flight. Optimal placement of cargo near the ideal center of gravity of the fuselage, horizontal loading and loading and unloading mechanisms, optimal usability for logistics, specialization in one-way forward movement, and aerodynamic characteristics required for long-distance flight. Specialized and developed "faster, farther and more stable" logistics machine. The prototype has been flown in demonstration tests all over Japan and has the No. 1 flight record in Japan (according to Aeronext, as of September 2022).
-spec-
[Table 2: https://prtimes.jp/data/corp/32193/table/79_1_d348726ca0b7d562d2b72e98d7453ec3.jpg ]
– Image of drone delivery service aiming to be implemented around 2023 (planned) –
[Image 3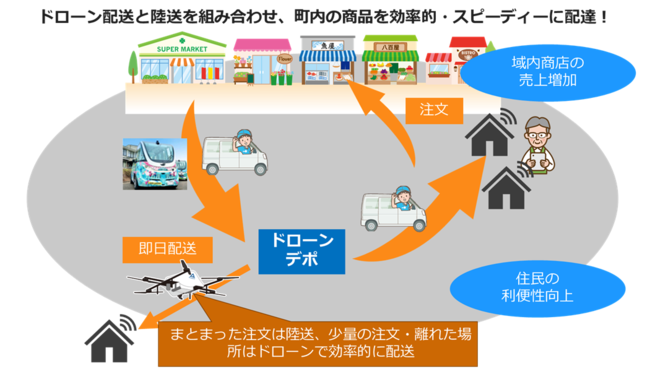 -Image of BOLDLY's "Dispatcher" screen-
[Image 4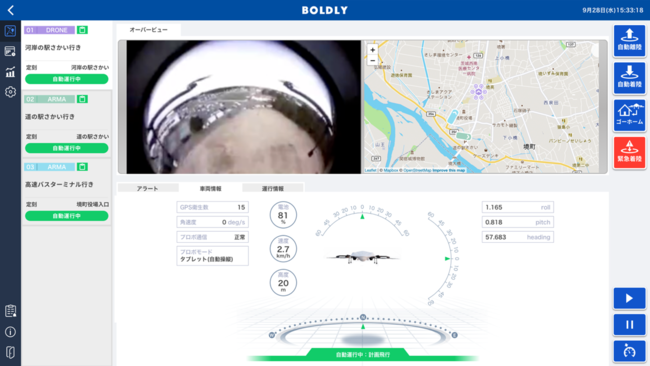 * The image will change depending on the connected drone. In Sakaimachi, a wide range of surrounding conditions can be confirmed using a fisheye lens suitable for logistics drones.
-Remote monitoring center installed at Sakaimachi Social Welfare Council- [Image 5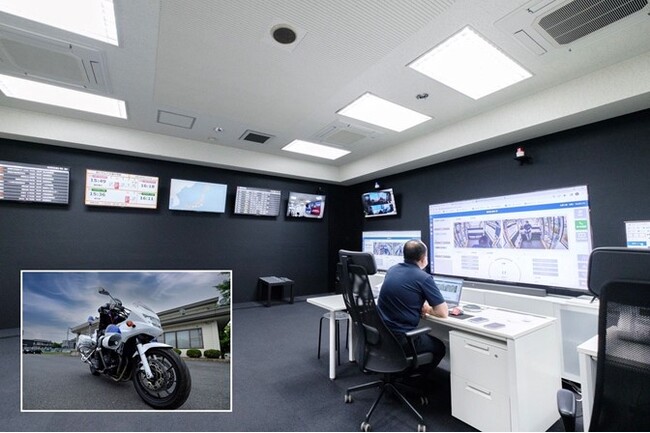 * In addition to remote monitoring, we have established a system to rush to the scene in case of an emergency (on-site rush by large motorcycle).
・Company names and product/service names mentioned in this press release are registered trademarks or trademarks of their respective companies.
・The contents, product/service prices, specifications, contact information and other information described in this press release are current as of the date of the announcement. These information are subject to change without notice.
Details about this release:
https://prtimes.jp/main/html/rd/p/000000079.000032193.html