Amuse Inc.
"Amuse", "Ken Production" and "King Records" will hold a 2022 voice actor artist training program selection! The application deadline is November 6th (Sun)!

 The "Voice Actor Artist Development Program Selection", which started in 2014, has decided to hold the "2022 Voice Actor Artist Development Program Selection" for the fourth time in four years. We will start recruiting participants from today (October 3).
In conjunction with this audition, audition pre-seminars will be held at three locations nationwide.
[Image 1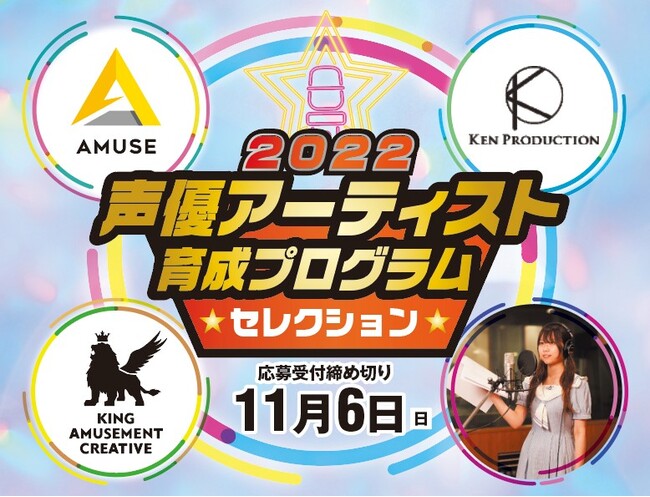 This time, which is the 4th time, two companies, Amuse Co., Ltd. (Headquarters: Fujikawaguchiko-machi, Minamitsuru-gun, Yamanashi Prefecture, Representative Director: Masaki Nakanishi) and Ken Productions Co., Ltd. (Headquarters: Shibuya-ku, Tokyo, Representative Director: Kentaro Utsumi) In addition, King Records Co., Ltd. (Headquarters: Bunkyo-ku, Tokyo, Representative Director: Kiyoshi Murakami) will newly participate in the screening, and auditions will be held with the aim of meeting new talent in the field of voice actor artists.
The first event was held in 2014 with the aim of discovering and nurturing human resources who can realize the "image of voice actors sought by the sponsoring companies", and we were able to meet people with great talent at each company. We received many applications for the 2nd and 3rd rounds held in 2016 and 2018, and successful applicants are now active in various fields.
This time, participation eligibility is 12 to 25 years old (regardless of gender), and we hope that various people will apply, such as those who want to take on challenges in the future, and those who want to make their dreams come true once again. In addition, in the second screening, joint interviews with three companies will be held all over the country, so even those who cannot come to Tokyo will have a wide range of opportunities to meet with many companies at once.
Furthermore, during the audition recruitment period, audition pre-seminars will be held at three locations nationwide in Tokyo, Osaka, and Fukuoka with the cooperation of ESP Entertainment, a vocational school. We will invite recruiters, producers, etc. of the company that conducts the audition screening, and hold mock
audition-style pre-seminars throughout the country to understand the content of the audition. After the audition experience, there is also a program called a talk seminar where you can ask questions to the judges.It will be a valuable experience for those who are thinking about taking the audition, so please join us.
Successful applicants will be selected by each of the three companies, and will be able to either belong to or be entrusted to each company, or be able to attend training programs provided by each company for one year free of charge. We are looking for people who think, learn and grow with us in the genre of voice acting artists.
Professional/amateur/experience is not required. We look forward to receiving applications from those who are interested.