Arise Co., Ltd.
POS cash register "Bionly" for beauty salons migrates to a new system ~Reborn with new UX and functions, "New Bionly" to be released in early November~

Arise Co., Ltd. (Headquarters: Shinagawa-ku, Tokyo; CEO: Masayuki Koike), which develops and provides the POS cash register system "Bionly" for beauty salons, will be completely renewed in November 2022. We are pleased to announce the launch of a new POS cash register system "NewBionly".
About "New Bionly"
[Image 1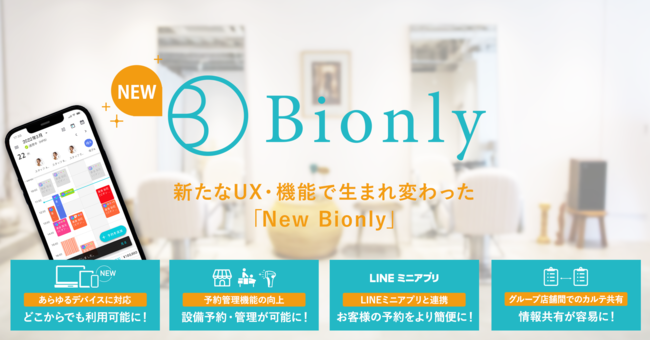 The lineup of functions such as reservation management, customer management, electronic medical record, sales aggregation, analysis, etc., and the good operability such as "simple design" and "intuitive operation possible" that have been well received are still in use. Based on the opinions and requests received from our customers, we will add several new functions and make a major renewal.
1. Compatible with any device, including smartphones
◆Available from anywhere!
Until now, "Bionly" was a POS cash register system for "iPad only", but "New Bionly" can be used on any device. You can continue to operate it from your computer or iPad, but after the renewal you can also use it from your smartphone. Not only can you save space around the cash register more than ever, but you can access it anytime, anywhere as long as you have an internet environment.
2. Improved reservation management function
◆Facilities can be reserved and managed!
You will be able to make reservations for facilities that are in high demand at esthetic salons and hair removal salons.
Reservation settings can be made according to the treatment menu, taking into consideration the operation status of the equipment used, such as rooms, beds, and machines, enabling smoother reservation management.
3. Link with LINE MINI App
◆Easier reservation for salon customers!
You will be able to make an appointment to visit the salon from LINE. It is not necessary to download a dedicated reservation application, and you can make a reservation with the application you are familiar with, greatly improving customer convenience. By accessing the LINE mini app, you can smoothly add friends to the LINE official account, increasing the repeat visit rate and promoting fanning.
4. Chart sharing among group stores
◆ Easy information sharing at group stores!
Customer charts can be shared between group stores. Since it is possible to check the history of visits to other stores and the history of treatments, it is possible to maintain and manage relationships with customers throughout the group.
5. Providing a new rate plan that is easy to use
We will start offering a new plan "Light Plan" that can be easily started. This is a plan for salons that "operate with a small number of people" or "only need the minimum functions".
* Full-spec plans are offered as "Standard Plans"
Significantly improved functionality! [New Bionly Standard Plan Early Registration Discount Campaign]
[Image 2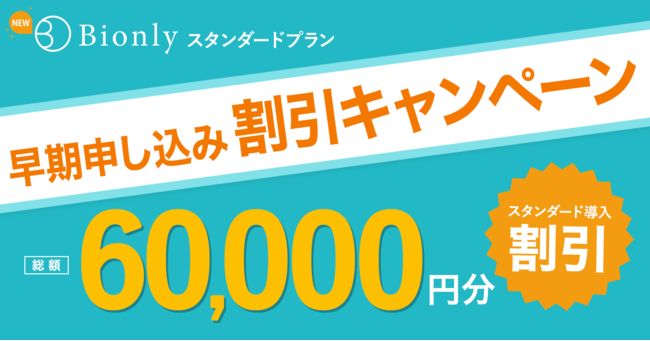 During the period from today until the official announcement of the service in early November, for those who have entered from the special campaign page, if you subscribe to the standard plan (monthly contract / 1 year contract) early after the start of New Bionly service, the total amount will be 60,000. We will carry out a campaign that applies a standard introductory discount (5,000 yen per month for 1 year). Please check the campaign page for details.
■ Campaign overview
[Entry period]
October 3, 2022 (Monday) to early November 2022
* The entry end period will be announced in advance on the campaign announcement page as soon as it is decided.
[Campaign applicable target]
Those who made a contract from early November 2022 to January 31, 2023 (Tuesday) ■ Campaign announcement page
https://bionly.jp/newbionly_entrycampaign/?utm_source=prtimes&utm_medium=text&utm_campaign=221003 Regarding data migration for current users of Bionly
Customers using the existing "Bionly" will need to migrate their data to "New Bionly" from time to time. Further details will be announced at a later date.
What is the POS cash register system "Bionly" for beauty salons?
"Bionly" is a customer management POS cash register system that can centrally manage the operation of beauty salons such as beauty salons. In addition to basic customer management POS cash register functions such as reservation management, customer management, cash register accounting, and sales tally, it is fully equipped with all functions such as electronic medical records and a reservation site for salons. The operation screen has a simple design that anyone can use intuitively, so even those who are new to the system can use it with confidence.
[Image 3

What is "LINE MINI App"?
LINE MINI App is a web application that enables companies to provide their own services on the "LINE" app.
With features such as "no additional app downloads or complicated membership registration required", it is possible to provide users with a "comfortable service experience". It can be used for marketing measures through LINE official accounts, LINE advertisements, etc. *: Permission from the user is required to acquire and use behavioral data linked to the LINE account.
Please check the official website for details.
https://www.linebiz.com/jp/service/line-mini-app/
[Image 4