ASUS Japan Co., Ltd.
ASUS IoT and Canonical Partner on Ubuntu Certification for IoT Applications
Pre-installed with Ubuntu Linux OS, ASUS IoT devices are guaranteed to be tested and validated, with continuous support and security updates to provide the best out-of-the-box experience
ASUS IoT devices pre-installed with Ubuntu Linux OS for faster time to market and long-term support from Canonical
– Certification ensures that ASUS IoT devices have the latest updates and security patches for Ubuntu Linux
ASUS IoT PE100A is the industry's first NXP i.MX8 IoT device certified by Canonical for Ubuntu version 20.04
[Image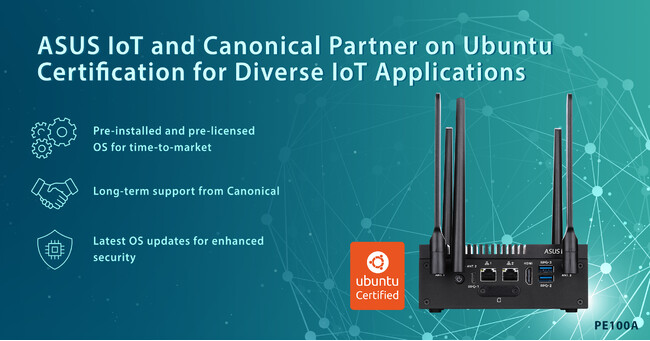 ASUS IoT announced a partnership agreement with Canonica to provide pre-installed and certified versions of the Ubuntu Linux operating system for embedded boards and systems for diverse edge computing applications. Canonical says the optimized performance of Ubuntu Linux will certainly improve development time, setup and installation of new ASUS IoT devices such as the PE100A.
Guaranteed by ASUS IoT and Canonical
ASUS IoT and Canonical's partnership ensures that the I/O capabilities of each piece of hardware meet industrial-grade standards and the version of Ubuntu running on the device. In addition, it provides up to 10 years of Linux security (with 5 years of included ESM service) and the latest features for users in various application areas, including industrial manufacturing, smart retail, smart
transportation, and surveillance. increase.
First NXP i.MX8 Canonical Certified
The PE100A is a palm-sized edge computer optimized for TCO (Total Cost of Ownership) and the first NXP i.MX8 device to be certified by Canonical for use with Ubuntu 20.04. In addition, a secondary I/O board supports additional features and the i.MX 8M System-on-Chip (SoC) delivers efficient performance with low power consumption. With Canonical certification, the PE100A comes preloaded with an Ubuntu image. This allows customers to focus on deployment and software development. You can choose between Ubuntu Core 20 and Ubuntu Server 20.04 at the time of purchase.
Tony Chiang, general manager of Canonical in Taiwan, said: "For Canonical, working with ASUS IoT is a natural partnership, combining our advanced Ubuntu operating system with ASUS' advanced edge computing and IoT hardware. The partnership will be a great
opportunity to provide all end-users with long-term security and reliability support and the best Linux experience.Working with ASUS IoT, we will deliver high-quality products for the IoT market. We look forward to providing many high-value products in the future." ASUS IoT PE100A product page:
https://iot.asus.com/jp/products/intelligent-edge-computer/PE100A/ ASUS IoT: https://iot.asus.com/jp
Canonical: https://canonical.com/
ASUS AIoT News: https://iot.asus.com/en/news/
ASUS Global Facebook: https://www.facebook.com/asus
ASUS Global Twitter: https://www.twitter.com/asus
###
About ASUS
ASUS is a global technology leader, providing the world's most innovative and intuitive devices, components and solutions, delivering amazing experiences that enrich the lives of people around the world. With an in-house team of 5,000 R&D professionals, ASUS is recognized for constantly innovating today's technology for the future. The company has won over 11 awards for quality, innovation and design and has been named one of Fortune magazine's "World's Most Admired Companies".
About ASUS IoT
As a sub-brand of ASUS, ASUS IoT is committed to creating amazing solutions in the AI ​​and IoT fields. ASUS' mission is to be a trusted provider of embedded systems and a contributing partner to the growing ecosystem of AIoT solutions.
About Canonical
Canonical is the publisher of Ubuntu, the OS for most public cloud workloads, not to mention cutting edge areas such as smart gateways, self-driving cars and advanced robotics. Canonical provides enterprise security, support and services for commercial users of Ubuntu. Canonical is a privately held company founded in 2004.
Details about this release:
https://prtimes.jp/main/html/rd/p/000000850.000017808.html