Avex Communications Broadcasting Corporation
Ryo Narita, Kengo Kora, Tatsuya Wakaba and other young talented casts gather! The movie "Kurenazume" started distribution on dTV

Director Daigo Matsui wrote the screenplay for "By Players" and "Just remembered a little", and "Kurenazume", which was made into a movie by himself with a megaphone, has started distribution on the video distribution service dTV.
[Image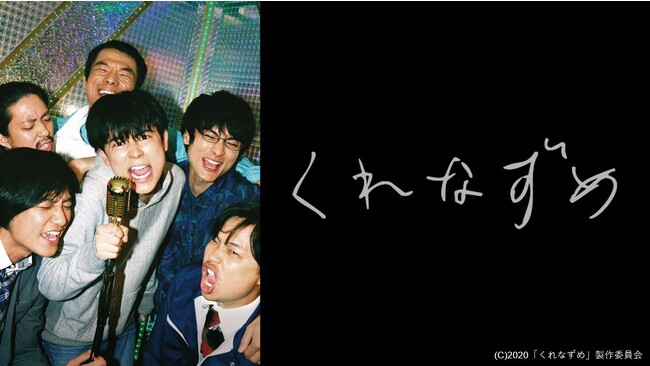 The story begins when six friends from high school get together for the first time in a while to entertain at a friend's wedding reception.
Kinichi, who presides over theatrical company, Akashi, who is an actor, Sogawa, who has become a married man, Taisei, who is an office worker, Mizushima, who works at a local screw industry, and Yoshio, who has a faint shadow but is kind-hearted. The mood that swells with stupid glue is still the same.
The entertainment that they once performed at the high school cultural festival, where they danced with all their might to the Akafun dance, was a slow slip, but the undeterred six look for a place to spend the three hours until the second party begins.
Meanwhile, a story of memories from high school suddenly begins. While thinking about happy memories, bitter memories, and silly but somewhat dazzling days, Yoshio muttered a shocking confession, "I died five years ago?"
Gradually, the truth that the six people pretended not to see is revealed… Since it was originally a stage work, this work is mainly a
conversation drama between six friends.
The cast members, who have both ability and individuality, have taken on the challenge of an original scenario that can only be done by director Daigo Matsui, who specializes in ensemble drama.
For Yoshio, who will be the key person, "Katsuben! Ryo Narita, such as "Yayoi, March: I loved you for 30 years". Yoshio, who is loved by everyone, is played with a natural mood.
In addition, Kengo Kora of "Omoide Shashin" and "Ako wa Kizoku" will play the role of Kinichi, who has always been good at living in the world, and Akashi, who has an overconfident and leader temperament, will be played by "AWAKE" and "At that time." Tatsuya Wakaba of "Romance Doll" as the mood maker Sauce, Kenta Hamano of "Romance Doll", Shun Fujiwara of "Sasaki, In, My Mine" as the junior character Taisei, and Neji, who has a passionate heart, from "Alps Stand". The table of contents of Hashi no Kata.
Attention is paid to the past of the six people who are gradually revealed along with the good tempo exchanges that unfold.
Full of laughter, bittersweet, and at the end a little sad
coming-of-age movie "Kurenazume".
Please take this opportunity to enjoy it on dTV.
■ "Kure Nazume"
~Outline~
A completely original stage play based on director Matsui's own experiences has been made into a movie with a gorgeous cast. ~Synopsis~
Indecisive but kind-hearted Yoshio (Ryo Narita), theater company leader Kinichi (Kengo Kora) and actor Akashi (Tatsuya Wakaba), Sauce (Kenta Hamano), who is now married, Taisei (Ken Fujiwara), a company employee who has a junior temperament. ), Neji (Tatsuki Mokuji), who is the only one left in his hometown and works at a screw factory, and now that his friends from the high school go-home club welcome Arasa, they meet again at a friend's wedding for the first time in a while, and the red that they once performed at the school festival as a sideshow. To dance Hundance. As a result, it ended in a slippery manner, and it was three hours until the second party. Thinking back to my school days without anyone…
Work URL: https://bit.ly/3fdcNzj
Copyright: (C) 2020 "Kurenazume" Production Committee
-Information summary site about dTV-
https://dtv.jp/
-dTV service overview-
If you want to watch live, dTV
In addition to popular movies and dramas, K-POP and other hot music live performances are being added!
Unlimited viewing for 550 yen (tax included) per month. *1 *2 In addition, the latest online live is also delivered every month! In addition to blockbuster movies and popular dramas, there is a wide variety of music content such as live footage and music videos of popular artists.
You can watch a variety of works, including exclusive works that can only be seen on dTV and original dramas, for a monthly fee of 550 yen (tax included). *1 *2
You can also watch the latest online live performances and new movies by paying an additional fee.
It supports not only smartphones, but also TVs and projectors, so you can enjoy live music and movies on a large screen full of presence. And if you download it on Wi-Fi, you don't have to worry about communication restrictions!
Anyone can easily register and cancel from the WEB or application, and those who register for the first time can try it for free for the first month. *3
*1 650 yen (tax included) for purchases on the App Store and Google Play *2 There is some individually charged content
*3 Only when applying for the first time during the campaign period (from November 1, 2014), the initial free period of 7 days will be extended to 31 days. Other applicable conditions are the same as the first 7 days free. However, during the 31-day initial free period, some content may not be viewable due to the rights holder's
circumstances.
Customers who have been eligible for the first 7 days free of charge in the past and have not been eligible for this campaign will be eligible. Purchases on the App Store, Google Play, and use of dTV prepaid cards are excluded. When this campaign ends, we will inform you on the DOCOMO website. The contents of this campaign are subject to change without notice.
◆ How to use
Register as a member from the dTV website (https://video.dmkt-sp.jp) ◆ Viewing device
Viewable on TV, PC, tablet and smartphone
* Separate packet communication charges apply.
*Some content may not be viewable on some devices.
*Customers who do not have a DoCoMo line contract will need a "d account (R)" to use this service. The service content and payment method may differ from those of the "sp-mode (R)" contract. In addition, payment of the usage fee is only possible by credit card. * "dTV", "d account" and "sp mode" are registered trademarks of NTT DoCoMo, Inc.
Details about this release:
https://prtimes.jp/main/html/rd/p/000000682.000022141.html