Avex Communications Broadcasting Corporation
Super luxurious K-POP artists gather! "2016 KBS Song Festival" started distribution on dTV

dTV, a video distribution service that distributes over 100 titles of valuable content such as K-POP live performances and music programs, has started distributing a new video of "2016 KBS Song Festival". [Image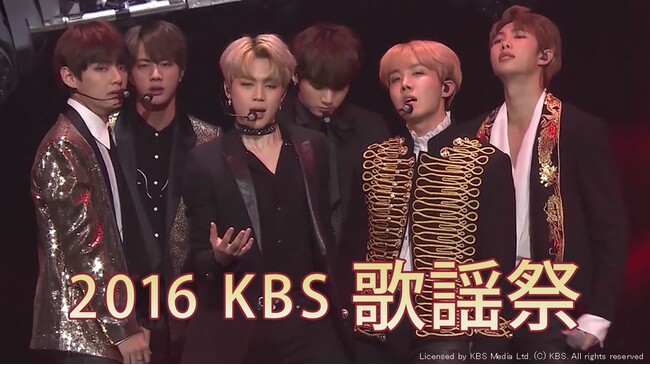 "KBS Music Festival" is a special program held at the end of every year in South Korea, presided over by KBS, and it is a music festival that you can't miss, with the K-POP artists who colored the year. And speaking of K-POP in 2016, TWICE's "TT" recorded a huge hit all over the world, and next-generation artists such as ASTRO and NCT debuted.
BTS, SHINee, EXO, TWICE, SEVENTEEN, MONSTA X, CNBLUE, SHINHWA, INFINITE, B.A.P, BTOB, VIXX, GOT7, ASTRO, Red Velvet, GFRIEND, and many more… I performed.
All the performers dressed in formal costumes gathered on the stage and started, and the moderators Park Bo Gum and Seolhyun appeared. B.A.P will perform H.O.T's rap tune "Descendants of Warriors", which represents the first generation of Korean idols, and covers of songs that can be said to be their roots are a must-see!
In addition, the collaboration is also super gorgeous! 10 people born in 1997, Jungkook of BTS, Yuju and Eunha of GFRIEND, Chaeyoung of DIA, Jihyo of TWICE, Yugyeom and BamBam of GOT7, Mingyu, Dokyeom and The8 of SEVENTEEN, performed YB's "I am a butterfly". ', Red Velvet's Seulgi, GFRIEND's Shinbi, TWICE's Momo, INFINITE's 'Be Mine' by I.O.I's Choi Yoo Jung and Kim Chung-ha, Hwang Chi-yeol and EXO's Chen's 'Never Ending Story', SHINee's Check out the stage performances that can only be seen here, such as the famous ballad "Tired Days" by Onew and CNBLUE's Jung Yong Hwa.
These days, all of the artists are active on the world stage, so it's really rare to see them perform together!
Please enjoy the "2016 KBS Song Festival" with dTV, which is packed with super-luxury co-stars that are unique to 2016.
■ "2016 KBS Song Festival"
~Outline~
Bringing you the 2016 KBS Song Festival! A large number of popular artists such as BTS, TWICE, and SEVENTEEN will appear!
Work URL: https://bit.ly/3DFedNu
Copyright: Licensed by KBS Media Ltd. (C) KBS.
-Information summary site about dTV-
https://dtv.jp/
-dTV service overview-
If you want to watch live, dTV
In addition to popular movies and dramas, K-POP and other hot music live performances are being added!
Unlimited viewing for 550 yen (tax included) per month. *1 *2 In addition, the latest online live is also delivered every month! In addition to blockbuster movies and popular dramas, there is a wide variety of music content such as live footage and music videos of popular artists.
You can watch a variety of works, including exclusive works that can only be seen on dTV and original dramas, for a monthly fee of 550 yen (tax included). *1 *2
You can also watch the latest online live performances and new movies by paying an additional fee.
It supports not only smartphones, but also TVs and projectors, so you can enjoy live music and movies on a large screen full of presence. And if you download it on Wi-Fi, you don't have to worry about communication restrictions!
Anyone can easily register and cancel from the WEB or application, and those who register for the first time can try it for free for the first month. *3
*1 650 yen (tax included) for purchases on the App Store and Google Play *2 There is some individually charged content
*3 Only when applying for the first time during the campaign period (from November 1, 2014), the initial free period of 7 days will be extended to 31 days. Other applicable conditions are the same as the first 7 days free. However, during the 31-day initial free period, some content may not be viewable due to the rights holder's
circumstances.
Customers who have received the 7-day first-time free trial in the past, but who have not yet applied for this campaign, are eligible. Purchases on the App Store, Google Play, and use of dTV prepaid cards are excluded. When this campaign ends, we will inform you on the DOCOMO website. The contents of this campaign are subject to change without notice.
◆ How to use
Register as a member from the dTV website (https://video.dmkt-sp.jp) ◆ Viewing device
Viewable on TV, PC, tablet and smartphone
* Separate packet communication charges apply.
*Some content may not be viewable on some devices.
*Customers who do not have a DoCoMo line contract will need a "d account (R)" to use this service. The service content and payment method may differ from those of the "sp-mode (R)" contract. In addition, payment of the usage fee is only possible by credit card. * "dTV", "d account" and "sp mode" are registered trademarks of NTT DoCoMo, Inc.
Details about this release:
https://prtimes.jp/main/html/rd/p/000000681.000022141.html