Classmethod Co., Ltd.
AWS Japan President Nagasaki and NTT East Japan President Shibuya take the podium! Online session to talk about organizational transformation and corporate culture in the cloud era
Executive day added to the Classmethod Showcase that introduces corporate cloud adoption cases!

Class Method Co., Ltd. (Headquarters: Chiyoda-ku, Tokyo, President: Satoshi Yokota, hereinafter "Class Method") announced that on Tuesday, October 25, 2022, Mr. Tadao Nagasaki, President and CEO of Amazon Web Services Japan G.K. And Mr. Naoki Shibuya, President and CEO of NTT East, will be on stage to deliver a special online dialogue session with Satoshi Yokota, the representative of Class Method.
[Image 1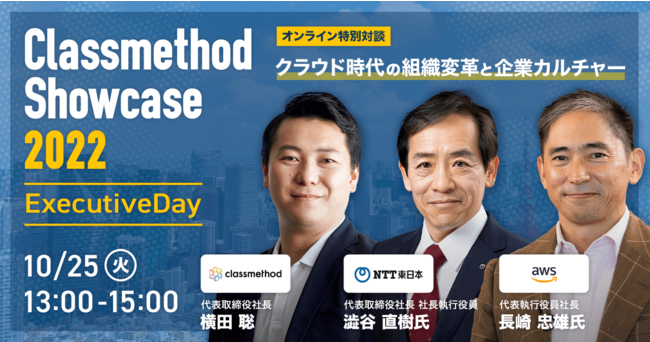 This session will be held as the day before the online conference "Classmethod Showcase", which introduces examples of companies' introduction and utilization of the cloud.
Only IT technology, such as how the managers of the top companies that support Japan's infrastructure have grasped the changes in the business environment and worked on organization building and innovation creation, digitalization business, new work styles, corporate culture, etc. We would like to hear from a wide range of people.
Classmethod Showcase Details: https://classmethod.jp/m/showcase/2022/ [Interview 1: Mr. Tadao Nagasaki, President of Amazon Web Services Japan G.K.] [Image 2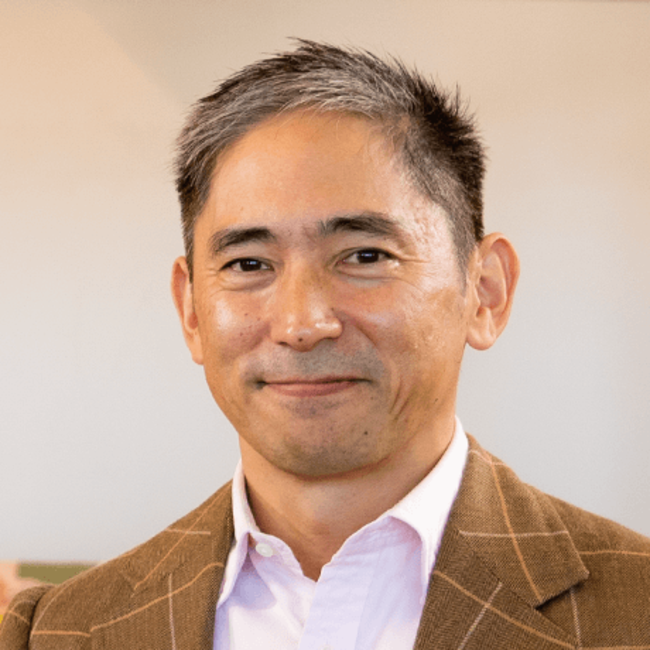 Date: October 25, 2022 (Tuesday) 13:00-13:50
Speakers:
 Amazon Web Services Japan G.K.
Mr. Tadao Nagasaki, President and Representative Executive Officer theme:
 The future of the AWS culture and cloud business that pursues innovation Overview:
In addition to the ongoing threat of the coronavirus, there is increasing uncertainty such as the sudden depreciation of the yen, and in an era of drastic changes in business, there is an even greater need to maximize business value and bring about business innovation. As the head of AWS Japan, I will discuss the corporate culture and structure of Amazon/Amazon Web Services (hereafter, AWS), which continues to create innovation in such an environment, and how the cloud will impact corporate innovation. , President Tadao Nagasaki, who has led the growth of AWS and the cloud market for more than 10 years.
[Interview 2: Mr. Naoki Shibuya, President and CEO of NTT East] [Image 3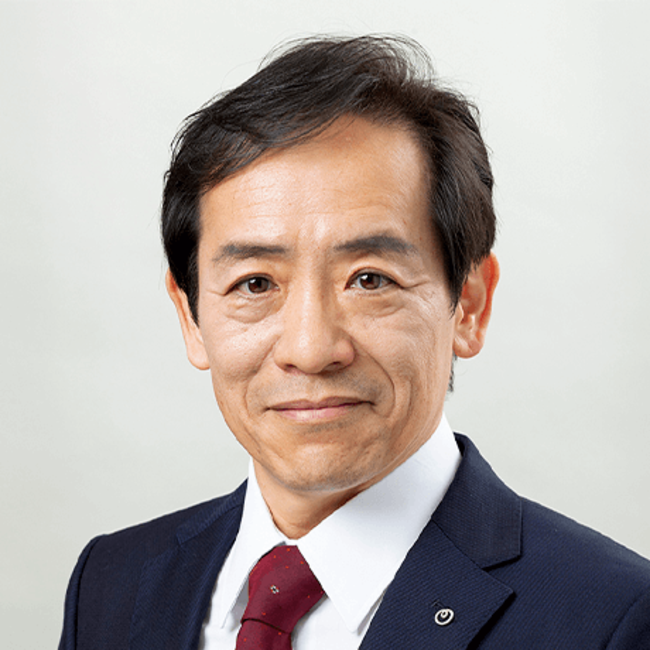 Date: October 25, 2022 (Tuesday) 14:00-14:50
Speakers:
Nippon Telegraph and Telephone East Corporation
Mr. Naoki Shibuya, President and CEO
theme:
What is NTT East aiming for with its new management style, which continues to take on the challenge of market changes?
Overview:
As an information and telecommunications carrier, NTT East supports Japan's telecommunications infrastructure while working to resolve issues in the ever-changing market. What kind of change is NTT East, a large company with a long history, aiming for in the midst of major changes in the surrounding environment, such as the evolution of digital technology, the rise of diverse business models, the declining birthrate and aging population, and the aging of social
infrastructure? . President Naoki Shibuya, who joined NTT in 1985, served as vice president of NTT East Japan, president of NTTe-Sports, and vice president of NTT before becoming president in June 2022, will talk about the corporate culture that supports change and the challenges he has overcome. .
[About Classmethod Showcase]
"Classmethod Showcase" is an online conference sponsored by
Classmethod that introduces the latest case studies and practical know-how of companies that have achieved business results using the cloud. This year, it will be held from October 25th (Tuesday) to 28th (Friday), 2022.
A total of 8 companies and corporations will be on stage, and we will introduce actual cases such as the background to the decision to introduce the cloud, the actual introduction process, and the ingenuity and system creation for operation.
Date: October 25th (Tuesday) to 28th (Friday), 2022, 4 days
Format: Online (pre-registration required)
Organizer: Class Method Co., Ltd.
Sponsor: Amazon Web Services Japan G.K.
Details and application: https://classmethod.jp/m/showcase/2022/ [About class methods]
Classmethod Co., Ltd. provides technical support for companies in the fields of Amazon Web Services, data analysis, mobile, IoT, AI/machine learning, etc. Since 2015, AWS support has been certified as a Premier Tier Service Partner (formerly Premier Consulting Partner), which is the highest tier, and has been awarded "AWS Service Partner of the Year" in 2018, 2020, and 2021. To date, we have supported more than 3,000 companies and more than 18,000 AWS accounts. We are also focusing on disseminating technical information by our employees, and over 30,000 articles are being published on our owned media
"DevelopersIO". Based on our corporate philosophy of "continuing to contribute to the creative activities of all people," we will propose the most suitable technology.
Head office location: Sanpo Sakuma Building 8F, 1-11 Kanda Sakuma-cho, Chiyoda-ku, Tokyo
Representative: Satoshi Yokota, President and CEO
Business: cloud introduction support, big data infrastructure construction, mobile application development, LINE technical support, AI/machine learning technical support
Official site: https://classmethod.jp/
Technical blog "DevelopersIO": https://dev.classmethod.jp/
Facebook page: https://www.facebook.com/classmethod/
Official YouTube channel: https://www.youtube.com/c/classmethod-yt/ * Company names and product names mentioned are registered trademarks or trademarks of their respective companies.
Details about this release:
https://prtimes.jp/main/html/rd/p/000000302.000014901.html