Digital Garage, Inc.
DG Financial Technology Launches AI-based Fraud Detection Solution "Sift" ~Expansion of comprehensive payment service "VeriTrans4G" as a new solution for fraud detection service lineup~

DG Financial Technology Co., Ltd., a subsidiary of Digital Garage, Inc. (hereinafter referred to as DG), which is engaged in the payment business (Headquarters: Shibuya-ku, Tokyo; Representative Director, President and Co-COO and Executive Officer SEVP: Hiroshi Shino; hereinafter referred to as DGFT) is an online In partnership with Scudetto Co., Ltd. (Headquarters: Chuo-ku, Tokyo, CEO: Keita Hosoe, hereinafter: Scudetto), which develops fraud countermeasures business, fraud detection service lineup (https:/
/www.veritrans.co.jp/payment/fraud_detection.html) has started offering "Sift Digital Trust & Safety Suite (Sift)", a fraud detection solution that utilizes Sift Science, Inc.'s AI. To do.
[Image 1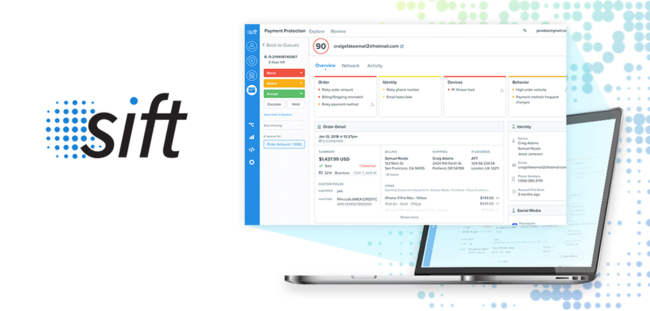 ■ About "Sift Digital Trust & Safety Suite"
Sift is a fraud detection and prevention solution that uses AI to instantly identify fraud and abuse on e-commerce sites and online, such as credit card fraud and account hijacking. efficiency and increase profits.
Sift monitors all user behavior on the site and uses AI and machine learning models to make real-time risk judgments, so it can detect increasingly sophisticated fraud without missing a beat. In addition, since the service started in 2011, it has been used by more than 34,000 sites and apps in various industries around the world, including global companies such as Box, Twilio, and DoorDash, and more than 70 billion user actions are collected every month. It has been. These user behaviors are learned in real time and reflected in AI/machine learning models, enabling more accurate detection. , models that are customized for each customer, and various other machine learning models are applied in a complex manner. It can be realized. Sift has prepared three types of products to provide comprehensive countermeasures against various types of fraud and abuse, and businesses can select and introduce the most suitable product according to their issues. .
[Sift product lineup]
"Payment Protection": Prevents fraudulent use of credit card payments and unauthorized bulk purchases.
"Account Defense": Prevents fake accounts, mass creation of accounts, and account hijacking.
"Content Integrity": Prevents posting of fake or spam content. ■Trends in online fraudulent use
 Cyber-attacks and unauthorized access taking advantage of the coronavirus pandemic and the conflict in Ukraine are increasing rapidly around the world. In Japan, as a result of the coronavirus crisis, the digitalization of society as a whole has progressed rapidly, and attacks that exploit system deficiencies and information leaks are on the rise. It has become more sophisticated and the number of damages is increasing rapidly. In 2021, the amount of damage caused by unauthorized use of credit card information stolen by these cyberattacks will reach a record high of 33 billion yen*1. Concerned about this situation, the Ministry of Economy, Trade and Industry announced in June 2022 "Credit Security Measures Vision 2025 (https://www.meti.go.jp/policy/economy/consumer/credit/2022060221001.pdf)". We will also provide fraud prevention measures and information, including the use of fraud detection, to e-commerce businesses, credit card companies,
In addition to requesting further enhancement of information leak countermeasures, we are working with relevant ministries and agencies and industry groups, including the credit card industry, to promote environmental improvements and consider legislation.
■ "VeriTrans4G" fraud detection service lineup
DGFT combines multiple services that have a proven track record in the area of ​​fraud detection so that EC businesses using the
comprehensive payment service "VeriTrans4G" can implement fraud countermeasures according to their own circumstances. Since 2017, it has been available as a "fraud detection service lineup" that can be selected according to the occurrence situation and budget. Due to the rapid increase in damage caused by online fraudulent use, e-commerce businesses are being requested to strengthen fraud countermeasures. Decided to add Sift.
Of the lineup, "ACI Red Shield" and "CAFIS Brain" are standardly implemented in "VeriTrans4G" and are automatically linked with the payment system. As a result, businesses using "VeriTrans4G" can easily introduce a fraud detection service by simply applying for the service, which will automatically link the transaction information and notify the judgment result at the same time as the payment processing result. In addition, even for services that are not linked to "VeriTrans4G", we have a lineup of services equipped with the latest fraud detection rules, detection engines, and functions that have an extensive track record of introduction in Japan. In addition to reducing the risk of chargebacks, it also contributes to reducing the cost and burden of fraud countermeasures.
[Image 2

■ Future development
With the advance of cashless payment, more advanced security measures are required for e-commerce businesses to realize safe online transactions. In terms of measures to prevent fraudulent use, in addition to fraud detection solutions such as Sift, which will be launched this time, it is also recommended to use EMV3D Secure (3D Secure 2.0) *2 as a new mechanism for online identity authentication in credit card payments. Since its founding, DGFT has built the advanced security environment and management system required of financial institutions, and has provided safe and secure payment solutions for both businesses and consumers. Going forward, we will continue to propose optimal solutions for e-commerce businesses to protect their customers and their companies, and provide continuous and detailed support from introduction to operation.
The DG Group is promoting the group strategy "DG Fintech Shift" that fuses payments and data. We will contribute to the development of a sustainable society by co-creating business not only within the Group but also with partners in various fields, with DGFT, which operates the payment business, at the core.
[About DG Financial Technology] https://www.dgft.jp/
A payment provider that provides comprehensive payment services to online businesses such as EC and face-to-face businesses such as stores. Payments can be made at 700,000 non-face-to-face and face-to-face locations, and the annual transaction volume exceeds 4.4 trillion yen (as of the end of March 2022). In April 2021, the company name was changed from VeriTrans Co., Ltd. to DG Financial Technology Co., Ltd. (DGFT). As a core company of the DG Group's group strategy "DG Fintech Shift," which integrates payment and data, we support the cashless and DX promotion of businesses in the fields of payment and finance. We will provide highly convenient functions and services to our member stores and end-users, consumers, and contribute to the development of a sustainable society as a useful infrastructure business by providing a safe, secure, and comfortable payment experience. will continue to contribute to
*1 Source: Japan Consumer Credit Association "Japanese credit statistics 2021
(https://www.j-credit.or.jp/information/statistics/download/statistics_domestic_2021.pdf)" (July 6, 2022)
*2 EMV3D Secure (3D Secure 2.0): A security function that prevents unauthorized use of credit cards online. "Risk-based authentication" is adopted to determine risk based on the user's terminal information, purchase history, etc., and personal authentication is performed using one-time passwords etc. only when identity verification is requested.
Details about this release:
https://prtimes.jp/main/html/rd/p/000000281.000023393.html