Discoveries Co., Ltd.
Announced the launch of the Teams app, "Discoveries engauge", a community platform that organically connects people and information to create value together

Discoveries Co., Ltd. (Headquarters: Minato-ku, Tokyo, President: Yuichiro Shimada, hereinafter Discoveries), a secretary partner of the Microsoft Teams Partner Alliance, is a community platform that organically connects people and information and creates value together. We are pleased to announce that "Discoveries engauge (hereinafter "engage")" has provided a Teams app that can be installed and used in Microsoft Teams (hereinafter "Teams") provided by Microsoft.
[Image 1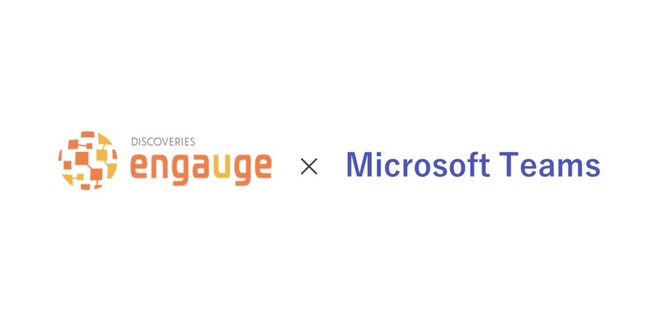 Introduction background
With the spread of online meetings and business chats, the number of Teams users has increased, making it possible to work from various environments regardless of location or time.
In an organization where communication is streamlined, we can expand the circle to the entire company, learn about the situation outside the team, and share information with other project members to obtain new suggestions and improve service quality. Efforts have begun to lead to improvements and the creation of new businesses.
By providing a Teams app, the community platform "Discovers engauge" that gives shape to everyone's voices can share company-wide efforts that are difficult to cover with Teams alone, complement searches for knowledge and skills, and use them in combination. We will improve the productivity of the organization.
[Image 2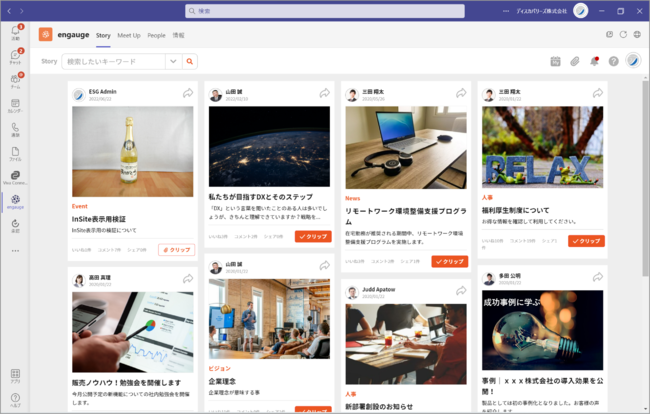 Engauge that works within Teams
Make Teams more convenient. Communicate more actively.
Discoveries engauge is a platform that organically connects people and information to create value together.
■ People function to search for employees with experience and specialized skills "Who is familiar with this?" "Who was in charge of this task in the past?" lead.
We will create a situation where it is easier to understand people's personalities through hobbies and areas of interest, not just the work they are in charge of and their areas of specialty.
■Story function where you can receive the information you need and the experiences of your friends in stories wherever you are
You can easily share information by simply entering various
information according to the template.
By using the segment function that allows you to narrow down the delivery according to the attributes and actions registered in People, you can accurately deliver the information you want to convey to the person to whom you should convey it.
The "Like" and "Comment" functions enable two-way communication between organizations and departments.
■Meet Up function that invites friends with the same attributes and invites to in-house events
You can easily hold events with friends who have the same awareness and common points, such as various know-how and academies. You can invite limited events according to the attributes and actions registered in People, and by setting a Teams meeting link, you can hold seamless meetings.
Participants and prospective participants can be segmented to help attract customers and respond afterward.
Through these three main functions, it increases the productivity of the organization and the engagement of remote colleagues.
[Image 3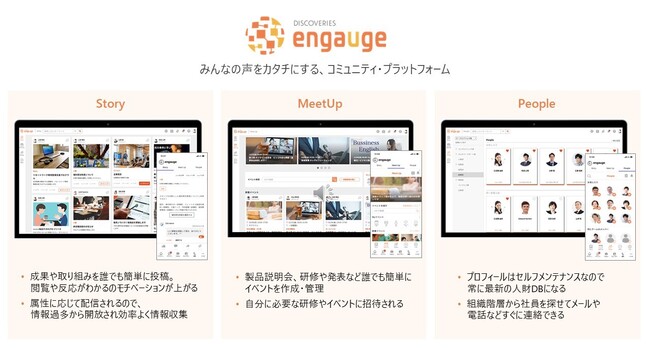 Can be installed on Teams that many companies have introduced If you are using Teams, you can install it directly from the Teams store on Microsoft's commercial marketplace by simply signing an additional contract for this application.
By installing and incorporating it into Teams, by combining Teams' strength in small-group communication with Engage's strength in transmitting information to the entire company or a large number of people, communication mistakes and information gaps are eliminated and productivity is improved. improve.
[Image 4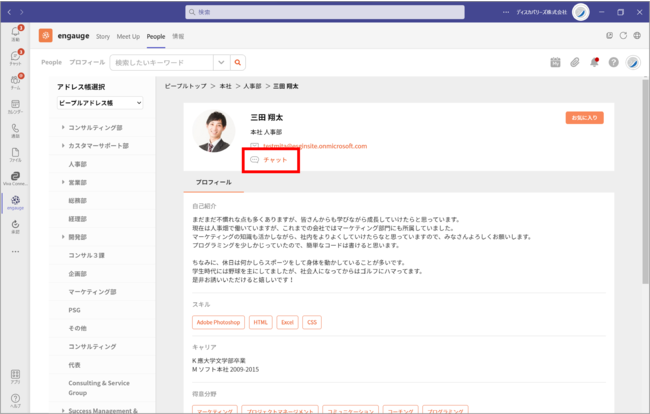 You can jump to Teams chat from People in engauge.
Click here for various links
・Detailed overview of engagege
https://engauge.discoveries.co.jp/
・Microsoft AppSource
https://appsource.microsoft.com/en/product/office/WA200004539 ・PDF version of this PR
https://www.discoveries.co.jp/download/PR_TA2210.pdf
Endorsement from Microsoft Japan Co., Ltd.
Microsoft Japan Co., Ltd.
Mr. Yutaka Shimizu, General Manager of ISV Partner Division, ISV Business Management Division, Partner Business Division
Microsoft Japan sincerely welcomes the release of the "Discoveries engauge" Teams app by Discoveries Co., Ltd. As it becomes extremely important to increase organizational productivity and employee engagement in the new era of work styles, the approach of connecting people and knowledge through communities accurately responds to the needs of the times. We are confident that we will be able to deliver an employee experience by strengthening our collaboration.
Discoveries Co., Ltd.'s products are developed as solutions for customers to use Teams more conveniently and smoothly. Going forward, Microsoft Japan will continue to contribute to the promotion of customers' digital transformation through strong collaboration with Discoveries Co., Ltd.
About Discoveries
With the mission of "creating a world where all working people can bring about innovation", we will redesign organizational communication and collaboration, and implement DX (Digital Transformation) aimed at organizational transformation that facilitates the creation of new value (=innovation). We provide cloud services and consulting services to realize this.
https://discoveries.co.jp/
[Image 5


Discoveries is a managing partner of the Microsoft Teams Partner Alliance. MWP Teams Alliance introduction page is here
https://www.microsoft.com/ja-jp/partner/biz/mwp_teams_alliance.aspx Inquiries about this solution
Discovery Co., Ltd. Product Business Group Product Marketing Unit E-mail: contact@discoveries.co.jp
*Microsoft, Microsoft Teams, and Teams are registered trademarks or trademarks of Microsoft Corporation in the United States and other countries.
All information in this press release is as of the date of preparation and is subject to change without notice.
Details about this release:
https://prtimes.jp/main/html/rd/p/000000052.000025504.html