Dear members of the press,
Duskin
"TuZuKu Antibacterial Coating Mop" Rental starts on October 3, 2022 The new standard of home hygiene, "clean" and "hygiene"

The cleaning service business developed by Duskin Co., Ltd.
(Headquarters: Suita City, Osaka Prefecture, President: Hiroyuki Okubo) includes floor surface "dirt removal", "sterilization / virus removal (* 2 / 3)", "antibacterial coating (* 1).・ 2)" will start renting the "TuZuKu antibacterial coating mop", which has three effects in one, nationwide from October 3, 2022 (Monday).
*1: Can be used on floors that can be wiped with water.
*2: Not all bacteria are effective.
*3: Not all viruses are effective (effectiveness was verified with one type of envelope-type virus). Virus removal should be performed in a state where there are many drugs.
[Image 1

According to our survey (*4), more than three-fourths of the respondents cited the floor as the place where they find it difficult to disinfect at home, and more than half of the respondents said that the floor is usually the place where they find it difficult to disinfect. It is answered that it is not sterilized. On the other hand, according to our separate survey (*5), the number of people who are most concerned about "bacteria" and "viruses" in general households is "floor".
These days, hygiene measures at home are becoming commonplace in daily life. However, despite the fact that many people are concerned about the hygiene of their floors, it is possible to glimpse the current situation in which hygiene measures for floor surfaces have not taken root due to the lack of clarity about the time and effort required to disinfect the floors.
Under such circumstances, the "TuZuKu antibacterial coating mop" this time is a wet mop developed with the concept of "easily", "easily", and "continuous disinfection effect". The "TuZuKu antibacterial coating mop" has an antibacterial effect on the mopped surface that lasts for about 4 weeks (*6), but even though it is called "coating", no special work is required. Coating can be done in the same way as regular wiping. It also has the effect of firmly removing sebum stains and oil stains on the floor, and also has the effect of removing bacteria and viruses. In addition, we take safety into consideration so that the drug does not affect the human body.
If you contract with Duskin floor mop as a set, you can use "TuZuKu antibacterial coating mop" at a special price. We propose simple and easy hygiene measures for your home, using the conventional Duskin floor mop for regular dust removal and the "TuZuKu antibacterial coating mop" for wiping once every four weeks.
*4: Duskin, February 2021, "Survey on household hygiene management in the corona environment" (n = 1000)
*5: May 2021 Duskin "Antibacterial Coating Mop Monitor Survey" (n=150) *6: The antibacterial coating effect was verified on an 18 tatami mat floor that could be wiped with water. It varies depending on the usage environment and the method of wiping. The coating can be removed by wiping with water.
[Product Features]
◆ Antibacterial effect lasts for about 4 weeks * Can be used on floors that can be wiped with water
Just by mopping once every four weeks, the antibacterial effect of the floor will last for about four weeks.
[Image 2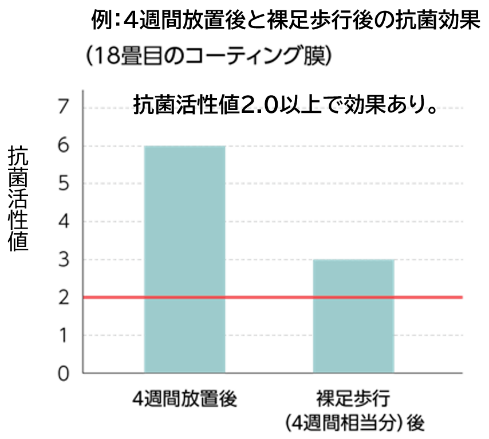 《Test Overview》
JIS Z 2801: 2012 antibacterial processed product antibacterial test method was applied to the coating film after 4 weeks of 18 tatami mats when wiped once with a mop (tested by an external inspection agency). After walking barefoot on the coating film of 18 tatami mats when wiping once with one mop, after walking for 4 weeks, JIS Z 2801: 2012 Antibacterial processed products / Antibacterial test method (External inspection agency test).
*The antibacterial performance evaluation standard is that the antibacterial activity value is 2.0 or more.
* Varies depending on usage environment and wiping method.
*Not effective against all bacteria.
*Coating can be removed by wiping with water.
◆ Antibacterial coating can be applied to an area of ​​about 18 tatami mats You can apply an antibacterial coating to 18 tatami mats with just one mop. [Image 3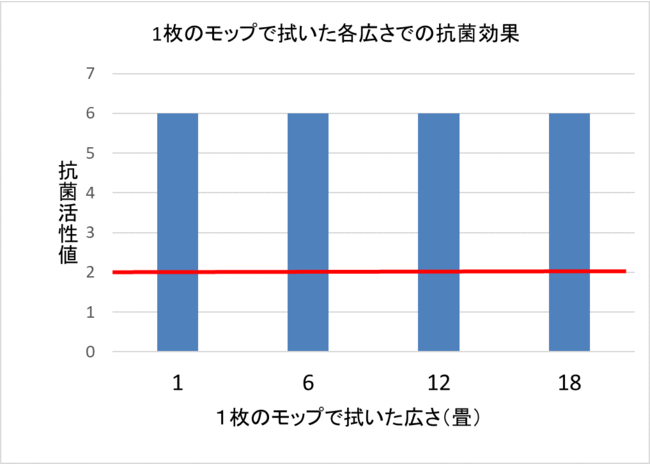 《Test Overview》
JIS Z 2801: 2012 antibacterial processed product antibacterial test method was applied to the coating film of each tatami mat when wiped once with a single mop (tested by an external inspection agency). *The antibacterial performance evaluation standard is that the antibacterial activity value is 2.0 or more.
*Not effective against all bacteria.
*Coating can be removed by wiping with water.
A single mop has three effects: dirt removal, disinfection/virus removal, and antibacterial coating.
A single mop has three effects: dirt removal, disinfection/virus removal, and antibacterial coating. With a unique mop structure and chemicals using microfibers, dirt can be removed well. It also has the effect of disinfecting and removing viruses from the wiped floor. * Not all bacteria and viruses are effective (effectiveness was verified with one type of envelope type virus).
*Please perform virus removal in a state where there is a lot of liquid. 【Product Summary】
◆Product name: TuZuKu antibacterial coating mop
◆ Rental start date: October 3, 2022 (Monday) * Pre-introduced in some areas of Tokyo
◆ 4 weeks standard rental fee: 1,100 yen (tax included)
◆ 4-week preferential rental fee: 880 yen (tax included)
◆ Mop size: 26 × 21 cm or more
◆ Pile material: nylon, polyester
◆ Main ingredients of drug: ethanol, polymer, silver-based
antibacterial agent, ethylene glycol monophenyl ether, surfactant (containing 0.2% polyoxyethylene alkyl ether) * The effect of the drug is only once after opening.
◆ Application/Inquiries
● Website: https://www.duskin.jp/item/mop/floormop/dc003240
● Duskin Contact Center (8:00-20:00/open all year round) 0120-100100 Details about this release:
https://prtimes.jp/main/html/rd/p/000000751.000005720.html