Education and Research Co., Ltd.
[Japan's largest] Exploratory learning festival "Quest Cup 2023 National Tournament" will be held in February! The theme of the competition is "my JOY".
Subtitle: Held on February 18th, 19th, 23rd and 25th!

Japan's largest exploratory learning festival "Quest Cup 2023 National Tournament" (sponsored by the Quest Cup Executive Committee and Education and Research) will be held from February 18th to 4th next year. A team of junior and senior high school students working on the inquiry learning program "Quest Education" will gather and share the results of their research over the past year.
[Image 1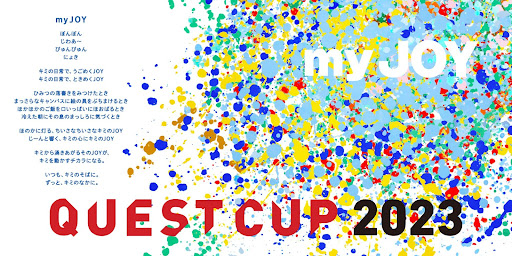 "Inquiry-based learning" is rapidly spreading in schools. With the revision of the course of study, from 2022, "comprehensive inquiry time" will be compulsory in high schools, and the perspective of inquiry will be incorporated into subject study and entrance examinations.
Since 2005, when we started providing the inquiry learning program "Quest Education", we have held the "Quest Cup" every year as a place for students to communicate the results of their research to society. Last time, 4,098 teams from 154 schools in 31 prefectures entered 7 programs in 4 categories: "Investigation of companies," "Investigation of career paths," "Entrepreneur," and "Investigation of social issues." As a result of examination, 261 teams participated in the national competition. did.
The theme of this 18th tournament is "my JOY". Free thinking, trust with friends, and an adventurous spirit for learning. The presentation of the whole body and soul greatly shakes the hearts of the viewers. All presentations will be streamed online on the day of the event. Details will be posted on the special site (https://www.questcup.jp/). Quest Education, an exploratory learning program that connects you to the real world
[Image 2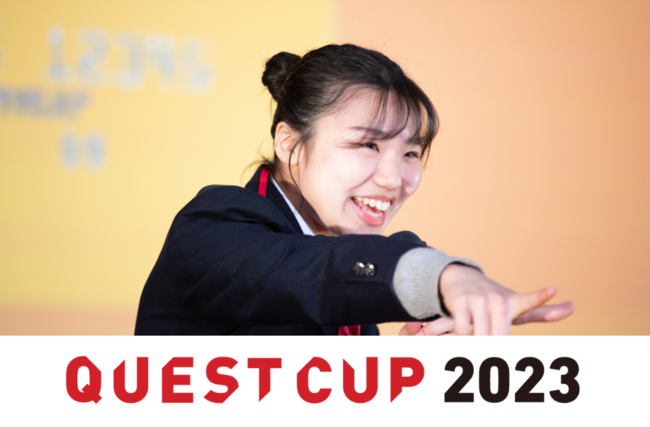 Japan's largest exploratory learning program with 57,000 middle and high school students nationwide (as of May 2022). We will explore themes that connect with the real world, such as corporate missions, social issues, and product development. Since 2005, "Education and Research" has started providing it, and so far, about 2,000 schools and about 350,000 people have studied. In 2017, it won the first "Good Design Award" as an educational curriculum for junior high and high school students.
[Exclusive site] https://eduq.jp/for-school/quest_education/ Overview of "Quest Cup 2023 National Tournament"
Competition theme: "my JOY"
[Image 3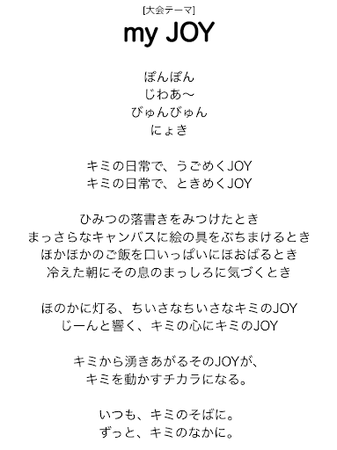 Message from Misuzu Uchida (Quest Cup executive committee, education and research company employee)
For everyone involved in the quest cup, I want it to be something that will be in their hearts like a talisman at that moment and beyond. I decided the theme with such a wish.
What exactly is "my JOY" in your daily life? From the time I woke up this morning, until now, and at this very moment. Please try to find JOY that surely exists in your daily life.
I'm sure that will be a great source of strength to encourage you and push your back!
Schedule/Department
* Online distribution will be announced on the special site as soon as the details are decided.
*Start and end times are subject to change.
*The "Corporate Access" second stage may be held only online due to the spread of the new coronavirus infection.
Day 1: Saturday, February 18, 2023, 9:00-17:00 (online delivery) Corporate Research Division
"Corporate Access" First Stage: Based on the issues (missions) presented by the 11 participating companies, the team discusses and proposes a plan. The representatives of each company will judge, and the teams selected for the "Company Award" and "Semi-Company Award" will proceed to the second stage (final selection) on the 25th. Day2: February 19, 2023 (Sun) 9:00-17:00 (online distribution) Entrepreneur Category "Small Start": We will propose a unique and highly feasible "new product" plan that utilizes cutting-edge entrepreneurial methods based on what we have noticed in our daily lives.
Career Exploration Division
"Role model": We will present a self-made documentary work that focuses on the composition and direction of the life of the
predecessor who wrote the Nihon Keizai Shimbun "My Resume".
"My Story": Recapture your life from a new perspective and present a "my story" that has been woven as a "story".
"The Vision": Based on the messages of people active in society, explore your own way of being and way of life, and announce your own "vision".
Day3: February 23, 2023 (Thursday/holiday) 9:00-17:00 (online distribution) Social Issue Research Division
"Social change": Face social issues that you find yourself and propose solutions that make people in need smile.
"Social Change English": Face social issues that you find yourself and propose solutions that make people in need smile. Presentations will be made in English.
Day 4: February 25, 2023 (Sat) 9:00-17:00 (Online distribution during venue adjustment)
Second Stage of Corporate Research Category "Corporate Access": The teams selected for the "Corporate Award" and "Semi-Company Award" at the first stage on the 18th will present plans that have been further refined. On the day of the event, we plan to broadcast the event at the real venue online.
[Quest Cup 2023 special site] https:www.questcup.jp/
[SNS]
Twitter https://twitter.com/questeduca
Facebook https://www.facebook.com/questcup
Sponsorship/Sponsorship/Cooperation
Organizer: Quest Cup Executive Committee / Education and Research Company Sponsors: Aeon Retail / Okamura / Calbee / Daiwa House Industry / TV Tokyo / Hakuhodo
Panasonic Energy / Forest Adventure / Fujitsu / Menicon / Yahoo (alphabetical order)
[Image 4