General Incorporated Association And Earth
A new SDGs special page has been added to the tourist guide "OnTrip JAL" proposed by JAL. We will start recruiting SDGs promotion companies to be published in the article.
And Earth, an incorporated association that promotes the circular economy, has opened a special SDGs page that serves as a bridge between SDGs promotion companies that connect each region within "OnTrip JAL" operated by JAL. Start recruiting companies that can be listed.

General Incorporated Association And Earth (Headquarters: Chiyoda-ku, Tokyo; Representative: Hirohito Hihara) is a web magazine operated by Japan Airlines Co., Ltd. (Headquarters: Shinagawa-ku, Tokyo; President and CEO: Yuji Akasaka). OnTrip JAL (https://ontrip.jal.co.jp/)", we will open a special page to post articles about companies that are working to promote SDGs for the global environment all over the country.
While the physical movement of people is decreasing due to the influence of Corona, And Earth will regenerate connections between people based on the SDGs and contribute to the promotion of the realization of the SDGs.
[Image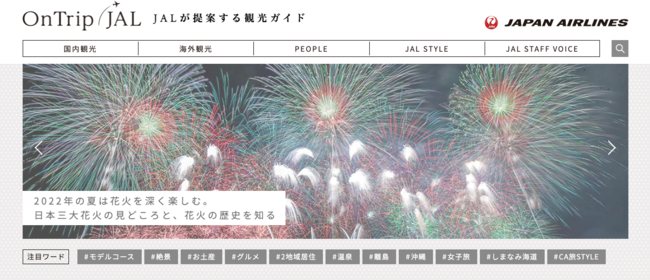 [Background for opening the SDGs special page in OnTrip JAL] It is a well-known fact that the number of flights has decreased due to the spread of corona, and the physical movement of people has decreased accordingly, and the number of tourists has decreased sharply. Until now, JAL has realized "people-to-people connections" including tourism financial resources by transporting people not only in Japan but also in the world, but the difficult situation continues even now.
Therefore, And Earth introduces companies that are promoting SDGs for the global environment in Japan and overseas regions, and will become a bridge to connect people not only physically but also online. I thought about the plan for this special page.
We hope that OnTrip readers who love traveling can imagine connecting with somewhere on the earth through the theme of SDGs and enjoy the atmosphere of traveling even a little.
In addition to just feeling the atmosphere of travel, we provide information on what each company promoting SDGs is doing in various places to protect the global environment, and each user can
personalize the SDGs. We also aim to be a place where you can think and learn.
By opening the SDGs special page of this project, And Earth will contribute to the promotion of SDGs by reconnecting people who love traveling with Japan and other parts of the world.
[Recruitment of companies listed on OnTrip JAL]
And Earth is looking for SDGs promotion companies that can be posted on this special page.
《Application conditions》
・ Companies that support and promote the SDGs
・ It is desirable that the promotion of the SDGs being implemented leads to the revitalization of the environment and local communities. ・ Any company or business size
*If you contribute an article, it will be published free of charge. * Contents will be reviewed in advance before publication.
[About OnTrip JAL]
A web magazine operated by Japan Airlines Co., Ltd. that proposes high-quality trips full of new discoveries to all those who love traveling.
JAL staff such as cabin attendants who are familiar with travel are sending out recommended information directly from domestic and overseas sightseeing information carefully selected from JAL's unique perspective, useful travel tips.
https://ontrip.jal.co.jp/
[About And Earth]
Corporate name: General Incorporated Association And Earth
Representative: Hirohito Hihara
Established: September 4, 2020
Location: 6-6 Kojimachi, Chiyoda-ku, Tokyo
URL: https://and-earth.or.jp/
Details about this release:
https://prtimes.jp/main/html/rd/p/000000003.000106813.html