General Incorporated Association Wide Area Collaboration Business Promotion Organization
"Irregular Straw" x "Touch Happy" Co-creation project for the next generation started!
~ Promoting the production of straw cutlery with Visa touch payment for a decarbonized society ~

October 3, 2022
General Incorporated Association Regional Partnership Promotion Organization (Headquarters: Chuo-ku, Tokyo, Representative Director: Hiromi Shigehisa, hereinafter "RPA"), Sumitomo Mitsui Card Co., Ltd. (Headquarters: Koto-ku, Tokyo, President: Yukihiko Onishi, hereinafter "Mitsui Sumitomo Card") and Touch Happy "Straw and Plastic Waste" will start in October 2022 as an initiative to contribute to the creation of a sustainable world through cashless payments. RPA promotes the development and production of "straw cutlery" under the theme of "marine plastic waste problem".
[Image 1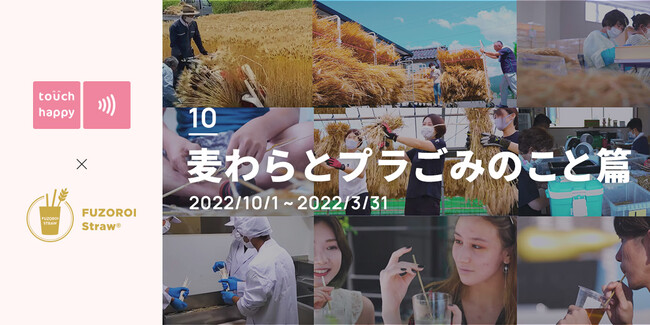 ■ Background
 In 1950, the world's plastic production volume was 2 million tons per year, and it is said that it increased to 380 million tons in 2015. Plastic waste that is not properly disposed of ends up in the ocean, and it is predicted that by 2050, the amount of plastic floating in the ocean will exceed the total weight of fish. Due to improper disposal methods, the plastic products mass-produced by humankind eventually end up in the ocean as garbage, which is beginning to have a major impact on the ecosystem and our diet. In addition, plastics derived from fossil fuels emit greenhouse gases during the production process and the incineration process after use, so there is concern that this is one of the causes of global warming.
Under such circumstances, attention is being paid to alternatives that use natural resources as they are, which have a low environmental impact.
Based on the concept of "changing the world with a single straw", RPA is working on measures against environmental problems such as marine plastic litter. It manufactures and sells upcycled products, mainly straws made from straw, and conducts SDGs educational activities. increase. In addition, through the production of upcycled products, we are promoting social contribution projects in collaboration with local agriculture and welfare (agriculture collaboration).
For more information about the irregular straw project, please visit the link below.
https://fuzoroi.rpa.or.jp/
■ Touch Happy (10th) "Straw and Plastic Waste"
[Image 2


Touch Happy is a system in which Sumitomo Mitsui Card aims to realize a sustainable society together with customers through cashless payments. A theme is set for each period, and donation activities are carried out in partnership with organizations that conduct
contribution activities in line with the theme.
At the 10th Touch Happy event, we will support the development and production of straw cutlery (straws, spoons, and forks), which is expected to have a low environmental impact. By making a total of 40 million Visa touch payments and sharing on official SNS, we can support efforts to put straw cutlery into practical use (initial production target of 10,000 sets). RPA aims to contribute to a decarbonized society as a global initiative, not only in Japan, but also in collaboration with partners in the EU market, where plastic cutlery has already been banned.
In addition, straw straws will be displayed and distributed in advance at the booth in the venue of the "2022 Sumitomo Mitsui VISA Taiheiyo Masters" to be held from November 10th (Thursday) to 13th (Sunday), 2022. Please take this opportunity to touch straw straws locally! For more information on Touch Happy, please see the link below. https://www.smbc-card.com/brand/touchhappy/index_fuzoroi-rpa.jsp ■ Contribution to SDGs
In this edition of "Touch Happy Straw and Plastic Waste", we will introduce the SDGs set by the United Nations: "12. We believe that it will contribute to the four goals of 17. Partnerships to achieve goals.
[Image 3


■ To participate in Touch Happy
You can participate in the following five ways. In addition, we donate according to the total number of five.
1. Visa touch payment with Sumitomo Mitsui Card issued card * 1 (limited to domestic affiliated stores)
2. "Retweet" or "Like" the target post on Sumitomo Mitsui Card official Twitter   https://twitter.com/smcc_card/
3. "Share" or "Like" the target post on Sumitomo Mitsui Card official Facebook   https://ja-jp.facebook.com/smbccard/
4. "Like" the target post on Sumitomo Mitsui Card's official Instagram   https://www.instagram.com/smcc_likeu/   *Scheduled to be posted sequentially after October
5. Posting on Twitter with "# Let's touch a cashless and happy future" Started in February 2020, many people have participated as an initiative that can contribute to society every time such as cashless payment and SNS sharing. In February 2021, Touch Happy won the Social Products Award of the "Social Products Awards 2021"*2.
*1 Only Visa cards are installed. About Visa touch payment
  https://www.smbc-card.com/brand/contactless.html
*2 Details announced on February 15, 2021
  https://www.smbc-card.com/company/news/news0001577.jsp
The Touch Happy Project will continue to aim to realize a happy future and a society where everyone can be happy together with customers and partner organizations through cashless payments.
■Message from RPA
The "Fuzzy Straw" project promoted by RPA is a social project promoted through diverse partnerships that transcend the boundaries of regions, industries, and organizations. It is a unique organization that introduces advanced initiatives such as
industry-government-academia-finance collaboration and
agriculture-welfare collaboration into its business operations, and promotes environmental and social contribution business activities based on the goals of the SDGs from a global perspective.
We are confident that by starting co-creation with Touch Happy, cashless payments in daily economic activities will be widely brought to society as an opportunity to directly contribute to society and the environment and change behavior to achieve the SDGs. I'm here. Through sustainable business, RPA aims to create positive value in terms of "society, environment, and economy" and to create a "society that leaves no one behind."
In addition, we believe that the actions of each person will eventually lead to a trend that will change the world, and the slogan of RPA is "Change the world with a single straw." For everyone, for the future of the earth, we will become a new power to enrich society and create the future. Thank you for your warm support.