Hajimari Co., Ltd.
[Hajimari's first exhibition] At the 11th HR EXPO [Autumn], we will introduce two services, "HR Pro Partners" and "HR University," which will change the personnel affairs of Japanese companies!
Advance reservations and visitor benefits are also being prepared
Hajimari Co., Ltd. (Location: Shibuya-ku, Tokyo, Representative Director: Naoto Kimura) will hold HR EXPO [Autumn] at Makuhari Messe 9-11 Halls from October 12th (Wednesday) to 14th (Friday), 2022. ] has been decided to exhibit. Two services, "HR Pro Partners" and "HR University" will be exhibited.
[Image 1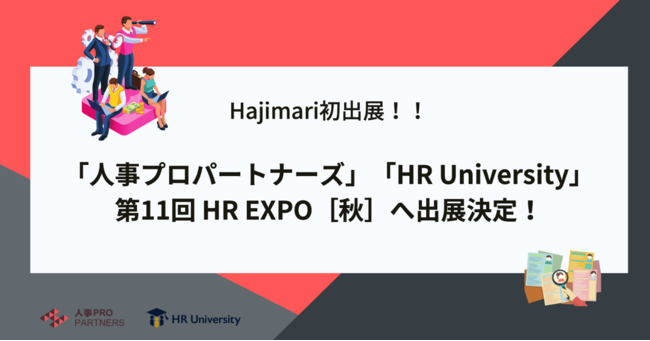 Hajimari's first HR EXPO exhibition
Hajimari started offering "HR Pro Partners" in 2019 and has been supporting the resolution of HR issues at many companies. More than 6,000 people have registered, and we plan to expand and expand the range of support in the future.
In addition, in September 2022, we will launch the online training service "HR University" where you can systematically and
comprehensively learn knowledge about human resources, and we will be able to support companies from the perspective of improving employee development and engagement. I was.
We would like more people to know about the service that strengthens "HR", which is indispensable for corporate growth, and will exhibit at "HR EXPO", one of the largest exhibitions for back offices in Japan. We also have special content for those who stop by the booth! At the Hajimari booth, in addition to actually knowing the service contents of "HR Pro Partners" and "HR University", we have prepared content that will help you solve your problems related to HR and HR. Free consultation corner by professionals who have seen personnel affairs of more than 100 companies in total
Introducing professional human resources who can solve corporate issues from a database of over 6,000 people
Limited to visitors! Matching cost up to half price!
As a special gift for visitors, we present "Scout-type Recruitment Success Technique Toranomaki"!
[Image 2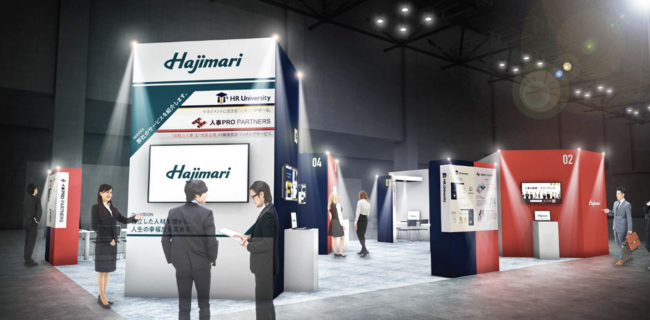 Exhibition booth image
Exhibition overview
11th HR EXPO [Autumn] (Human Resources/Education/Recruitment) Date: October 12th (Wednesday) to 14th (Friday), 2022 10:00-18:00 (Ends at 17:00 on the last day only)
Venue: Makuhari Messe Hall 9-11 (2-1 Nakase, Mihama Ward, Chiba City, Chiba Prefecture)
Exhibition Zone: General Zone -HR EXPO (Human Resources, Education, Recruitment) Exhibition Zone-
Booth number : 15-30
Organizer: RX Japan Co., Ltd.
Exhibition URL: https://www.office-expo.jp/tokyo/ja-jp/about/hr.html?co=weektop Hajimari booth details:
https://www.office-expo.jp/tokyo-2/ja-jp/search/directory/directory-details.org-b1783f50-2881-4fd0-9788-9c16f59476b4.html#/ [Image 3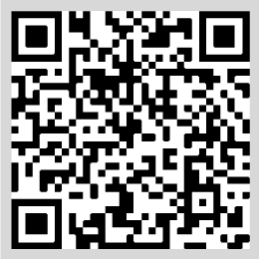 *Regular entry fee for the exhibition is 5,000 yen, but if you pre-register from this URL or QR code, you can enter for free.
https://www.office-expo.jp/tokyo-2/ja-jp/search-ex/2022/hr/directory/details.org-b1783f50-2881-4fd0-9788-9c16f59476b4.html#/
[What is "HR Pro Partners" and "HR University" that will change Japan's personnel affairs?]
[Image 4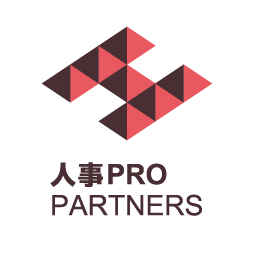 ◆Human Resources Pro Partners◆
With the mission of "creating a new HR work style in Japan", it is a service that supports companies that have problems with HR. Out of about 6,000 professional human resources, we will introduce the most suitable human resources to solve corporate issues as outsourcing. We create a new HR culture in Japan and support the independence of HR and the growth of companies.
[Image 5

◆HR University◆
This is an online training service that allows you to systematically and comprehensively learn HR knowledge that is useful not only for HR personnel training, but also for human resource development and organization building.
[Image 6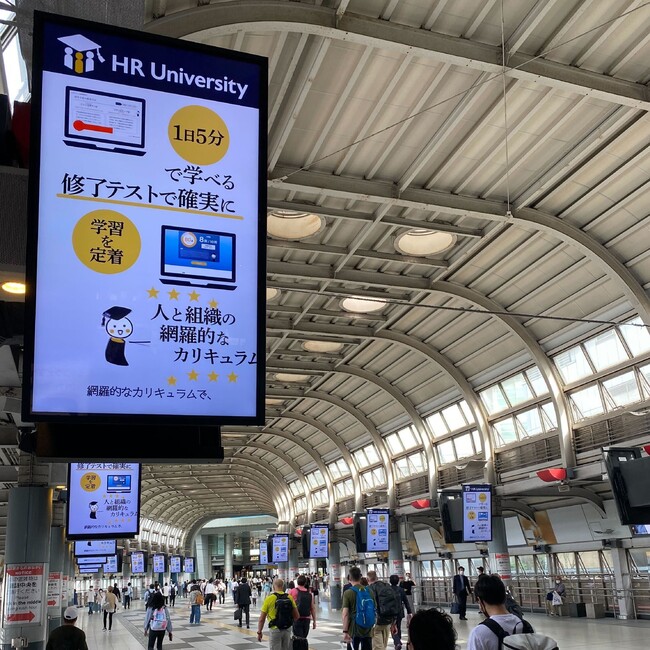 We provide video content that covers the knowledge necessary for human resources and management, and you can learn for a wide range of employees, from prospective employees to executive class. As the shortage of human resources becomes more serious, more and more companies are in need of "personnel skills."
We provide a mechanism to grow people, teams, organizations, and working people all over Japan, beyond the framework of occupation, age, and experience.
Until October 9, 2022, a service introduction video is also being broadcast on the Shinagawa Station connecting passage (between Takanawa Exit and Konan Exit).
Related press release
[Image 7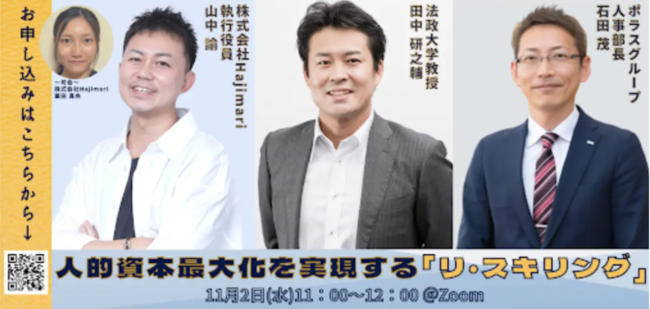 ◆ [Seminar with Dr. Tanaken]
"Re-skilling" to maximize human capital
https://prtimes.jp/main/html/rd/p/000000116.000031819.html
[Image 8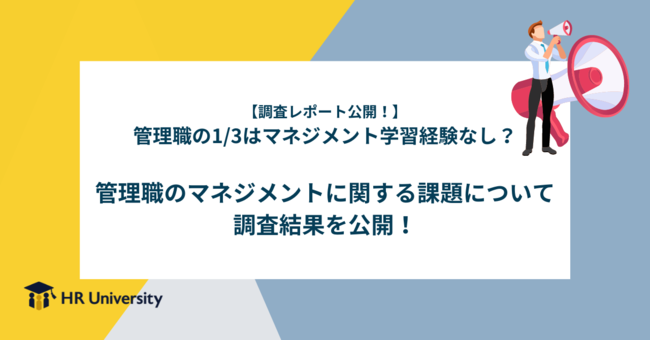 ◆ [Survey report] 1/3 of managers have no management learning experience? Publish survey results on management issues for managers!
https://prtimes.jp/main/html/rd/p/000000114.000031819.html
About Hajimari
[Image 9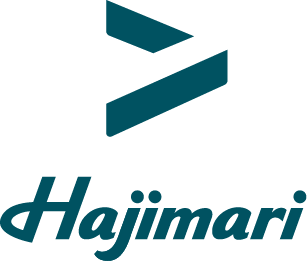 Company name: Hajimari Co., Ltd.
Established: February 26, 2015
Representative Director: Naoto Kimura
Location: 〒150-0043
Shibuya DT Building 6F/9F, 1-16-10 Dogenzaka, Shibuya-ku
Business description:
Aiming to realize the vision of "Increase the number of independent human resources and increase the happiness of life", we are currently developing 8 businesses centered on matching services between freelancers and companies.
From 2022, we have set up a satellite office in Nagano City, Nagano Prefecture, and started a regional revitalization project.
● Hajimari Co., Ltd. corporate site
https://www.hajimari.inc/
Details about this release:
https://prtimes.jp/main/html/rd/p/000000117.000031819.html