IISIA
A book of truth published only once a month, read by that heavyweight in the political and business world
An independent think tank that aims to realize "Pax Japonica" by analyzing the market and domestic and international situations surrounding it and presenting future scenarios based on that analysis.
Takeo Harada Institute for International Strategic Information Issued "IISIA Monthly Report" October Issue
[Image 1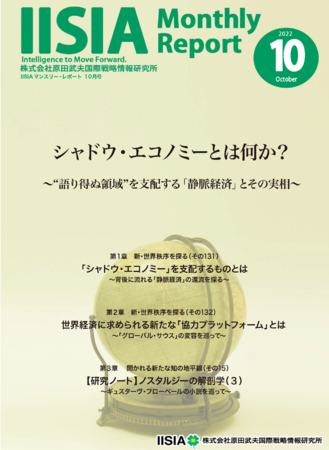 Takeo Harada International Strategic Information Institute Co., Ltd. published the October issue of the IISIA Monthly Report, the latest edition, on Monday, October 3rd.
In the latest issue, while the conflict between accelerating inflation and monetary tightening in the US market is increasing volatility worldwide, the death of Queen Elizabeth in the UK has led to the "next phase". It can be said that we are now in a critical phase where the shift toward the future is finally starting to occur, so we are analyzing and delivering the information that is essential to know. "Now that the world is moving and Japan is changing, that's why." By reading this book, you will be able to know the other side of the truth, which is different from the "facts" covered by the media, and your common sense and concepts will change.
【Product Summary】
■ Product name: "IISIA Monthly Report" October issue
■ Release date: October 3, 2022 (Monday)
Price: Online version ¥ 17,600 (tax included) Sales page: https://bit.ly/3Rvm6Z0     Bookbinding version ¥ 19,800 (tax included) Sales page:
https://bit.ly/3M34zGg
■ October issue highlights:
What is Shadow Economy? ~The Reality of the "Venous Economy" Dominating the "Unspeakable Realm"~
Chapter 1 Exploring the New World Order (Part 131)
What Controls the "Shadow Economy"? Exploring the Circulation of the "Venous Economy" Flowing Behind the Scenes
Chapter 2 Exploring the New World Order (Part 132)
What is a new "cooperation platform" required for the global economy? Chapter 3 Opening new horizons of knowledge (Part 15)
[Research Note] Anatomy of Nostalgia (3) -Around the novels of Gustave Flaubert- [About the IISIA Monthly Report]
It has been published once a month since 2007, and has been read by more than 1,000 people, including political and business leaders. While we tend to be dazzled by the flood of news every day, this research and analysis report carefully selects the information necessary to consider "what may happen in the future and its structure" from a slightly different perspective, conveys the truth, and pursues the essence of the world. is.
About Takeo Harada International Strategic Information Institute (IISIA) An independent think tank that develops activities to realize its vision of "Pax Japonica" (*) while analyzing the market and the domestic and international situation surrounding it and presenting future scenarios based on that analysis.
Established and registered in 2007 by Takeo Harada (Representative Director and CEO. Worked at the Ministry of Foreign Affairs for 12 years until 2005 as a class I foreign affairs official). It has continued to grow rapidly since its founding, centering on membership services (approximately 1,650 members (as of September 2022)) whose members are mainly small and medium-sized business owners nationwide (sales in FY2021 will be 130% compared to the previous year). . The research and analysis report that we send out daily,
It has also been available on Thomson Reuters since July 2015. In addition, in the 2020 edition of the Global Go to Think Tank Index Report, a think tank evaluation sponsored by the Lauder Institute of the University of Pennsylvania, the only Japanese company ranked 31st in the "Think Tank to Watch" category. It has been highly evaluated in the global society, such as achieving a rank increase since 2019. In 2020, Takeo Harada, the founder, will hold a voluntary seminar officially recognized by the University of Tokyo College of Liberal Arts and Student Government.
* Literal translation is "peace by Japan". Japan, which is currently a "developed country facing challenges," will have no choice but to seek comprehensive and innovative solutions to a variety of social problems. The concept that a new world order will be built.
[Image 2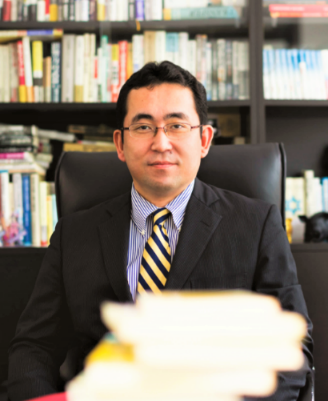 ◆Representative Director (CEO) Profile
Takeo Harada
l Passed diplomatic examination while studying law at the University of Tokyo and entered the Ministry of Foreign Affairs as a class I foreign affairs official. Served for 12 years, worked as assistant manager of the Northeast Asia Division of the Asia and Oceania Bureau (head of the North Korea Section), and finally retired voluntarily. During his tenure, he was in charge of the Six-Party Talks and the Japan-North Korea Talks.
l Currently serves as CEO of Takeo Harada International Strategic Information Institute (IISIA). From July 2015, Thomson Reuters has been distributing research and analysis reports that our research institute publishes daily. Since 2017, he has been a member of the International Chamber of Commerce (ICC) Japan Committee and a member of the International Chamber of Commerce (ICC) G20 CEO Advisory Group. Since then, he has attended many international conferences both in Japan and abroad.
l From April 2021, I will give a lecture on "Future Scenarios and Leadership" at the University of Tokyo College of Arts and Sciences Free Research Seminar and Student Union Official Seminar. Diplomat)", and in the fall semester, lectures on "International Cultural Exchange Seminar I (International Courtesy)".
l From April 2021, research on artificial intelligence (AI) at Rikkyo University Graduate School of Artificial Intelligence Science Master's Course, and from May 2021, the Japanese Society for Artificial Intelligence and from May 2022, natural language processing I am enrolled in a society. Since September 2022, he has been a joint researcher at the Department of Bioengineering, Graduate School of Engineering, the University of Tokyo.
◆ IISIA Corporate Profile
Trade name: Takeo Harada International Strategic Information Institute Co., Ltd. English notation: Institute for International Strategy and Information Analysis, Inc. (abbreviation: IISIA)
Representative Director (CEO): Takeo Harada
Establishment registration: April 2, 2007
Business: Survey research and educational activities on domestic and international situations, management consulting business
Capital: 3,000,000 yen
Head office location: Yusen Building 3F, 2-3-2 Marunouchi, Chiyoda-ku, Tokyo URL: https://haradatatakeo.com/
Twitter official account: https://twitter.com/iisia
Official Facebook account: https://www.facebook.com/iisia.jp Official Youtube Channel:
https://www.youtube.com/channel/UC1_4Dgxm7gwcs7TPXPjcNwg
Details about this release:
https://prtimes.jp/main/html/rd/p/000000115.000000451.html