Marriott International
[JW Marriott Hotel Nara] Held a bridal event "Talking about love in the center of the city" to show off each other's thoughts on stage and present a wedding to the best couple
Held on October 23 as part of the event "Heijokyo Tenpyo Festival 2022 Autumn-Mitsuki Umashi Festival-"

JW Marriott Hotel Nara, the only international luxury hotel in Nara Prefecture (Location: 1-1-1 Sanjo Oji, Nara City, Nara Prefecture, General Manager: Christopher Clark) will open on Sunday, October 23, Heijokyo, Nara Prefecture. As part of the Heijokyo Tenpyo Festival 2022 Autumn Mitsuki Umashi Festival, which will be held on the 22nd (Sat) and 23rd (Sun) of the same month, a bridal event called "Miyako Talking about love in the center of " will be held.
[Image 1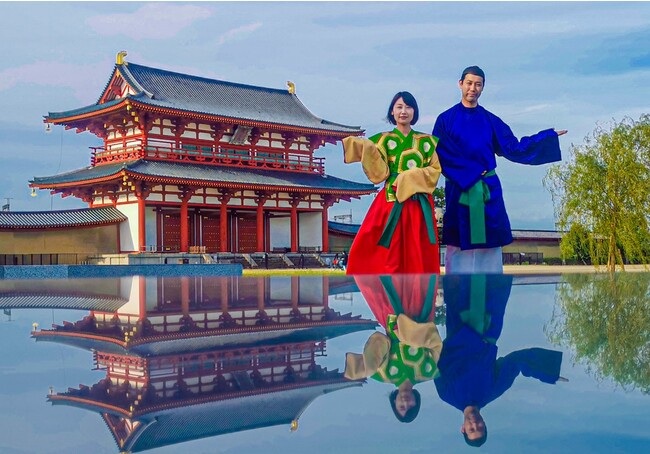 In this event, the couples who participated will wear Tenpyo costumes, which are modern reproductions of the costumes worn by the aristocrats of the Nara period. Please exchange the tanzaku. The judges will review the situation, and the best couple (one pair) will be presented with a "wedding ceremony" at the hotel. In addition, we have prepared wonderful gifts from the hotel for all couples who participated. We hope that by holding such an original event, we will be able to raise awareness of our wedding services and facilities. The outline of the event "Talk about love in the heart of the city" is as follows. Date: Sunday, October 23, 2022
Time: 12:40pm-1:40pm
Location: Heijokyo Ruins, at Suzakumon Gate (see map)
Target: Couples thinking about getting married, couples who have registered but have not had a wedding (limited to 10 couples) Participation fee: free
Time required: about 1 hour, about 5 minutes per group
Benefits: A hotel gift for all participating couples
A free wedding at the JW Marriott Hotel Nara for the winning couple     2nd class JW Marriott Hotel Nara pair meal ticket
    3rd class JW Marriott Hotel Nara afternoon tea set pair ticket [Inquiry/Application]
Phone: 0742-36-5633 JW Marriott Hotel Nara Wedding Sales (direct line) Website: http://wedding-jw-marriott-nara.com/
[Image 2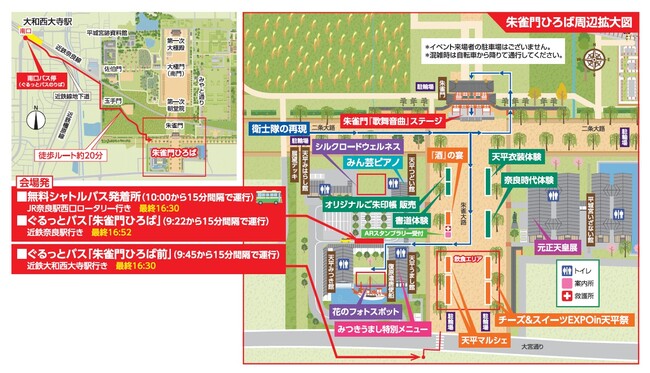 About JW Marriott Hotel Nara
JW Marriott Hotel Nara was born as the first international brand luxury hotel in Nara Prefecture. The 158 guest rooms, including 16 suites, use a lot of natural materials to create a sense of comfort and tranquility. In addition, at the hotel's all-day dining "Silk Road" and Japanese cuisine "Azekura" consisting of teppanyaki, sushi, and kaiseki cuisine, you can enjoy ingredients selected from all over the country, including ingredients from Nara Prefecture. The lobby lounge bar, Flying Stag, offers authentic afternoon tea, as well as cocktails and whiskeys prepared by experienced bartenders. In addition, the hotel has a 24-hour fitness center, indoor swimming pool, massage, jacuzzi, and a spa where you can experience facial treatments (4 treatment rooms including 1 pair room, sauna, steam room, etc.). and
You can spend a relaxing time here. We also have a versatile ballroom and four multi-layout meeting rooms that can be used for events, weddings and other special occasions to suit your needs.
About JW Marriott Hotels & Resorts
JW Marriott is one of Marriott International's luxury brands and boasts award-winning hotels and spectacular resort locations around the world. Inspired by the idea of ​​mindfulness, JW Marriott finds itself in the mind, nourishes the body, and A sanctuary designed to rejuvenate the spirit and allow you to focus on what feels like a unity of mind and body. Today, with more than 100 hotels in more than 30 countries and territories around the world, JW Marriott seeks experiences that help them recharge, nurture meaningful connections and nourish their souls. , caters to the sophisticated and mindful traveler. For updates, visit our website or Instagram
(@jwmarriotthotels)
, and Facebook (@JWMarriott). JW Marriott participates in Marriott Bonvoy(TM), Marriott International's global travel program. Marriott Bonvoy offers members an exceptional global brand portfolio, Marriott Bonvoy Moments experiences and unparalleled benefits, including points towards free hotel nights and nights earned towards elite status. Visit MarriottBonvoy.marriott.com for free membership registration and program details.
Details about this release:
https://prtimes.jp/main/html/rd/p/000001156.000011305.html