Kashiwabara Corporation Co., Ltd.
-Fact-finding survey on remodeling-60% of people are okay with second-hand houses! The reason for this is the soaring price of newly built houses, and the difference in values ​​between generations regarding remodeling.
The top reasons for wanting to renovate are for Gen Z, "time at home", and for the post-baby boomer generation, "renovation for old age" 90% of those who have experienced remodeling answered that they would recommend remodeling

Kashiwabara Corporation (Headquarters: Minato-ku, Tokyo;
Representative Director: Shinsuke Kashiwabara), which strengthens the value of buildings from housing construction to renovations and large-scale condominium repairs, aims to create opportunities to think about better housing. We conducted a "Fact-Finding Survey on Renovation" on the Internet targeting 600 men and women aged 20 to 69 nationwide. This survey was conducted for the general public. [Survey overview]
■Survey content: Fact-finding survey on renovation
■ Survey period: September 13 (Tuesday) to September 14 (Wednesday), 2022 ■ Survey target: 600 men and women aged 20 to 69
■ Survey target (breakdown): Generation Z (20-26 years old), Millennials (27-42 years old), Ice Age (43-51 years old),
120 each of the bubble generation (ages 52-57) and the post-baby boom generation (ages 58-69)
■ Survey method: Internet survey
■ Research agency: Signal Research
Summary of survey results
■Changes in housing values!? 60% of people don't mind buying old houses instead of new ones!
About half of respondents said that secondhand homes are acceptable as reasons for "rising prices of newly built homes" and "beautiful with renovations."
About 90% of people who live in second-hand houses want to renovate ■ Reasons for wanting to renovate, big difference between Generation Z and post-baby boomers!?
The difference in values ​​​​to renovation is clear between generations! Generation Z is "for home time", and post-baby boom generation is "renovation for old age"
TOP REASONS TO WANT
■Renovation place No. 1 for those who have experienced remodeling is "toilet", followed by "bathroom" What is the reason?
Reasons for "toilet" are functional upgrades and measures against aging, and "bathroom" is barrier-free.
■ Differences in the advantages of renovation between the millennial generation and the bubble generation What is the difference between young people and middle-aged and older people?
Among the top reasons for wanting to recommend remodeling, millennials are "enriching their time at home",
The bubble generation said, "Energy-saving renovation brings more economic benefits.
■ The percentage of people who renovate without knowing the existence of subsidies and support systems is…
More than 60% of those who experienced renovation answered that they did not know about subsidies and support systems for renovation * When using the survey results, please be sure to specify
"Kashiwabara Corporation Research".
*Total may not add up to 100% due to rounding off to the second decimal place.
[Table 6: https://prtimes.jp/data/corp/41532/table/20_1_a1bebe562657649b22473c095a804a5b.jpg ]
Changes in housing values!? 60% of people don't mind buying old homes instead of new ones!
About half of respondents said that secondhand homes are acceptable as reasons for "rising prices of newly built homes" and "beautiful with renovations."
When we asked 200 people who answered that they did not own a house or had no experience of remodeling, "If you buy a house, do you think it's okay to buy a second-hand house?", 60.0% answered "I think so" After answering the question, it was found that many people think that it is okay to buy a second-hand house instead of a new one. When we asked the 120 people who answered that they were okay with using a second-hand house, 50.8% said, "The price of new houses is soaring." I went up. This was followed by 44.2% who answered, "It will be beautiful if remodeled."
When purchasing a house, 60% answered that they would be fine with a second-hand house
[Image 1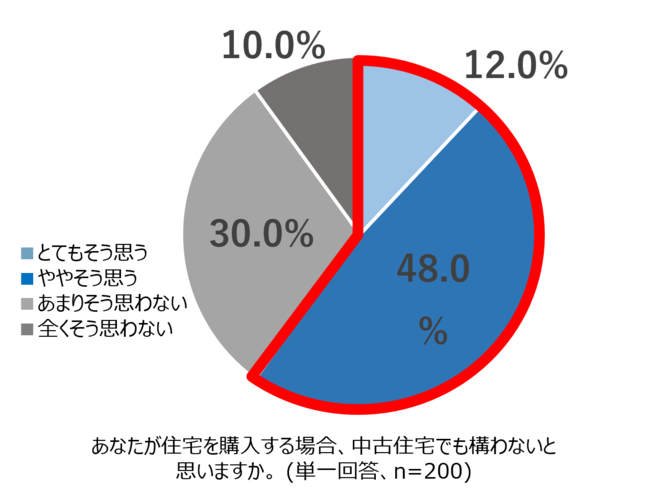 [Image 2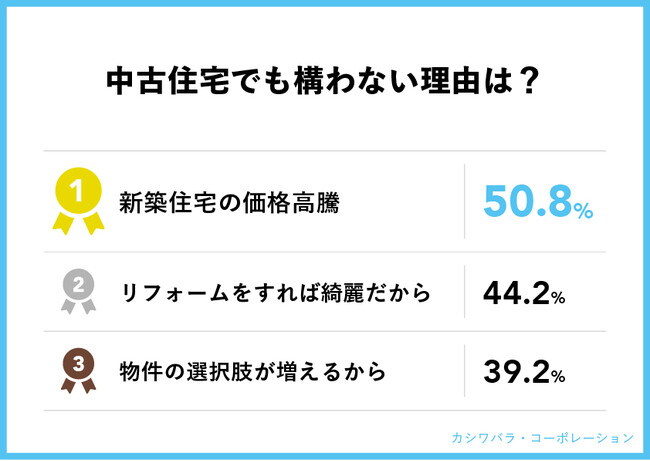 [Image 3

About 90% of people who live in second-hand houses want to renovate Also, in response to the question, "If you live in an old house, would you want to renovate it?" I found that there are a lot of people who want to renovate when they live.
About 90% of people who live in second-hand houses want to renovate [Image 4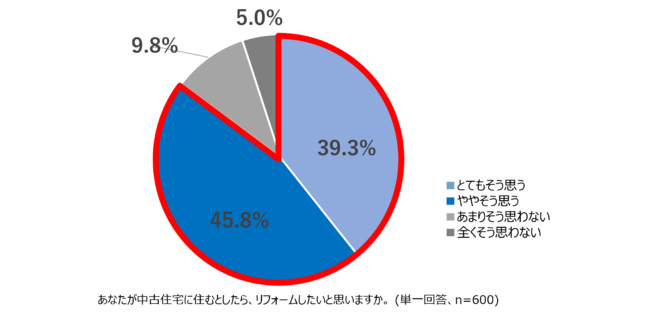 [Table 7: https://prtimes.jp/data/corp/41532/table/20_2_e71c657869860d216861d4f0a3174841.jpg ]
Why do people want to renovate? There is a big difference between Generation Z and the post-baby boomer generation!?
The top reason for wanting to renovate for generation Z is "for home time", and for the post-baby boomer generation, "renovation for old age"
35% of the 600 respondents to the question, "Do you want/want to renovate your current home?" I was. When we asked the 140 people who answered "I want/want to renovate" "Why do you want to renovate?" Next, "to improve comfort and convenience" was 25.0% of the answers, and it was found that many of Generation Z wanted to renovate to enhance the time they spent at home. On the other hand, among the post-baby boomers, 45.5% of the respondents chose "renovation for old age" and "due to deterioration of the building," indicating that the post-baby boomer generation wants to renovate their current home for a long time. It turns out there are many.
About 40% answered that they would like to renovate their current home [Image 5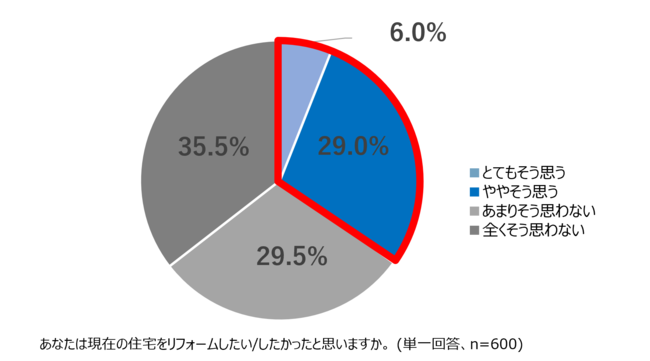 [Image 6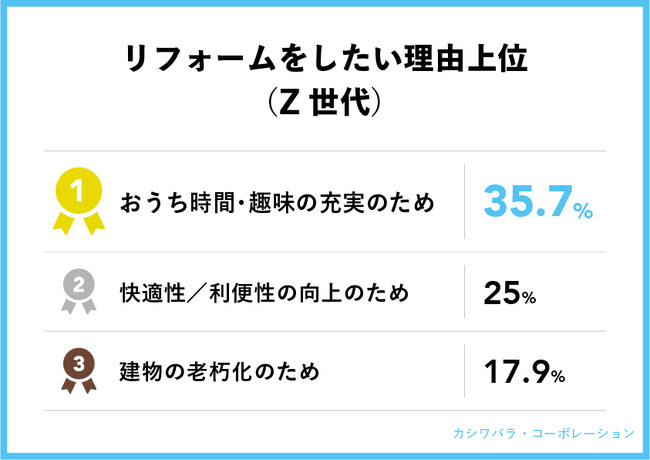 [Image 7

[Image 8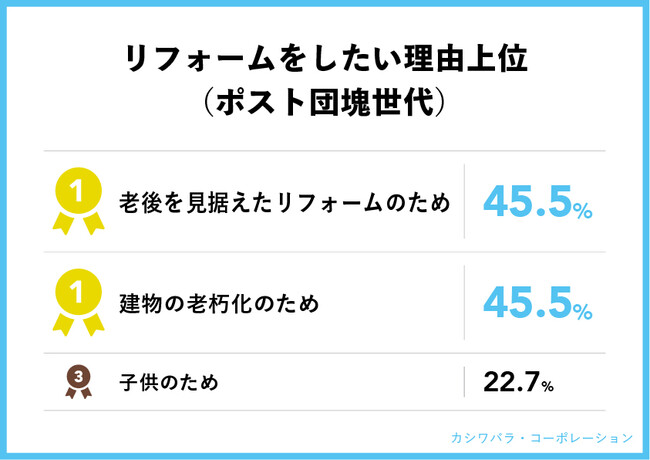 [Image 9

[Table 8: https://prtimes.jp/data/corp/41532/table/20_3_c182d85b8d183bd735e54dc3777ca6f4.jpg ]
The number one place for remodeling for those who have experienced remodeling is the toilet, followed by the bathroom. What is the reason?
Reasons for "toilet" are functional upgrades and measures against aging, and "bathroom" is barrier-free.
When we asked 200 people who had experience of remodeling where they remodeled, 55.0% of them answered "toilet", 2nd place was "bathroom" at 46.0%, and 3rd place was "kitchen" at 41.0%. . When asked about the reasons for remodeling, it was found that many of the reasons for "toilet" were upgrading functions and measures against aging, such as "changing to a tankless toilet" and "replacing the toilet itself to prevent aging and energy conservation." . In the "bathroom", there were many barrier-free repairs and aging repairs, such as
"installation of handrails" and "installation of water pipes and faucets" in anticipation of old age. In the kitchen, it was found that there were many repairs to all-electricity and deterioration of the plumbing, such as "installation of IH stove" and "replacement of plumbing equipment".
[Image 10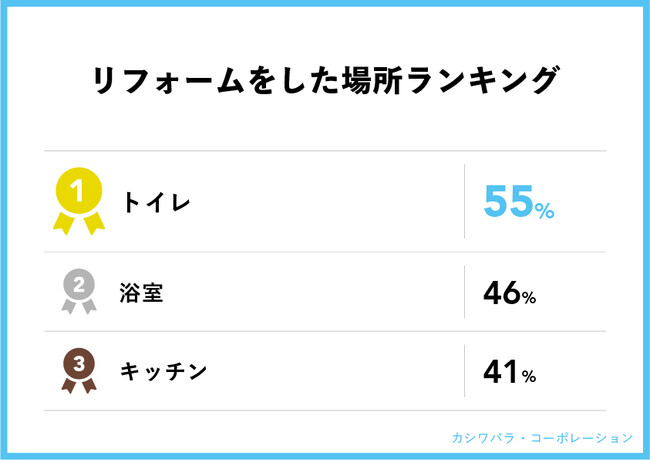 [Image 11
[Table 9: https://prtimes.jp/data/corp/41532/table/20_4_ddb20e88690c7afa6e5bb9e96ba05428.jpg ]
Millennials and the bubble generation differ in the benefits they feel from renovation What is the difference between young people and middle-aged and older people?
Among the top reasons for wanting to recommend remodeling, Millennials ranked "Enhancement of time at home" and Bubble generation ranked "Economic reasons"
When asked, "Do you want to recommend remodeling?" to 200 people who have experienced remodeling, 92.0% answered "I strongly think so" or "I somewhat think so." I understand that you want to recommend More than 90% of those who have experienced remodeling answered that they would recommend remodeling
[Image 13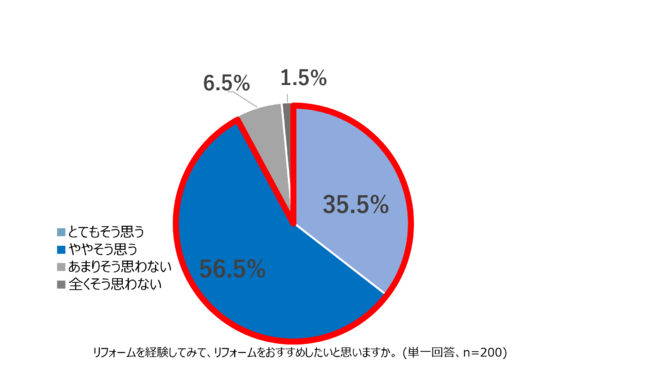 In addition, when we asked 184 people who had experience of remodeling who answered "I want to recommend remodeling" to "Why do you want to recommend it?" 22.2% of the respondents ranked 3rd, and millennials often said that they wanted to renovate because they could spend more time at home. On the other hand, for the bubble generation, 48.6% of respondents answered that they were able to "live in their current house longer", followed by "because energy-saving renovations saved money", "because it was cheaper than new construction", and
"renovation made it my own preference". The result was 25.7%, the same rate because I got a house", and it was found that many people in the bubble generation want to recommend remodeling for "economic reasons". It turned out that the reasons for being satisfied with the renovation differed depending on the generation.
[Image 14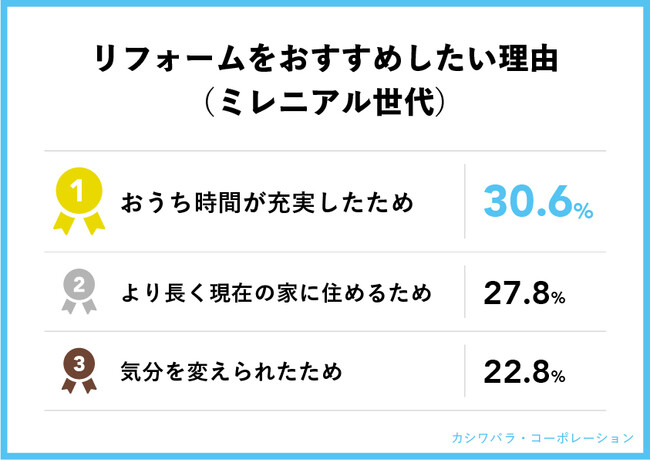 [Image 15

[Image 16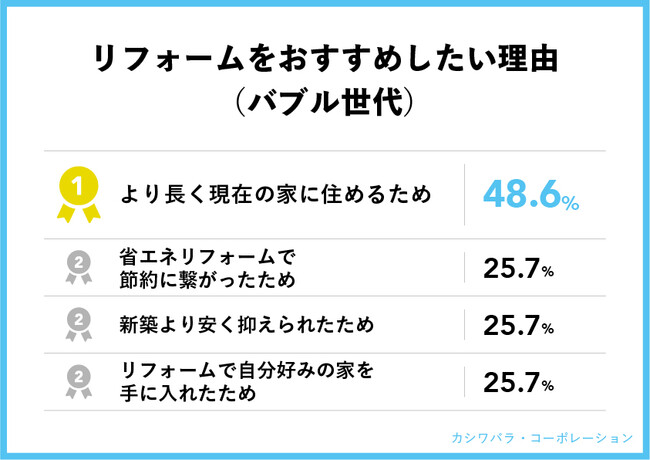 [Image 17

[Table 10: https://prtimes.jp/data/corp/41532/table/20_5_e8f457fa53a971b7ccd1af37e387cd66.jpg ]
The percentage of people who renovate without knowing the existence of subsidies and support systems is…
More than 60% of those who experienced renovation answered that they did not know about subsidies and support systems for renovation In the case of remodeling that meets certain requirements, the country provides subsidies and support systems that provide a predetermined subsidy amount. When asked, "Did you know that you can use subsidies and support systems for renovation?" to 140 people who wish to renovate, 79.3% answered "I did not know." In addition, when we asked 200 people who have experienced renovation a similar question, 64.0% answered that they did not know, indicating that many people are doing renovation without knowing about subsidies and support systems related to renovation.
About 80% of those who wish to renovate answered that they do not know about subsidies and support systems
[Image 18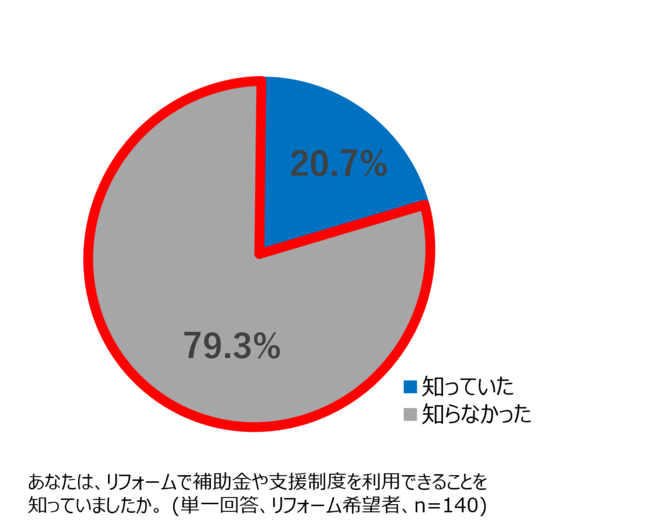 More than 60% of those who have experienced renovation answered that they do not know about subsidies and support systems
[Image 19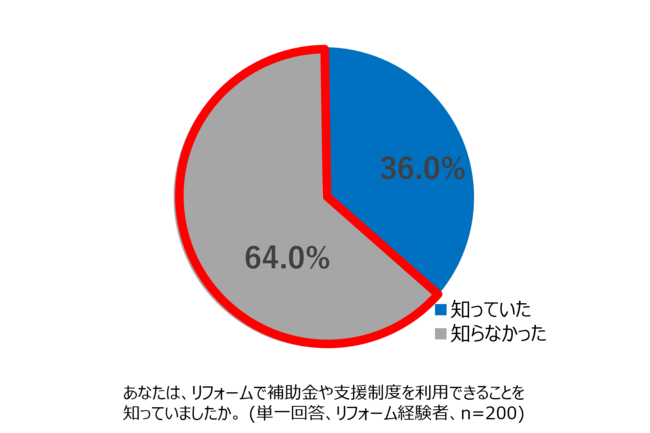 [About Kashiwabara Corporation]
[Image 20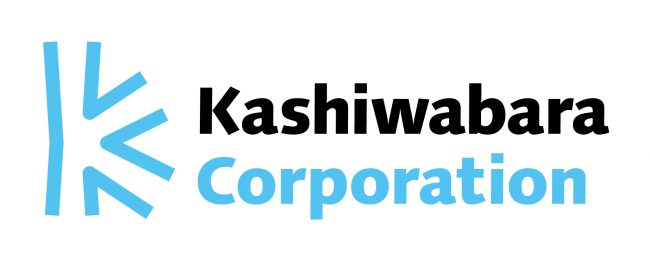 Over 70 years since our founding in 1949, we have been engaged in the maintenance and maintenance of industrial infrastructure centered on painting, as well as the maintenance business for petrochemical plant painting, which boasts the No. 1 track record in the industry, as well as the large-scale repair of condominiums and detached houses. Business, building construction business, interior remodeling and renovation business, etc. We are actively expanding overseas, armed with advanced coating technology that continues to support Japanese industry.
Founded: March 1949
Head office location
Tokyo head office: Nisshin Building 9F, 1-8-27 Konan, Minato-ku, Tokyo Iwakuni Head Office: 1-5-16 Yamate-cho, Iwakuni City, Prefecture Representative: Representative Director Shinsuke Kashiwabara Business: Infrastructure maintenance, large-scale condominium repairs, construction, interior remodeling/renovation business, etc.
URL: https://www.kashiwabara.co.jp/
Details about this release:
https://prtimes.jp/main/html/rd/p/000000020.000041532.html