Knit Co., Ltd.
Sponsored by Knit Co., Ltd. and Pixta Co., Ltd., "Must-see dads taking childcare leave! Learn from midwives and senior dads and moms" 10 things new dads should definitely know "" We took the stage! -9/23 implementation report-
From the perspectives of four panelists: midwives, senior dads and moms, and new dads on childcare leave, we summarized what dads on childcare leave should know and do in 10 points.

Knit Co., Ltd. (Headquarters: Shinagawa-ku, Tokyo, President: Takao Akizawa, hereinafter referred to as Knit), which operates the online outsourcing service "HELP YOU", was founded on the premise of full remote control in 2015, and currently has about 500 People are doing business online from all over Japan and 35 countries around the world. On September 23, 2022 (Friday / holiday), a business trip photography platform for families and children "fotowa" (operated by Pixta Inc., head office: Shibuya-ku, Tokyo, President: Daisuke Furumata) Kuroki, Human Resources of Knit Co., Ltd., took the stage at the online seminar "A must-see for dads taking childcare leave! Learn from midwives and senior dads and moms" 10 things new dads should definitely know ". Kuroki, a new dad who has just taken childcare leave with knitwear, delivered useful information as a support plan for childcare dads with midwives and senior dads and moms.
[Image 1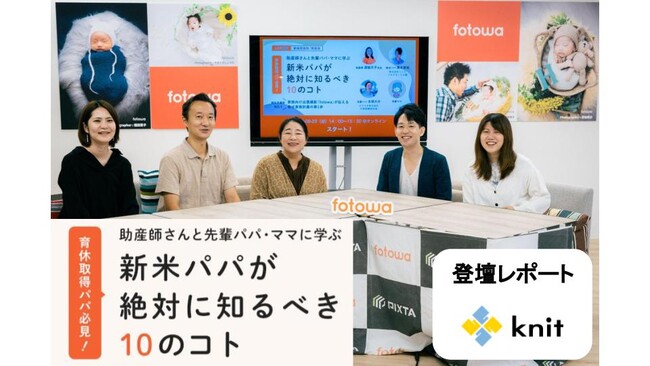 Sponsored by Knit Co., Ltd. and Pixta Co., Ltd., "Must-see dads taking childcare leave! Learn from midwives and senior dads and moms" 10 things new dads should definitely know "" We took the stage! -September 23 implementation report-
Overview of the event
◆ Event title
[Table 2: https://prtimes.jp/data/corp/59127/table/436_1_610cbef071abc000b36adeafb5784a0e.jpg ]
◆ Event date and time
September 23, 2022 (Friday/Holiday) 14:00~15:30
◆ Participation fee: Free
◆ Location: Online (Zoom)
◆Panelists
[Midwife] Ms. Fumiko Hamawaki
[Senior Dad] Daisuke Furumata, President of pixiv Inc.
[New Dad] Yusuke Kuroki Knit Co., Ltd. Full Remote HR
[Senior Mama] Maiko Kouno Handmade Instructor
State of the day
[Image 2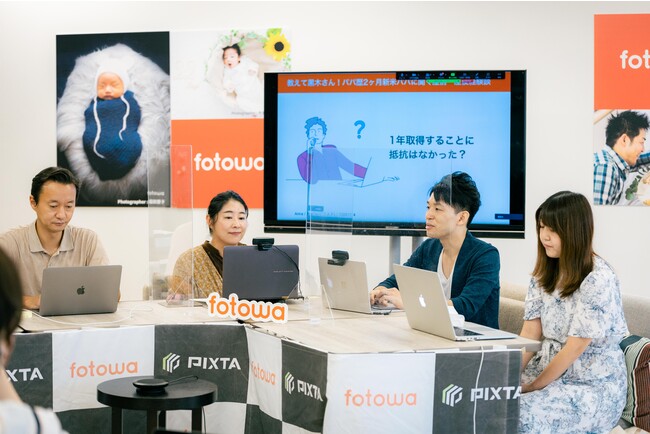 Did you have any resistance to taking one year?
Were you reluctant to take childcare leave for one year?
Kuroki, who is in charge of human resources at Knit Co., Ltd., who was on stage as a new dad, is currently taking childcare leave for one year. Are you worried about taking a year off from work and taking a long vacation? In response to the question, it is said that at first he felt a strong apology for causing trouble to other friends. However, before she went on maternity leave, other members asked her more positive questions, such as "When will you start taking childcare leave?" and "How long will you take off?" He said that when taking childcare leave, the company's approach to childcare leave and the atmosphere in the company that makes it easy to take it are important. [Image 3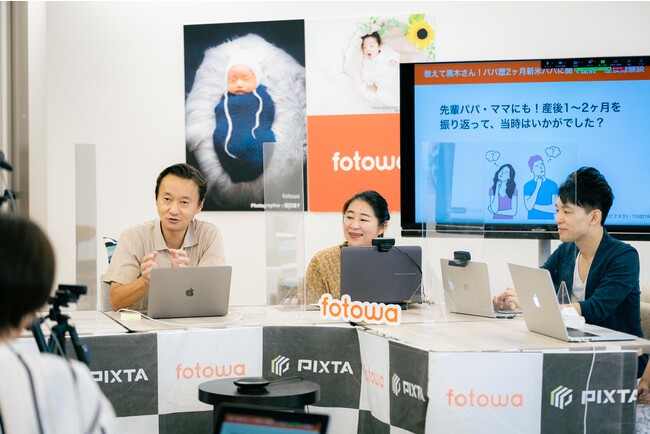 For senior dads and moms too! Looking back on the first two months of your life, how was that time? [Senior Dad] Mr. Daisuke Furumata, President of pixiv Inc.
Looking back at the first 1-2 months, how was parenting at that time? Mr. Furumata, the representative of Pixta Inc., who took the podium as a senior dad, is also the father of three children. Looking back on the 1-2 months after birth, he said that he often did not know how to support his wife when raising his first child. After that, when the third child was born, she said that it was important for her husband to actively do what she could do, and for her to take the initiative. My wife doesn't know anything about her first child. That's why I think I've become a part-time job leader, and it's more important to move my body than my mouth! said.
[Image 4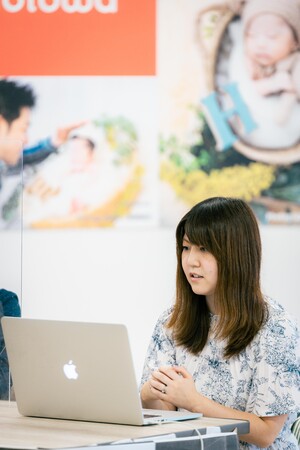 Looking back at the first 1-2 months, how was parenting at that time? [Senior Mama] Ms. Maiko Kawano Handmade instructor
Looking back at the first 1-2 months, how was parenting at that time? Mr. Kono, who used fotowa to take newborn photos, was busy raising his baby for the first month after birth, and it was difficult to get involved with third parties. Having a photographer take pictures at home two to three weeks after birth can be a refreshing change for mothers as well. The date of birth is often around the same time, but even if you make a reservation after giving birth, it is recommended because they will respond quickly, such as shooting 2 to 3 weeks after birth.
[Image 5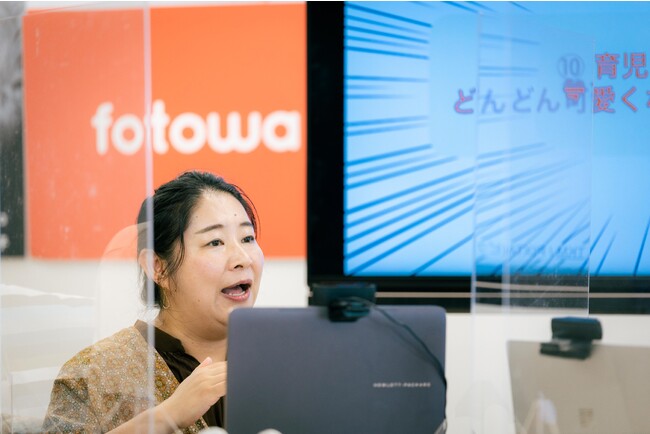 Parenting is fun! Get ready to get cuter and cuter!
Parenting is fun! Get ready to get cuter and cuter!
Hamawaki-sensei talked about 10 things new dads should know. On the day of the event, the technical content was explained in an
easy-to-understand manner. I mainly explained the contents that men should understand, such as how to proceed with childcare as a couple, and the mental changes caused by women's hormonal balance. At the end, he emphasized that the most important thing is that "parenting is fun!"
Voice of the speaker: [New dad] Yusuke Kuroki Knit Co., Ltd. Full remote personnel
[Image 6
Voice of the speaker: [New dad] Yusuke Kuroki Knit Co., Ltd. Full remote personnel
When I took the stage this time, I was particularly impressed by the eighth thing that new dads should do, "Provide comfort and
consideration to others." After giving birth, my wife can go out because I am always at home! I was telling you. However, my wife didn't want to go out and spent her time with her child. Until I took the stage at this event, I thought, "Is this what it's like to be a mother?" However, at the event this time, I heard a senior mom say, "I was happy that the photographer who came to take the newborn photo took care of me and talked to me about the difficulty of giving birth." , I remembered that my husband and I also had a new bone photo in the same way and felt the same. Through the event, I was able to rethink my desire to create opportunities for my wife to interact with third parties.
Participant's voice
●I watched this as a father of two children. Fathers' participation in child-rearing has been taken up in the world, but I think that there are still many people who think of it as a supportive role. It was a content that I wish I had heard before I became a parent. (Male, 30s) ●The people who took the stage this time took the initiative to take the stance of raising children together. In particular, I was taken aback by the story that "Moms tend to think they know a lot about child-rearing, but like dads, everything is a first-time experience." I myself would like to make use of this story in my future parenting. (Male, 30s)
●I want to enjoy my precious time while actively raising my children so that I don't have to leave everything up to my partner (wife). (Male, 30s)
-Of course, I will show my fullest affection to my baby, but I once again thought that I should show my respect for my wife and express my affection in an easy-to-understand manner. (Male, 30s)
● I browsed with my husband, but it was a very good time. After giving birth, I realized that it is really important to understand that it is not only me (mother) who is suffering, but also my partner is also suffering, in order to continue our married life in the future. I feel like I'm going to be overwhelmed with myself, but I'd like to use Newborn Photos, etc. to keep the memories that I can only have at that time. (Female, 30s)
fotowa's thoughts
"fotowa" hopes to "provide a happy time for all families" through business trip photography. Through this event, we held it with the hope that as many men as possible will deepen their understanding of the state of postpartum wives and gain the opportunity to face childcare. I feel that we have taken a step toward contributing to the creation of relationships in which as many families as possible can feel that they are happy with this family for many years to come. panelist profile
[Image 7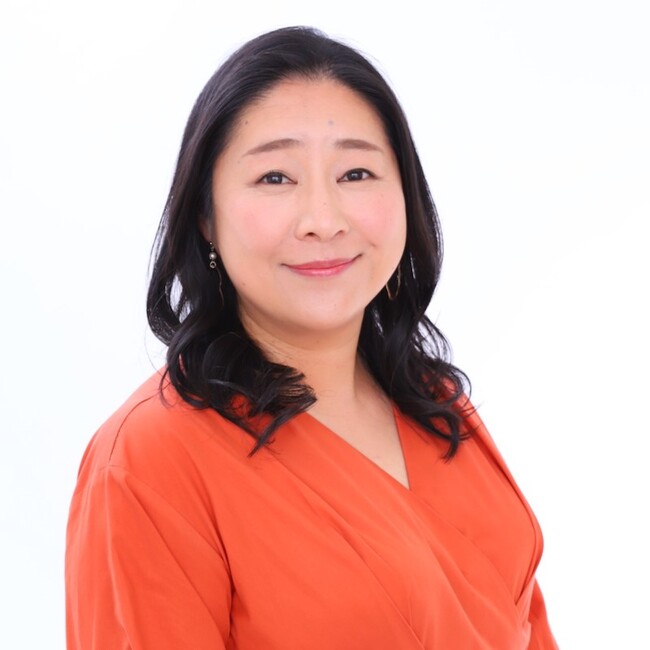 Midwife Fumiko Hamawaki
[Midwife] Ms. Fumiko Hamawaki
Invited associate professor at Osaka University. Representative Director of Women's Health Promotion Association. Representative Director of Myutics Co., Ltd. Engaged in a wide range of activities from midwifery outpatients to childbirth, breast outpatients, and postpartum care, providing care for thousands of mothers and children and their families. While engaging in maternal and child health activities such as parent classes and home visits in the community, she is also developing maternity solutions business in collaboration with private companies and NPOs. Currently, she is working on the "Osanraku language" to convey the joys and sorrows of childbirth and child-rearing in a fun way.
[Image 8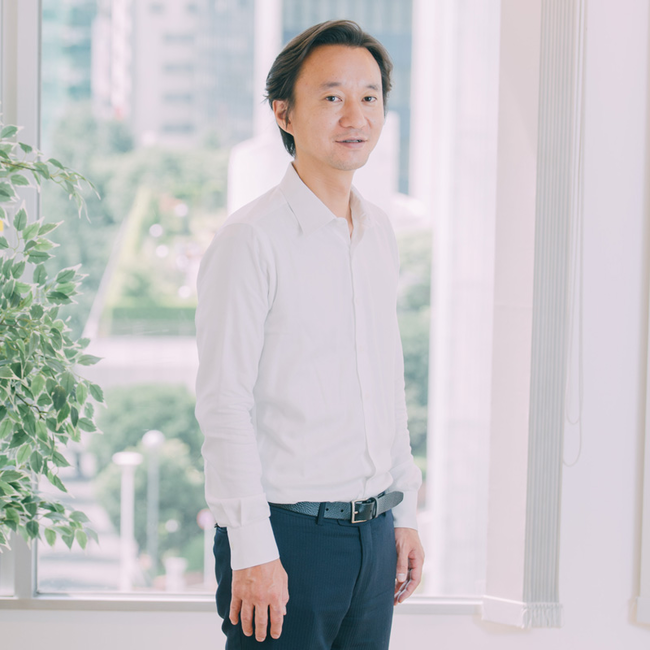 Daisuke Furumata, CEO of pixiv Inc.
[Senior Dad] Mr. Daisuke Furumata, President of pixiv Inc.
Born in 1976. A housewife, a 12-year-old son, a 10-year-old second son, and a 4-year-old daughter live together. Joined Gaiax Co., Ltd. as an intern in the fourth year of Tama University. After joining the company as a full-time employee, he participated in the launch of two new business divisions and a subsidiary, and became a director. August 2005 Established Onboard Co., Ltd. (currently Pixta Co., Ltd.) and assumed the position of Representative Director and President. In February 2016, he launched "fotowa" for business trip photography for families. The total number of shots exceeded 70,000, and it has grown into a service that has won five industry No. 1 rankings.
[Image 9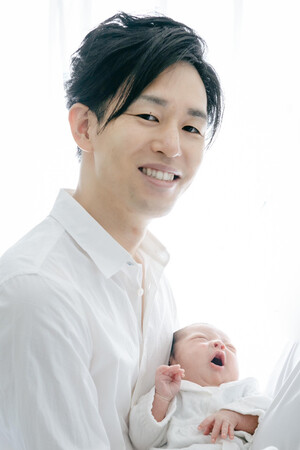 Knit Co., Ltd. HR / Yusuke Kuroki
[New Dad] Yusuke Kuroki Knit Co., Ltd. Full Remote HR
A first-year dad who is taking male childcare leave for one year (2022/8-2023/7). The reason I took long-term childcare leave was because I was afraid of raising my first child. Since the start of child-rearing, the couple spends their days laughing and bewildered, saying, "I didn't know child-rearing could be so much fun." The wife takes care of the children morning/noon/evening, and the husband does the day/evening/night. Every day I stay up late looking at my wife and child's sleeping face. In mid-August, I used fotowa to take new born photos and look back every day. Normally, Knit Co., Ltd.'s full remote personnel. Sending out information about childcare and male childcare leave for the first time on Twitter and notes!
[Image 10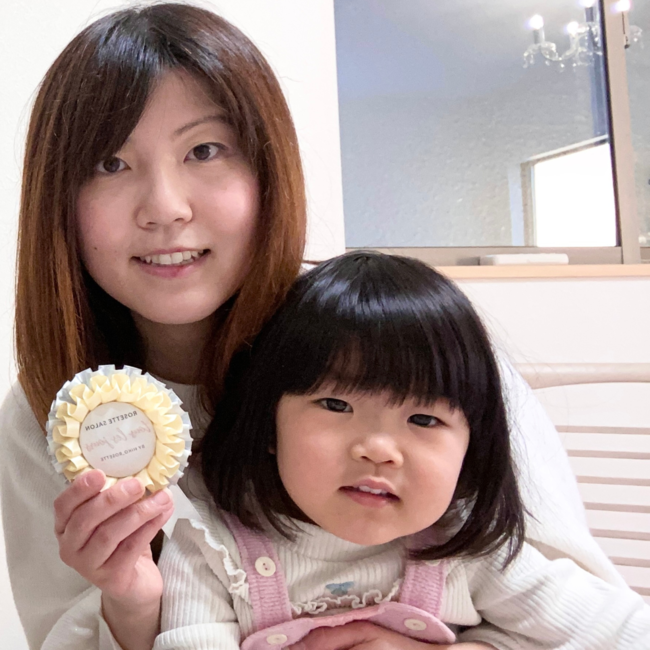 Handmade instructor, Maiko Kono
[Senior Mama] Ms. Maiko Kawano Handmade instructor
Mother of a 4 year old girl. During my own birth, I experienced a total of 4 months of homecoming, 3 months before giving birth and 1 month after giving birth. My partner did not take childcare leave, but with the support of the Yoshizane family living in the neighborhood, the family cooperated in raising the child after returning home. Currently, she runs a handmade class at her home in Tsurumi Ward, Yokohama City. Online classes are also available, and children are welcome to attend. I am working with the desire to increase the number of mothers who enjoy childcare while doing what they love.
Background of the event
From October 1, 2022, the so-called "Postpartum Papa Childcare Leave System (Childcare Leave System at Childbirth)" was established. Up to 4 weeks of leave can be taken within 8 weeks after the birth of a child. (Reference: Ministry of Health, Labor and Welfare materials) On the other hand, a 2019 survey jointly conducted by The Nippon Foundation and Konehito Co., Ltd., which operates the Q&A
app/information site "Mamari" for mothers, called "How fathers and mothers face childcare, their feelings of burden and isolation. (Valid responses: 3,899/Nippon Foundation x "Let's change, mamarito" joint survey) Approximately 1 in 3 men on childcare leave say that they spend less than 2 hours a day on housework and childcare. There is also the reality that it is a "take only childcare leave" only for poses.
In addition, due to the corona crisis, the "Parents Class" held by local governments has been postponed, and the number of "opportunities to learn to become a dad" for men is decreasing as the scale is reduced.
Therefore, "fotowa", operated by Pixta Inc., which takes about 9,000 "newborn photos" a year and has been close to the feelings of postpartum mothers, has launched postpartum photos for men who want to take childcare leave. We decided to provide an opportunity to learn about the physical and mental conditions of mothers and newborn babies.
(For Newborn Photos, please see: https://fotowa.com/newborn) Through this event, fotowa hopes to "provide happy times for families" through business trip photography. I would like to contribute to the creation of relationships that many families can feel "I'm glad I'm with this family" for many years to come.
Contact information
[Inquiries regarding this matter]
Pixta Inc. Public Relations: Kobayashi/Nishi
E-MAIL: pr@pixta.co.jp
*Excuse me, but please contact us by email.
Articles related to life and work
◆Is it possible to work while raising a child? What is the best way to achieve both without giving up? [Work from home with children] [Image 11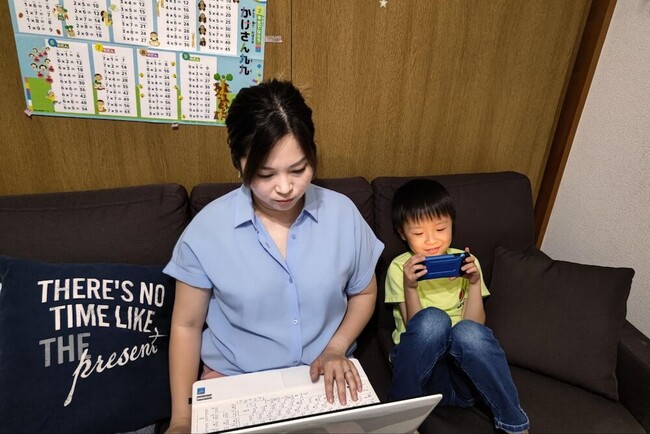 Is it possible to work while raising children? What is the best way to achieve both without giving up? [Work from home with children] https://kurashigoto.me/interview/post-17158/
◆I return in one month after giving birth! My happiness realized through "work" [Image 12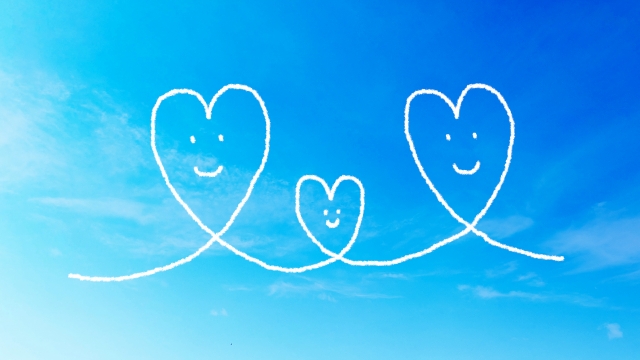 1 month after giving birth! My happiness realized through "work" https://kurashigoto.me/interview/post-16830/
What is "life and work"?
[Image 13

life and work
Media that supports people who choose their own future
"Life and work" is a "work style proposal media" that supports people who value their lives and want to work hard to enrich their lives. It is operated by Knit Co., Ltd., which handles Japan's largest online outsourcing service "HELP YOU".

Online outsourcing service "HELP YOU"
[Image 14

Online outsourcing service "HELP YOU"
It is a business efficiency service where an excellent team of assistants with various skill sets supports your work. Back-office operations (personnel, accounting, sales office work, document preparation, etc.) are contracted as online outsourcing, contributing to the creation of an environment where you can concentrate on your core operations.
HELP YOU service site: https://help-you.me/
HELP YOU recruitment site: https://va.help-you.me/
-Company Profile-
[Image 15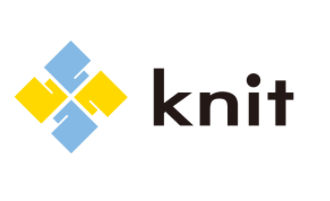 Knit Co., Ltd.
Company name: Knit Co., Ltd.
Representative: Representative Director Takao Akizawa
Head office location: 7-22-17 Nishi Gotanda, Shinagawa-ku, Tokyo TOC Building 10F 41
Established: August 2017 * HELP YOU service started in 2015
Business description: Operation of the online outsourcing service "HELP YOU". We also develop learning services for workers and media businesses that support workers.
With the vision of "creating a society where you can choose the future yourself", it was founded in 2015 on the premise of full remote control, and currently about 400 people are working online from all over Japan and 33 countries around the world. We are looking for ways to develop warm connections and communities online, not just in business operations.
URL: https://knit-inc.com/
[Image 16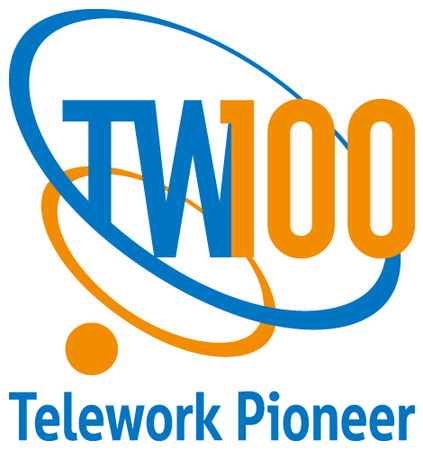 Reiwa 3rd year "Telework pioneer 100 selection Minister of Internal Affairs and Communications Award"
Reiwa 3rd year "Telework pioneer 100 selection Minister of Internal Affairs and Communications Award"
https://prtimes.jp/main/html/rd/p/000000274.000059127.html
[Image 17
https://prtimes.jp/main/html/rd/p/000000288.000059127.html
-Inquiries about this matter-
Knit Co., Ltd.
Public Relations: Imanishi/Nakano
Phone number: 050-5212-5574
Email address: pr@knit-inc.com
Details about this release:
https://prtimes.jp/main/html/rd/p/000000436.000059127.html