Kyodo Printing Co., Ltd.
Rakusoku Video for New Year's Mail 2023 version now on sale
As part of the SDGs, New Year's greetings will also be paperless! We encourage you to apply early!

Kyodo Printing Co., Ltd. (Headquarters: Bunkyo-ku, Tokyo; President: Yasuaki Fujimori) has started selling corporate-only New Year's card video services using OneDouga from October 3rd. Personalized New Year's greeting videos can be easily generated by operating on the browser, and can be paperless by e-mail distribution. We provide a remote era New Year's card service that fulfills the original role of sending New Year's cards to important people while being low-cost and ecological.
[Image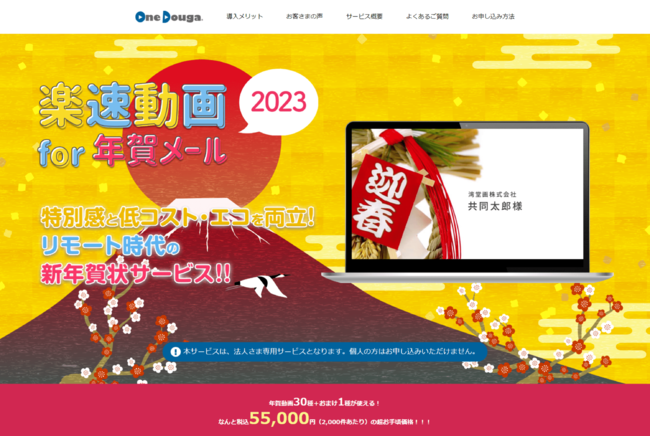 [Service Features]
1. You can achieve both the special feeling of individual messages, cost reduction, and environmental load reduction at the same time. ・Compared to paper New Year's cards, you can significantly reduce the time and costs involved in producing them.
・Because it is paperless, the burden on the environment can be reduced. 2. You can also send New Year's greetings messages to people who are not in the office due to remote work.
[Simple 4-step operation]
Create upload data by utilizing data output from business card management tools and customer management tools.
Create a personalized video viewing URL by uploading the data for the number of people sending videos (address, sender, comment) to the management screen
Set the generated personalized video viewing URL in cooperation with the tool / service you are using
The customer who received the message accesses the personalized video viewing URL and watches the personalized New Year's greetings video.
[Table 2: https://prtimes.jp/data/corp/59594/table/43_1_a84be70cbb6c33f1944673eb7652bb4c.jpg ]
Details about this release:
https://prtimes.jp/main/html/rd/p/000000043.000059594.html