LLC SVP Corporation
[Achieved the target amount in 3 minutes to the public! ]
Next-generation camping wood stove | POSTOVE is now available at makuake!
Project: https://www.makuake.com/project/postove/

・Compact full-scale wood stove that can be easily installed in 5 minutes even for camping beginners
・In the wood-burning stove, you can enjoy the beautiful flame with a completely new large two-sided glass that can be enjoyed by one or more people!
・You can enjoy cooking on the stove while watching the flames! Project [Camp Wood Stove|POSTOVE]
https://www.makuake.com/project/postove/
[Video 3: https://prtimes.jp/api/movieim.php?url=www.youtube.com/watch?v=PiI9KLu_Rmw]
[Image 1: https://prtimes.jp/api/file.php?c_id=88942&t=animationGifImage&f=0fcd1bddb88b0558a1a9a4b035c159b9.gif&img_id=1664746696642] The development of this wood stove started with the desire to make camping more authentic and easier, and this time the project was launched at makuake. The product was finally completed after devising ideas such as reducing the number of parts as much as possible and designing it so that even beginners can use it easily.
[Image 2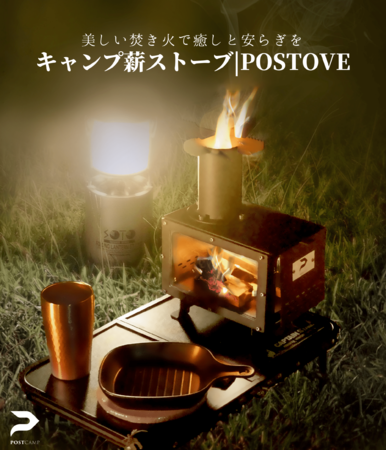 [Image 3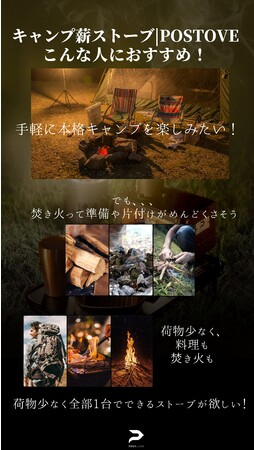 Compact and convenient to carry
[Image 4: https://prtimes.jp/api/file.php?c_id=88942&t=animationGifImage&f=ff994e281e9b6b7e519e8b2eaf984c53.gif&img_id=1664747003409] Because it is compact, you can easily go camping by yourself, or you can add this one to camping with friends.
[Image 5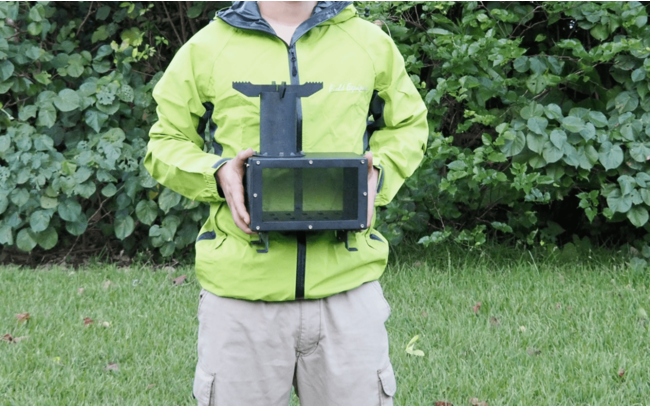 POSTOVE weighs only 4.2kg and is designed for portability. Even women can carry it around, and even beginners can do it in about 5 minutes from assembly to lighting!
[Image 6: https://prtimes.jp/api/file.php?c_id=88942&t=animationGifImage&f=9745400ef983ec14aa8fa4c285556eb1.gif&img_id=1664747168871 ]
[POSTOVE easy assembly method]
(How to attach the glass until ~0:30. Assembly starts at 0:30)
[Video 4: https://prtimes.jp/api/movieim.php?url=www.youtube.com/watch?v=WOYNcWj0WAk]
[Image 7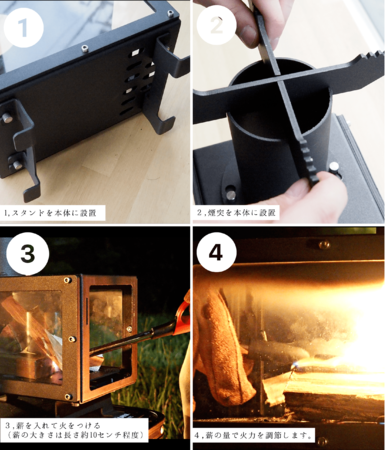 All you have to do is prepare the stove itself, firewood (about 10 cm), ignition agent, and a lighter or chuckman.
The door can be opened and closed and can be easily removed, so you can usually keep the door closed, but when you want to increase the heat, you can remove the door and send air in.
-Door installation-
[Image 8: https://prtimes.jp/api/file.php?c_id=88942&t=animationGifImage&f=a705d152b3051daaad0e229b153b7eb1.gif&img_id=1664747219577 ]
-Opening and closing the door-
[Image 9: https://prtimes.jp/api/file.php?c_id=88942&t=animationGifImage&f=85c31d877e2bdca8b64e29e6ef5a6e3a.gif&img_id=1664747205554] (You can open and close the door by raising it slightly and pulling it!) (It is compact and easy to use, so it has a wide range of uses!) Secondary combustion system improves combustion efficiency
The secondary combustion system makes it very efficient because it uses less firewood to produce heat.
[Image 10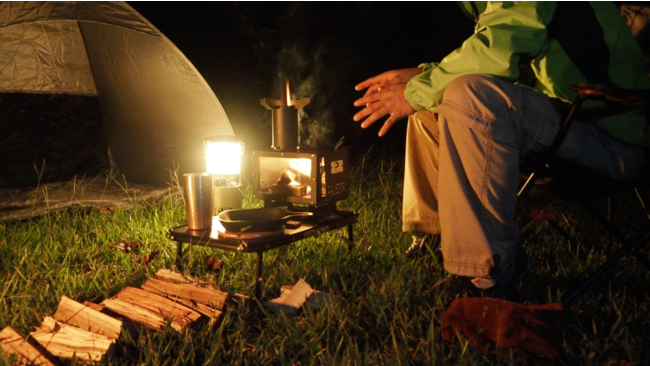 [Image 11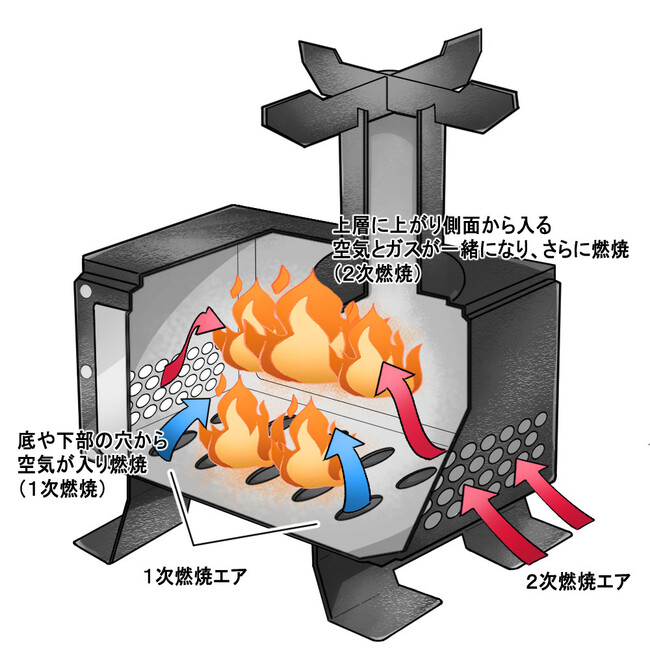 The secondary combustion system takes in air from the hole in the bottom and burns it (primary combustion), and the air rises to the upper layer. At that time, the air and gas entering from the side are combined and burned again (secondary combustion), so it burns efficiently.
Enjoy beautiful flames with double-sided glass
[Image 12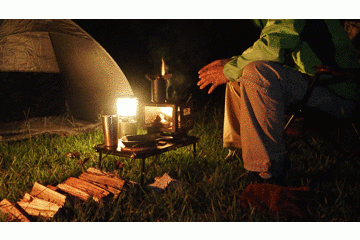 [Image 13: https://prtimes.jp/api/file.php?c_id=88942&t=animationGifImage&f=d5bcc5438ab0ab2b6c87bbda36e63b63.gif&img_id=1664747748325] The biggest attraction of the POSTCAMP mini wood stove is the window installed on both sides. The fire will warm your heart and body. [Image 14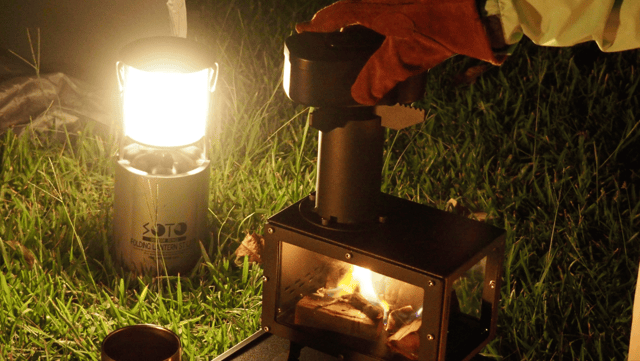 (You can feel the force of the flames even more with glass that is full on both sides!)
Can be cooked on the stove
On top of the stove, you can also make camping rice, which is the real pleasure of camping. Direct fire is also possible on the chimney, and the fire power is outstanding.
The POSTCAMP Mini Wood Stove allows you to cook right on the stove, so there is no need for a separate bonfire.
grill a steak
[Image 15: https://prtimes.jp/api/file.php?c_id=88942&t=animationGifImage&f=db08a7603ec86221d503ae96c96bd603.gif&img_id=1664747789730 ]
Yakitori and
[Image 16: https://prtimes.jp/api/file.php?c_id=88942&t=animationGifImage&f=be654e3c54200274ba407cc457cf12e8.gif&img_id=1664747798826] You can also boil water to make hot coffee or soup.
[Image 17: https://prtimes.jp/api/file.php?c_id=88942&t=animationGifImage&f=27b2f91d7592bceacc6288ae140a5f71.gif&img_id=1664747807966 ]
At the end, I made fried rice with leftover ingredients!
[Image 18: https://prtimes.jp/api/file.php?c_id=88942&t=animationGifImage&f=35a44b2317b97abf93d322c567e79206.gif&img_id=1664747814168] The firepower is so strong that it will burn quickly if you use an open flame, so you can make various things.
-Usage scene-
[Image 19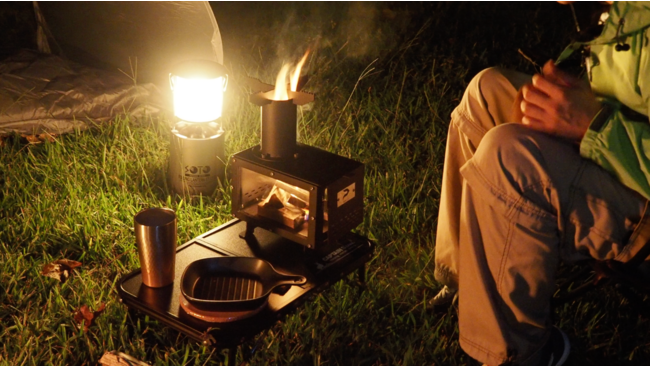 [Image 20
[Image 22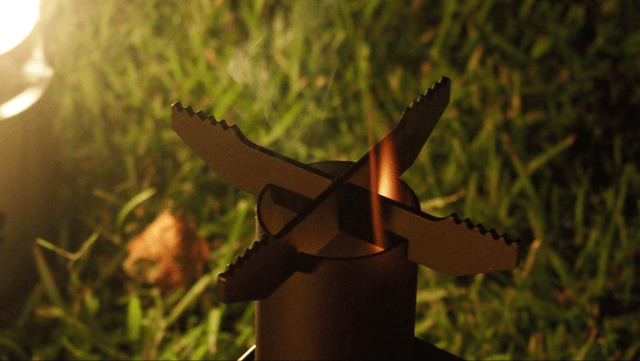 [Image 23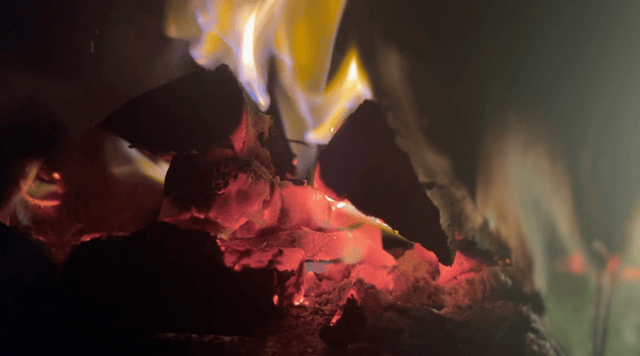 ・Final product design drawing
[Image 24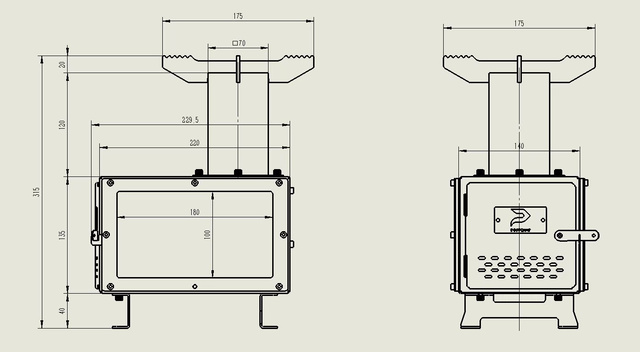 Brand POSTCAMP
Product name POSTCAMP | Camping wood stove POSTOVE
Accessories POSTOVE body, POSTOVE bag
size
317.2 x 175 x 230mm (When assembled) 176.5 x 165 x 230mm (When carrying) Weight 4.2kg
Material Stainless steel (thickness 1.2MM)
Glass High heat resistant tempered glass 4mm
Project owner (country) Japan
Manufacturer (Country) China
Distributor LLC SVP-Corporation
Color: Black
Functions list
High heat resistant glass, secondary combustion function, detachable parts Project attributes OEM products
Support by the performer Comes with a 1 month initial defect replacement guarantee from arrival
Notes
・The aluminum part and glass become very hot during use. Therefore, please be sure to wear heat-resistant gloves when using it.
・The heat-resistant glass is a consumable item. If it is very dirty, we recommend replacing the glass.
・Because it is manufactured overseas, the main body and glass may be damaged during delivery, but please be forewarned.
Click here for the project↓
https://www.makuake.com/project/postove/
Details about this release:
https://prtimes.jp/main/html/rd/p/000000009.000088942.html