Mouser Electronics, Inc.
Mouser now stocks Phoenix Contact connectors and assemblies for building automation

Mouser Electronics (Headquarters: Mansfield, Texas, USA), a leading distributor of a wide assortment(TM) of semiconductors and electronic components as well as New Product Introductions (NPIs), is pleased to announce that Mouser Electronics, Inc. Optimal Phoenix Contact (PHOENIX CONTACT GmbH & Co. KG, Headquarters: Blomberg, Germany, hereinafter Phoenix Contact) has started handling a wide range of connectors and assemblies.
These products can handle comprehensive cross-trade and cross-sector data for the Internet of Things (IoT). This connector and assembly can be updated and upgraded. Build innovative intelligent building projects that are future-proof.
[Image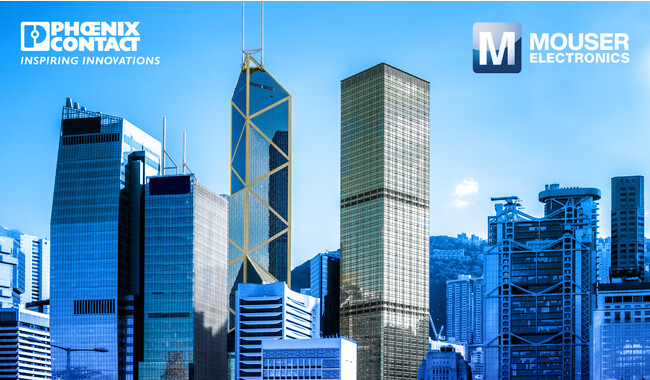 Learn more about connectors and assemblies for building automation It standardizes numerous bus and network protocols as uniform data objects, such as KNX, BACnet, Modbus and M-bus. Comprehensive network and communication capabilities simplify the building design process and enable rapid and seamless development of building automation. Maintaining industrial quality, it can be easily integrated into both new and existing buildings, allowing automation and IoT technology to be implemented in any building. All technical systems will be able to exchange information for cost optimization and sustainable CO2 reduction.
The Emalytics platform provides a comprehensive framework for building automation, management and data analysis. It can support a wide range of applications in the fields of building, energy and area management, as well as third-party services such as facility management, electric vehicle charging and indoor navigation.
For details, please see the URL below.
https://www.mouser.com/new/phoenix-contact/phoenix-contact-building-intelligence/ As an authorized global distributor, Mouser stocks the world's largest selection of the latest semiconductors and electronic components, ready to ship(TM). Fast delivery of only 100% certified genuine products with full traceability from our partner manufacturers. To help you develop your designs faster, our website offers a wealth of useful information, including technical resource centers, product data sheets, manufacturer reference designs, application notes, technical design information, engineering tools, and more. We provide libraries. Mouser's free eNewsletters keep engineers informed about the latest and exciting products, technologies and applications. Mouser's e-mail news and reference subscriptions can be customized to meet the changing project needs of our customers and subscribers. No other caller allows this level of customization and tailoring to the information provided to engineers. Sign up now at
https://sub.info.mouser.com/subscriber-en to receive information about new technologies, product trends and more.
Also, follow us on Facebook and Twitter for the latest information. Facebook: https://www.facebook.com/mouserelectronics/ *English Twitter: https://twitter.com/MouserElecJapan
About Mouser Electronics
Mouser Electronics, a Berkshire Hathaway company, is an authorized distributor of semiconductors and electronic components dedicated to quickly selling new products from major manufacturers with whom we partner. For electronic design engineers and buyers worldwide, our website mouser.com supports over 6.8 million products from over 1,200 electronic component brands in multiple languages ​​and currencies. , has 27 support locations around the world with skilled customer service centers that can respond in local languages, currencies and time zones. We also have a 90,000-square-meter, state-of-the-art logistics center in Dallas, Texas (about twice the size of Tokyo Dome), and ship products to more than 650,000 customers in 223 countries. For more information, please visit http://mouser.com. trademark
Mouser and Mouser Electronics are registered trademarks of Mouser Electronics, Inc. All other product names, logos and company names mentioned may be trademarks of their respective owners.
About Phoenix Contact
Phoenix Contact is an international market leader and innovator in the electrical engineering and automation sector. Founded in 1923 in Bloomberg, Germany, the family-owned company now has an international distribution network that provides customers with reliable proximity products. Phoenix Contact offers innovative products and solutions for industrial connection technology, automation, interface systems, and surge protection. The product range includes sensors, controllers, modulars, terminal blocks, drip-proof mechanical connectors, wireless Ethernet products for modern control cabinets, and custom solutions for a wide variety of applications.
Details about this release:
https://prtimes.jp/main/html/rd/p/000000197.000071719.html