Y-Style Co., Ltd.
[New product] Become a steady self! Y-Style "My Notebook" 2023, vertical start. A major update to the Y-Style "Watashirashino Techo", which has been sold out since the first year of its appearance! It will be a new vertical for 24 hours a week!

Y-Style Co., Ltd. (Reading: Y-Style, Headquarters: Nagoya City, Representative Director: Yuri Akako), which supports child-rearing and women's active participation based on the concept of "Storage that makes families happy -Kazoku Shuno-" We have announced the contents of the new renewal of "Watarishishi Techo 2023", which will become "myself".
[Image 1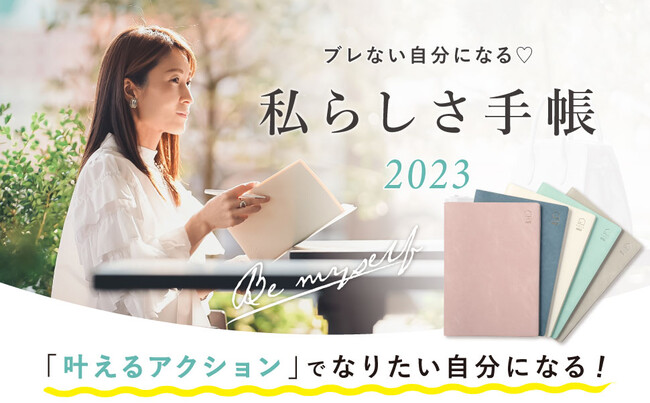 ◆ What is "My Personality Notebook"?
It's a waste to just do what you have to do every day!
You only have one life. What do you want to be?
Write down your exciting future, become a "steady self", and use this notebook to shine and be happy in your own way.
From the first year of its release, it won "Rakuten Ichiba" notebook ranking "1st place" and "Loftnet "contents diary" sales ranking No. 1″! Achieved a 97.2% digestion rate for over-the-counter sales.
《2023 version major update》
The 2023 version of "My Personality Notebook" will be significantly updated to reflect the opinions of the Instagram survey and the notebook community. Become a steady self! The content will be further enriched while maintaining the "secret of this notebook" that makes me shine and be happy.
[Improvement 1.] Adopt a 24-hour weekly vertical!
We have adopted a 24-hour weekly vertical. It is also easy to use for those who want to schedule a day in hourly units.
[Image 2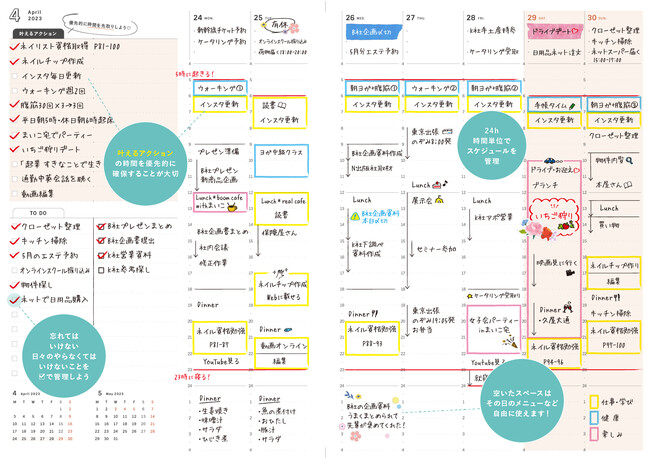 Y-Style "Watashirashino Techo" 24h Weekly Vertical
[Improvement 2.] The Gantt chart has been redesigned to make it easier to see! By making the multi-functional monthly chart on the vertical axis horizontal, we have created a monthly Gantt chart page that makes it easy to manage projects.
[Image 3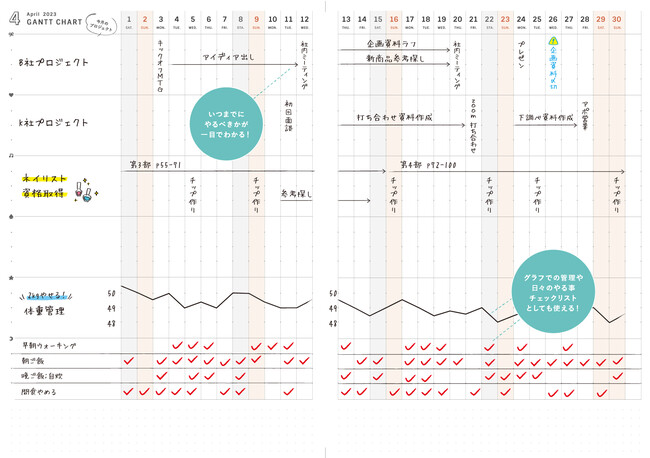 Y-Style "Watashirashino Techo" Monthly Gantt Chart
[Improvement 3.] Size up from B6 to A5!
Size up from B6 to A5 for easier writing! The thickness of the paper has also been improved to prevent show-through.
[Image 4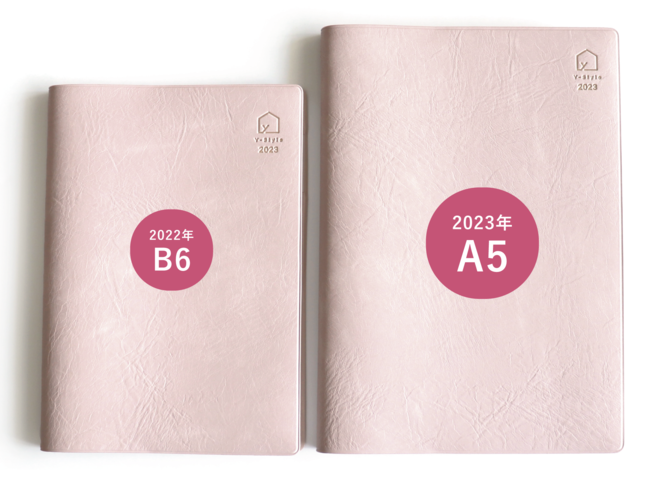 Y-Style "Watashirashino Techo" size up from B6 to A5
[Improvement 4.] Pagination and bookmark strings are easier to use! With the enhancement of the contents, the number of bookmark strings has been increased to 3! It makes it easier to access each page such as monthly, vertical, and Gantt chart.
◆Become yourself! The reason why I can shine like myself and be happy! [Feature (1)] 3 steps to become who you want to be and "actions to fulfill" If you can't balance your work and private life and get caught up in your daily life, put off what you really want to do and what you wanted to do. , you can move forward without overdoing it. All other notebooks are complicated and I don't have time to write a notebook! It is also recommended for such people.
[Image 5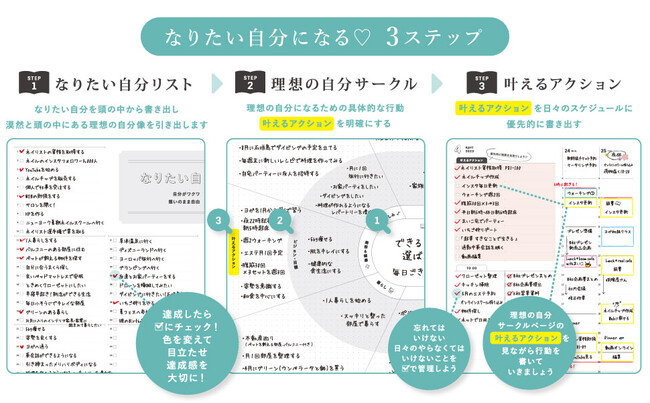 Y-Style "My own notebook" 3 steps to become who you want to be Step 1 《List of who you want to be》
You can write down what excites you and clarify your ideal self that you want to be. You can organize it in your head.
Step2 《Ideal Self Circle》
You can find your ideal self and organize specific actions.
Step 3 《Action to come true》
Make a note of not only the tasks you have to do every day, but also the specific actions to become the person you want to be, the "actions that make your dreams come true"! You can decide when to do it. [Feature (2)] Use your limited time for important things! A "not to do list" to let go of low priority things
Spend your precious time doing what you really want to do! For that reason, write down "things you don't do" and let go of low priority things. Time passes just by doing the task in front of you. Somehow time passes by watching TV and smartphones. Is that all really "what I should do now"? Time flies when you can't do what you really want to do. Decide what you don't want to do, and use your limited precious time to do what you really want to do!
[Image 6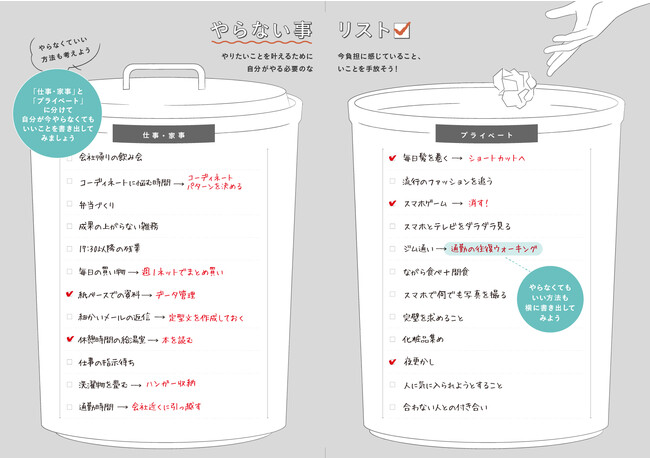 Y-Style "Watashirashino Techo" Do-not-do list
[Feature (3)] "My chronology" where you can write your life plan for 20 years "My chronology" page where you can plan your life events and necessary money up to 20 years ahead. By visualizing the future, it becomes clear what to do this year. By writing out your ideal future, you will be able to create a concrete image.
[Image 7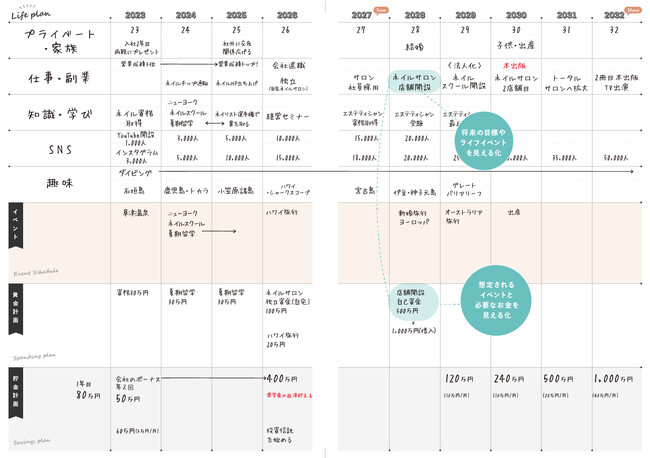 Y-Style "Watashirashino Techo" 20 Years of My Chronology
\ YouTube "Kazoku Storage CHANNEL" has surpassed 8 million views! / Produced by Yuri Akako, organizing and storing advisor
[Image 8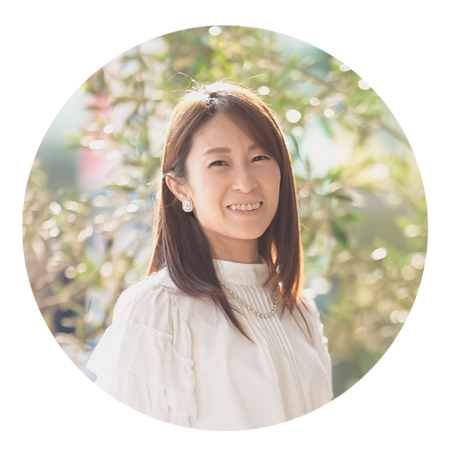 《Yuri Akako》
Born in Nagoya City. A family of four, husband, son and daughter. After graduating from Osaka University of Arts, he got involved in the stage and then got a job at a major apparel company. As a working mother, struggling with work, family, and child-rearing, she acquired Level 1 Sorting and Storage Advisor to create a home that is easy for her family to cooperate with. record. Established Y-Style Co., Ltd. in 2017 with the desire to help women who work hard every day at work, home, and childcare. In 2018, she was selected as Mrs. CEO of the magazine "VERY". In 2020, YouTube "Family Storage CHANNEL" was opened and has exceeded 8 million views in total. The number of followers on SNS is over 100,000.
Listening to the voices of many women who tend to put themselves off for later, I made a notebook about how to create a stable self to "live like me"! Life has changed! What I like is clear and I'm no longer blemish! Be positive! So that many voices are sent.
In addition to seminars and lectures, product production, TV "Hirunandesu! ", "Osaka Honwaka TV", magazines such as "VERY", "ESSE", "Mart", "Nikkei WOMAN" and "LDK".
▼ How to use "Watashirashino Techo 2023" on YouTube
[Video 2: https://prtimes.jp/api/movieim.php?url=www.youtube.com/watch?v=9tSKZfiif0w]
[Image 9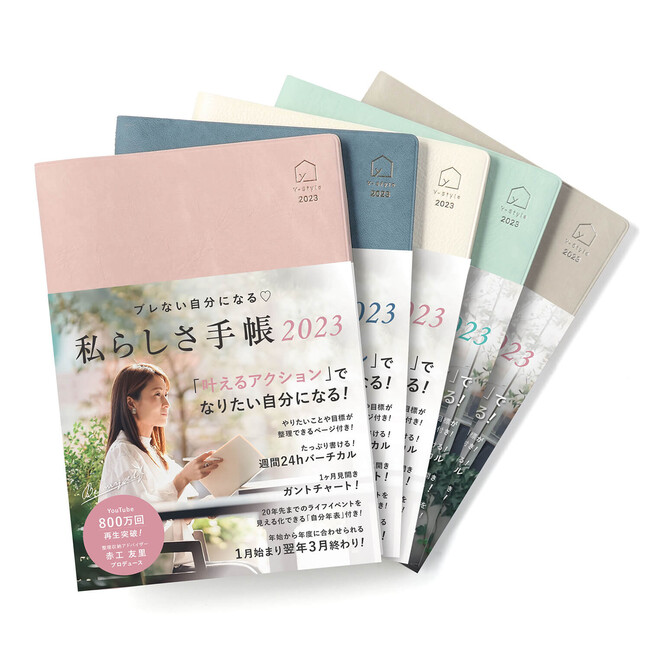 Y-Style "My Personality Notebook 2023"
▼ [Product information]
[Product name] Y-Style "My own notebook" 2023
[Color] Pearl White Neo/Ash Blue/Dull Pink/Mint (First Press Limited Color)/Greige (First Press Limited Color)
[Contents] Yearly schedule, monthly (with six days and moon ages), chronological table, list of who you want to be, ideal self circle, with column for actions to be fulfilled ・24h weekly vertical, monthly Gantt chart, list of things not to do, memo, pen holder, 3 bookmark strings
[Starting month] Beginning in January 2023
[End month] End of March 2024
[Start week] Monday starts
[Size] A5 size (H210 x W148mm)
[Number of pages] 224 pages
[Accessories] All books come with an easy-to-understand "How to use guide"! ▼ [Sales information]
Stores: Maruzen Junkudo Bookstore, Sanseido Bookstore, Loft, Loft Official Online Store, Tokyu Hands, Amazon, Rakuten, Yahoo Shopping, Family Storage Official Store
《Retailer / bookstore person in charge》
Please feel free to contact us if you have any inquiries about the Y-Style notebook or wish to use it.
[Inquiries regarding product handling, etc.]
Y-Style Co., Ltd.
Phone number: 052-693-5175/070-1670-0939
Email address: info@kazokushuno.jp
◇ Website: https://kazokushuno.jp/
(Y-Style notebook special site) https://kazokushuno.jp/techo/ ◇ YouTube "Family Storage CHANNEL":
https://www.youtube.com/channel/UCv9UBqcsDbazynoUHMpYMjw
◇ Official blog: https://ameblo.jp/sora8877/
◇ Instagram: https://www.instagram.com/kazokushuno_yuri/
Details about this release:
https://prtimes.jp/main/html/rd/p/000000015.000030633.html