XAION DATA Co., Ltd.
XAION DATA acquires a patent on "WEB VISION", a general-purpose structuring technology for open data

XAION DATA Co., Ltd. (Headquarters: Shibuya-ku, Tokyo, CEO: Yasuhide Sato, hereinafter referred to as "XAION DATA"), which deploys open data utilization technology to the recruitment market and sales market, utilizes open data (* 1). acquired a patent (Patent No. 7116940) for a method and program for efficiently structuring and correcting open data in general-purpose technology.
1. Background leading to patent acquisition
In the past, when collecting information from open data, it was necessary to maintain dictionaries and develop programs for each data item that we wanted to obtain. Development and maintenance costs tended to increase. As a result, there is a growing need for technology to structure a wide range of information in a more general-purpose manner with a unified mechanism.
The invention based on this patent extracts information from open data in various formats with unlimited access scattered on the web, and automatically structures the extracted information through processing such as machine learning. It will be a versatile technique.
Specifically, we will analyze the structure of the published website, automatically acquire information from the various page information obtained, convert it into text, and automatically tag the acquired data using natural language processing technology and machine learning. By structuring by attachment, it becomes possible to easily realize data collection and integration.
 Overseas, the use of open data is being promoted, and the fluidity of open data is higher than in Japan, and there is a demand for more versatile data utilization technology. Focusing on that, our CEO and CTO, who are the inventors of this patent, have continued research on general-purpose technology related to open data collection based on their experience working in Silicon Valley in the United States. This led to the development of "WEB VISION (*2)".
2. Business Perspectives through Patent Acquisition
XAION DATA utilizes "WEB VISON" to increase the ease of
domain-specific searches and data access, not only in the HR and Sales fields that we have entered in the past, and further data search technology and matching. We will accelerate the improvement of accuracy.
In addition, based on the data collected using this general-purpose technology, we will also promote the provision of AI models and data solutions that meet the needs of our clients.
 XAION DATA aims to be a leading company in the utilization of open data based on its mission of "maximizing the value of the world with AI x DATA".
business model diagram
[Image 1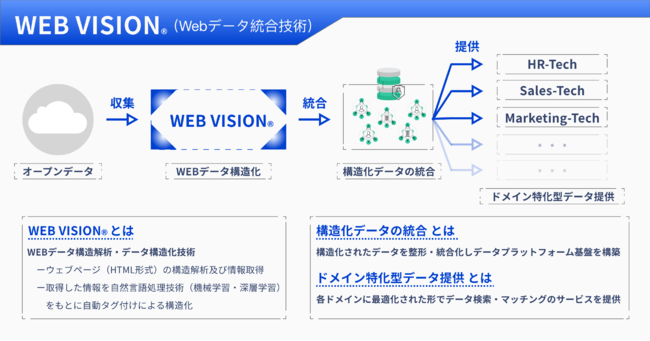 Patent details
[Country of Issue] Japan Patent Office (JP)
[Publication type] Patent publication (B2)
[Patent number] Patent No. 7116940 (P7116940)
[Registration date] August 3, 2022 (August 3, 2022)
[Issue date] August 12, 2022 (August 12, 2022)
Method and program for efficiently structuring and correcting open data
https://www.j-platpat.inpit.go.jp/c1800/PU/JP-2021-010352/B33A3E1F135867E68F147DAD4C9CD0339B777953A73B4E7DBF11745BC2D7D660/10/ja 4. Company Profile
[Image 2

[About XAION DATA Co., Ltd.]
Company name: XAION DATA Co., Ltd.
Representative: Representative Director Yasuhide Sato
Established: January 2020
Business description: With the mission of "maximizing the value of the world with AI x DATA", research and development of data structuring and integrated AI technology, and AI data utilization solutions in business areas such as HR and sales.・Provision of services
Location: Daiwa Shibuya Square 6F, 16-28 Nanpeidaicho, Shibuya-ku, Tokyo 150-0036
URL: https://www.xaiondata.co.jp/
XAION DATA Co., Ltd. / Public Relations
E-mail: contact@xaiondata.co.jp
(*1) Open data: Data that is open to the general public so that anyone can freely obtain, use, process, and redistribute it. In particular, machine-readable data arranged and formatted in a certain data format suitable for automatic processing by software, etc.
(*2) WEB VISION is a registered trademark of XAION DATA Co., Ltd.
Details about this release:
https://prtimes.jp/main/html/rd/p/000000002.000068842.html