FUTUREWOODS Inc.
Official release of sales tech "Release Times" that collects corporate news from about 300,000 companies and supports BtoB sales
Support information gathering for sales representatives. To
"aggressive information gathering".

FUTUREWOODS Co., Ltd. (Headquarters: Bunkyo-ku, Tokyo; Representative Director: Hayato Obama) announces the release of the official version of the company news acquisition service "Release Times".
To "aggressive information gathering". Background of the official release of "Release Times"
[Image 1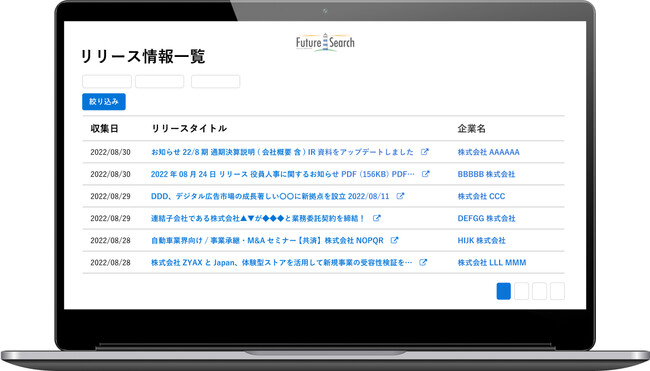 Information released by companies is essential information for use in business negotiations and topics of conversation with prospective and existing customers, and for understanding the current situation of competitors. However, it is extremely difficult to keep up to date with the latest corporate information from the Internet, which is overflowing with a huge amount of mixed information.
Therefore, we released the beta version of "Release Times" in June, which collects and informs companies' release information in a timely manner. Reflecting the feedback from users in the beta version, we have added a "list screen" where you can check the release information in a list and a "category function" where you can set the type of release information you receive, making it more convenient and easy to use. We now have.
Thoughts put into the official version of "Release Times" from CEO Hayato Obama [Image 2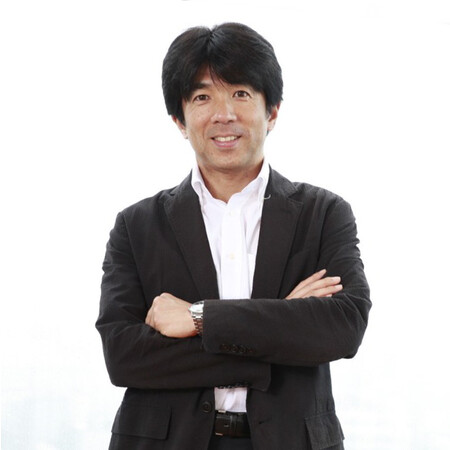 "Things that weren't selling until now will be able to sell." Release Times is a sales support tool that allows you to quickly and efficiently capture such "changes" and share them with the necessary members at the necessary timing. For example, what kind of "changes" will lead to business opportunities in your company, which promotes BtoB account-based marketing? I would be very happy if you could use it as a useful tool for such BtoB sales in various communication scenes with customers. (Hayato Obama / CEO)
Three advantages of "Release Times"
[Image 3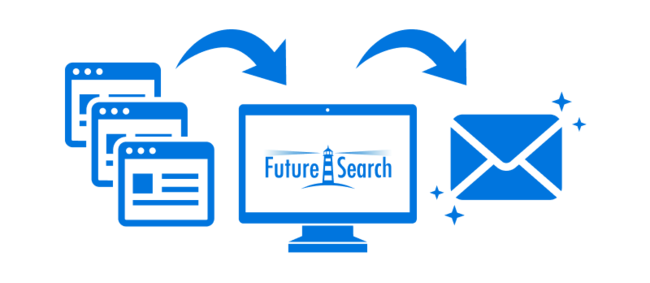 1. Catch the latest information without checking the site every day We will deliver company release information all at once around 9:00 every morning. Target companies can be selected from a database of about 700,000 companies, so you can efficiently and comprehensively collect information on important customers and competitors during the free time in the morning.
[Image 4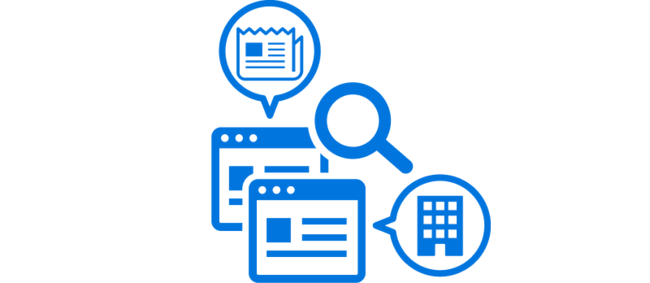 2. You can get the information that companies really want to send Since corporate sites are targeted, it is possible to obtain information that companies really want to disseminate, which is not covered by major media. Therefore, it can be used as a story to talk with prospective customers and as an opportunity to encourage up-selling and cross-selling to existing customers.
[Image 5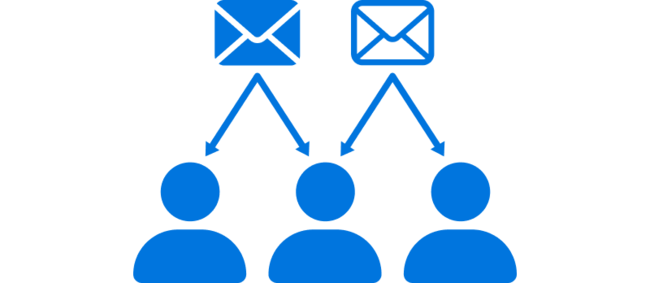 3. Smooth information sharing with members
Multiple recipients can be set to receive release information. Therefore, you can create a state in which all members are aware of the necessary information without the hassle of sharing information.
Specific usage scenes of "Release Times"
[Image 6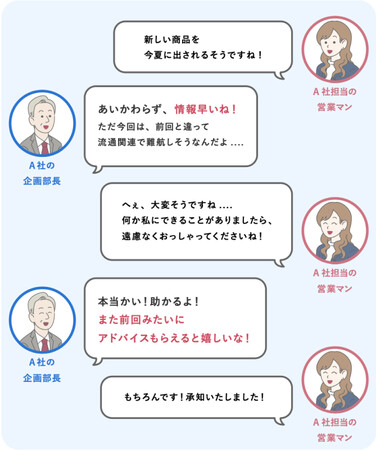 Scene 1: Improving Customer Relations
You can get the latest information that companies want to send, so you can use it as an opportunity to improve your relationship with customers. For example, if you contact the customer quickly according to the release information of the product, you can give a good impression that "this person in charge cares about your company." As a result, you will be able to build a relationship of trust with your customers, which will eventually lead to the conclusion of business negotiations.
[Image 7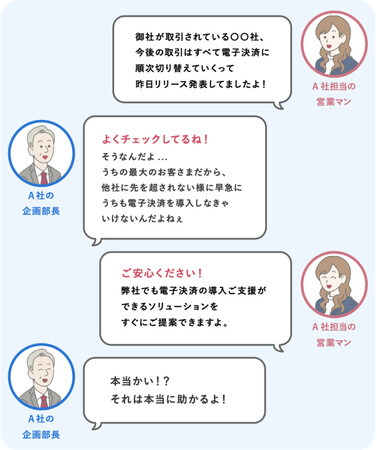 Scene 2: Quickly detect changes in the market and make proposals Companies that collect information can be selected from a database of about 700,000 companies, so customers' business partners can also be registered. For example, if you can obtain information that a customer's business partner will switch to electronic payment, you can propose support for the introduction of electronic payment to the customer ahead of the competition. By obtaining the release
information of related companies in this way, it is possible to quickly and comprehensively perceive changes in the market, and even utilize it in making proposals to customers.
Click here for details of "Release Times"
https://release-times-lp.future-search.jp/
*Please be sure to specify the credit when quoting or reprinting this release. ■ About FUTUREWOODS Co., Ltd.
"Utilize the power of IT to create things that make people happy and increase the total amount of happiness in the world."
"FutureSearch", a sales support tool that greatly reduces the time and effort of "prospective customer surveys" and "primary approaches" in sales activities, and data science business that provides a wide range of support such as data analysis consulting, big data analysis work, and various data infrastructure construction. We will contribute to the realization of a society in which many people can more easily eliminate the various "disadvantages" in the world by making good use of IT technology, which continues to make remarkable progress every day.
【Company Profile】
Company name: FUTUREWOODS Co., Ltd.
Location: 1-8-13 Mukaigaoka, Bunkyo-ku, Tokyo Planex 813 Building 3F Representative: Hayato Obama
Established: September 25, 2015
URL: https://www.futurewoods.co.jp
Business description: Operation of "FutureSearch", a DX support tool for sales and marketing
Consulting for data analysis and various research support
Planning, development and support for other marketing solutions [Inquiries from customers]
《Contact name》 FUTUREwOODS Co., Ltd.
TEL: 03-3868-0517 (Weekdays 10:00 – 19:00)
e-mail: future-search.info@futurewoods.co.jp
Details about this release:
https://prtimes.jp/main/html/rd/p/000000004.000099008.html