Sunrise Promotion Tokyo Co., Ltd.
Outdoor music festival "Mt.FUJIMAKI 2022" hosted by Ryota Fujimaki has ended for the first time in three years
With Mt. Fuji and Lake Yamanaka in the background blessed with fine weather, a special 2 days delivered with gorgeous artists Archive distribution will be from October 8th (Sat) 10:00 to 12th (Wed) 23:59
On October 1st (Sat) and 2nd (Sun), 2022, the outdoor music festival "Mt.FUJIMAKI 2022" was held at Lake Yamanaka Exchange Plaza Kirara in Yamanashi Prefecture, organized by Ryota Fujimaki.
[Image 1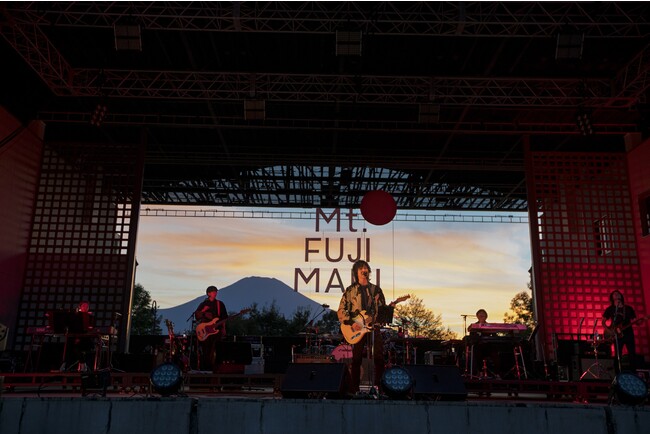 Photo by Ryo Higuchi
"Mt.FUJIMAKI", which started in 2018, has been canceled in 2020 due to measures against the new coronavirus infectious disease, and will be held locally for the first time in three years after being held in Tokyo in 2021 with no audience. I was. On October 1st (Sat), the opening ceremony was held with the greeting of the mayor of Yamanakako Village and a performance by BLUE LAKE BEAT, a big band from the local Yamanakako Junior High School, followed by Ryota Fujimaki (acoustic), the organizer. After that, Pistol Takehara, Eriko Hashimoto, Mika Nakashima, Kaori Kishitani, and Tamio Okuda appeared at the end of the first day. On Sunday, October 2nd, Salyu (×salyu), Saucy Dog, Sohei Oyamada (band set), MONGOL800, Makoto Brothers, and Ryota Fujimaki (band set) decorated the finale of the festival.
During the main part, the organizer Fujimaki served as the host, and proceeded with his thoughts on this festival and respect for the artists. Pistol Takehara, who sang powerfully with an acoustic guitar, Eriko Hashimoto, who refreshingly delivered the new song "Treasure Hunting" and Chatmonchy's number "Renai Spirits", and the Mt.FUJIMAKI band led by Fujimaki himself collaborated on " Mika Nakashima, whose set list was rich in variety, including "Mafuyu no Harmony", Kaori Kishitani, who captivated the audience with various appearances, from her gentle keyboard singing to her powerful electric guitar playing, and the band and solo performance. In addition to the song, Tamio Okuda performed Remioromen's "Konayuki" in collaboration with Fujimaki. On the second day, Salyu (×salyu), who enthralled the audience with a fantastic harmony with a simple guitar and chorus, and Saucy Dog, who excited the audience with a catchy song, performed on the stage at Lake Yamanaka, saying, "It's the first time I've seen such nice weather.
First time! thank you! The scene where he happily talked about it was also impressive. Next, Sohei Oyamada captivated the audience with an overwhelming and emotional performance, MONGOL 800 united the venue with hit songs such as "Chiisana Koi no Uta" and the appearance of dancers, and "BABY" wrapped in the slanting sunlight. BABY BABY" and "This Wonderful World" with the Mt.FUJIMAKI band, Shinkoro Brothers, and requests from Ryota Fujimaki, the organizer for the two days, were included in the special set list unique to this festival.
Ryota Fujimaki, who finished the second day with a band set, performed 8 songs, including "Ookami Youth" from his first solo album, "Mahoroba" released last year, and "Ameagari" from his band days. Since it was the 10th anniversary of his solo debut in 2012, he said, "I would like to release an album within this 10th anniversary year. I feel like I'm here," and announced that they were planning to release a new album, and delivered the new song "Sunshine", which will be unveiled for the first time at the end of the main part. With the encore song "March 9th", which started with "I wonder if I was able to fulfill my thoughts for two years (I couldn't hold it locally)", there was a surprise that the audience turned on the smartphone light, and it spread to the audience. Fujimaki, who was in front of the fantastic scenery, sang the song with his thoughts welling up.
"Mt.FUJIMAKI 2022" was held over two days in an outstanding location with the backdrop of Lake Yamanaka and Mt. Fuji blessed with good weather. Paid archive distribution will be available from October 8th (Sat) 10:00 to October 12th (Wed) 23:59 (Salyu (×salyu), Saucy Dog will not be aired or archived). Please check the official website for details.
[Image 2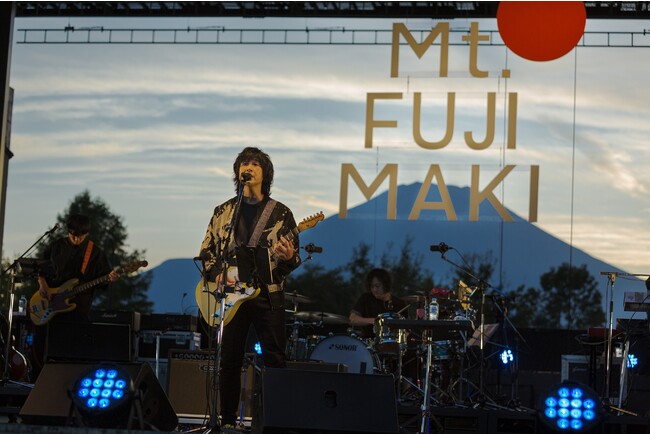 Photo by Ryo Higuchi
[Image 3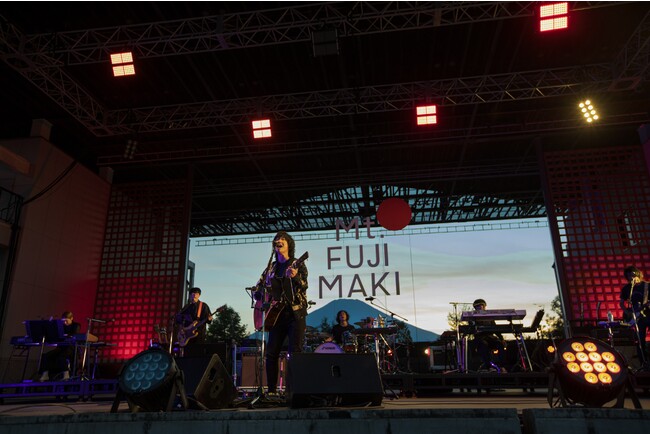 Photo by Ryo Higuchi
Performance overview
[Performance name] Mt.FUJIMAKI 2022
[Date] Saturday, October 1, 2022 Start 12:00 (Open 11:00)
October 2, 2022 (Sun) Start 11:00 (doors open 10:00)
*Canceled in case of rain/cancelled in stormy weather
[Venue] Yamanakako Exchange Plaza Kirara (479-2 Hirano, Yamanakako Village, Minamitsuru District, Yamanashi Prefecture)
[Appearance] Saturday, October 1 Tamio Okuda / Kaori Kishitani / Pistol Takehara / Mika Nakashima / Eriko Hashimoto / Ryota Fujimaki (acoustic)
October 2 (Sun) Makoto Brothers / MONGOL800 / Salyu (× salyu) / Sohei Oyamada (band set) / Saucy Dog / Ryota Fujimaki (band set)
[Entrance fee (tax included)] 1-day ticket premium area 8,500 yen / admission ticket 7,000 yen
*The premium area is the front area near the stage.
●Ticket with 1-day ticket benefits
Premium area: 11,500 yen / Admission ticket: 10,000 yen
* The privilege is one T-shirt limited to the privilege (free size: length 73 cm x width 55 cm x sleeve length 22 cm (approx.) Material: 100% cotton)
Prizes will be handed out at the venue.
*The same T-shirt will be used for both days
* Ends as soon as the planned number is reached
● 2-day pass
Premium area: 16,000 yen / Admission ticket: 13,000 yen
●Ticket with 2-day pass privilege
Premium area: 19,000 yen / Admission ticket: 16,000 yen
* The privilege is one T-shirt limited to the privilege.
* Ends as soon as the planned number is reached
[Parking fee (tax included)] Date-specified parking ticket 2,500 yen *The parking lot is open from 9:00 to 18:00.
*It takes 5 to 10 minutes on foot from the parking lot to the venue. *The organizer will not be held responsible for any accidents, thefts, etc. inside or outside the parking lot.
[Real-time streaming] October 1st (Sat) 11:00-18:00 *There will be no after-talk event.
October 2nd (Sun) 13:00-18:00
*Please note that Salyu (×salyu) and Saucy Dog will not be aired. [Archive delivery] October 8th (Sat) 10:00 to October 12th (Wed) 23:59 [Viewing fee (tax included)] Distribution ticket for Saturday, October 1: 3,500 yen
October 2nd (Sun) delivery ticket 3,000 yen
October 1st (Sat) and October 2nd (Sun) 2-day delivery ticket 5,000 yen *You can see the real archive distribution.
[Sales period] September 2nd (Friday) 10:00 to October 12th (Wednesday) 15:00 [Sales destination] ZAIKO https://sunrisetokyo.zaiko.io/item/350588 *If you have not registered as a ZAIKO member, you will need to register as a member.
*You can also watch from overseas.
[Organizer] Ryota Fujimaki / Yamanakako Village / Sunrise Promotion Tokyo / TV Yamanashi / FM FUJI
[Special Sponsor] Suntory Tennensui
[Sponsor] Kikyoya / Ishii Sports Kofu Outdoor Camp Style 2022 in Lake Yamanaka / International College of Acupuncture and Moxibustion [Support] Yamanakako Tourism Association/J-WAVE/TBS Radio
[Cooperation] Hakubaku / Ventforet Kofu / SPEEDSTAR RECORDS
[Planning and production] FRM / Sunrise Promotion Tokyo
[Inquiries] Sunrise Promotion Tokyo 0570-00-3337 (Weekdays 12:00-15:00) [Official site] http://www.mtfujimaki.com/
Details about this release:
https://prtimes.jp/main/html/rd/p/000000344.000041063.html