Palsystem Federation
New Release of "Shiitake Mushroom Cultivation Set" Contributing to Reforestation Let's Grow the Flavors of Autumn
Contributing to Satoyama conservation and carbon neutrality in Minamitsuru
The Pal System Association will start accepting orders for the "Meguru Mori no Shiitake Mushroom Cultivation Set" from Monday, October 3rd. The raw material is sawdust produced by the Minamitsuru Forest Association (Tsuru City, Yamanashi Prefecture, Chairman Mitsuo Sugimoto), which has been affiliated with the forest directly since 2014. You can contribute to sustainable forest development while cultivating and enjoying the taste of autumn.
Sawdust from broad-leaved trees felled in Minamitsuru is used as a fungus bed With the Meguru Mori Shiitake Cultivation Set, shiitake mushrooms will grow in about a week if the fungus bed is submerged and kept at room temperature with a certain level of humidity. Once the mushrooms have grown to the desired size, you can harvest them along with the stems and enjoy freshly harvested shiitake mushrooms. You can observe how the shiitake mushrooms grow every day, which is also connected to food education for children.
The sawdust used in the fungus bed is made from broad-leaved trees harvested by the Minamitsuru Forestry Association, which is a direct partner production area of ​​Pal System. In order to develop a neglected artificial forest, the cooperative borrowed land rights that had been dispersed among many landowners and proceeded with the maintenance of forest roads and thinning of the entire region. In January 2014, in order to support satoyama regeneration, PAL System entered into a direct partnership with the forest industry for the first time in the association, and continues to develop products that utilize forest resources and interact with users.
[Image 1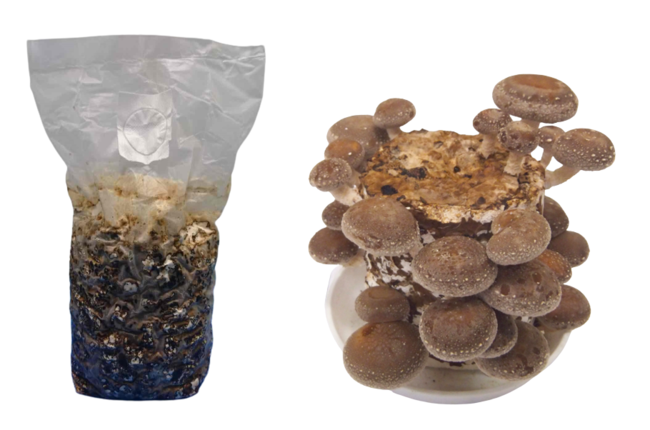 Meguru Mori Shiitake Cultivation Set and Cultivation Examples Meguru Mori no Shiitake Mushroom Cultivation Set
[Price] 980 yen (1,078 yen including tax)
[Harvest period] About 2 weeks after the start of cultivation (repeated cultivation possible)
*Products are handled by 10 co-ops of the Pal System Group (1 Tokyo and 11 prefectures).
Co-op can be used by joining.
Natural forest circulation contributing to carbon neutrality in 2050 In order to achieve carbon neutrality by 2050 as advocated by the Japanese government, the carbon fixation function through the establishment of cyclical use of domestic artificial forests will play an important role. Trees lose their ability to adsorb CO2 after reaching a certain age. CO2 is also released from dead trees, so it is essential to cut trees appropriately and use timber.
The neglect of coniferous forests such as cedar and cypress due to landslides caused by heavy rains in recent years has become a problem, but the number of broadleaf forests that are being devastated is also increasing. Konara oak trees and sawtooth oak trees that have exceeded a certain age will naturally regenerate into a new forest by growing fly flies from the stumps when they are cut down. Through the satoyama circulation of broad-leaved forests, recovery of the total amount of CO2 absorbed by forests, which has been decreasing in recent years, can be expected.
PAL System has been supporting the domestic forestry industry by utilizing thinned timber from production areas related to building materials for offices and other buildings. We will develop and deliver products that utilize local resources as needed so that users can feel close to the forest directly from the farm.
[Image 2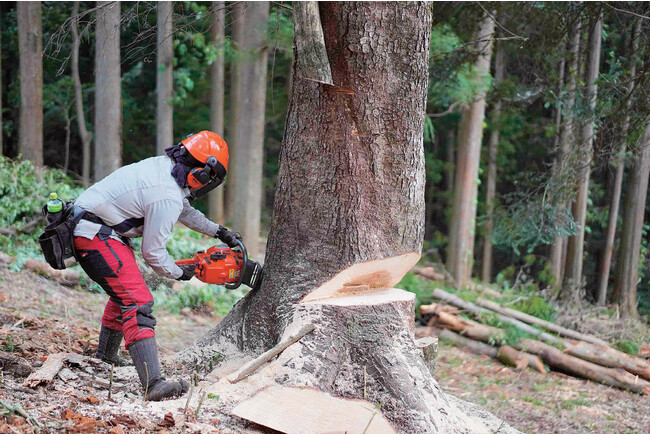 Broad-leaved trees felled in Minamitsuru
[Image 3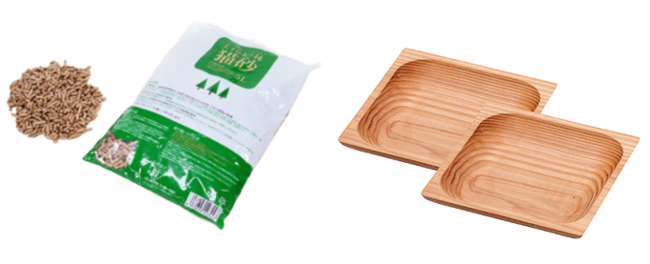 "Link Hayashi Cat Sand" and "Meguru Mori Plate Set" developed so far ■ Organization overview
Pal System Federation of Co-operative Associations
Location: 2-2-6 Okubo, Shinjuku-ku, Tokyo, Chairman: Seiichi Ohnobu 13 members/Unified business system users Total business value of members: 256.91 billion yen / Total number of union members: 1.683 million (as of March 31, 2022)
Member Co-op: Pal System Tokyo, Pal System Kanagawa, Pal System Chiba, Pal System Saitama, Pal System Ibaraki Tochigi, Pal System Yamanashi, Pal System Gunma, Pal System Fukushima, Pal System Shizuoka, Pal System Niigata Tokimeki, Pal System Mutual Aid Federation, Saitama Prefectural Workers' Co-op, Ai Co-op Miyagi
HP: https://www.pal.or.jp
Details about this release:
https://prtimes.jp/main/html/rd/p/000000109.000006976.html