Pony Canyon, Inc
Pony Canyon Produces High School Art Festival! CLARK NEXT Akihabara The seriousness of high school students who fascinated us at the Art Festival 2022!

[Image 1
Pony Canyon Co., Ltd. (Minato-ku, Tokyo, President: Takashi Yoshimura) is CLARK NEXT Akihabara (Tokyo), which is the Akihabara school of Soshi Gakuen Clark Memorial International High School (Main school: Fukagawa City, Hokkaido, Principal: Yoichi Yoshida). Chiyoda Ward) produced "Art Festival 2022".
CLARK NEXT Akihabara's "Art Festival" is held every year as a place to announce the results of the school's entertainment courses such as "Voice Actor / Broadcast Course", "Manga / Illustration Course", and "Video Creation Course". In 2020 and 2021 due to the corona crisis, it was not possible to hold a real event, so it was held online with the support of Pony Canyon. Reference URL (Art Festival 2021) ↓
https://sp.clark.ed.jp/fes2021/
This year, when infection control regulations were eased, the event was fully produced by Pony Canyon and was held on the weekend of October 1st and 2nd using the company's event space. The works prepared and exhibited for this day, as well as the works presented on stage, made it possible to feel the seriousness of the students. -point-
・Pony Canyon Co., Ltd. will conclude a comprehensive partnership with Soshi Gakuen Clark Memorial International High School in 2020. ・From this year, Pony Canyon has been producing the education of CLARK NEXT Akihabara, which is the Akihabara school of Clark Memorial International High School.
・As part of that, the school has been producing the "Art Festival" held every year since 2020, but this time it was the first real event that Pony Canyon produced.
・The works created by the lessons and guidance of professional instructors made us feel the students' seriousness.
[Image 2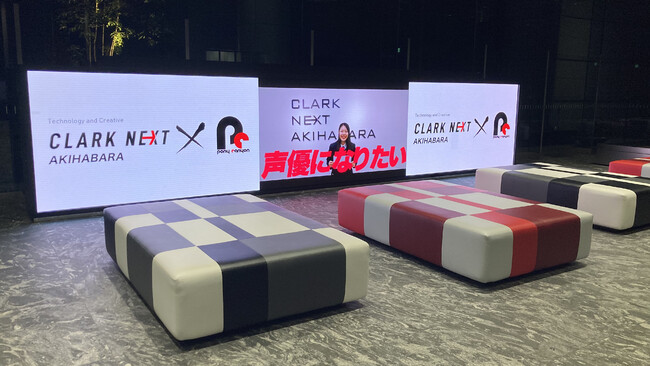 State of the lobby on the day
Clark Memorial International High School and Pony Canyon concluded a comprehensive partnership in August 2020, considering that it is possible to cooperate with each other and develop joint projects that contribute to the public interest. While promoting various
initiatives, Pony Canyon is in charge of "educational production" of "CLARK NEXT Akihabara", which is the Akihabara school of Clark Memorial International High School, from this year. As part of this, the "Art Festival 2022" was held, and this time it was the first time in three years that it was held in real life, and was fully produced by Pony Canyon.
[Video 2: https://prtimes.jp/api/movieim.php?url=www.youtube.com/watch?v=KLX99YZcaB4] -"CLARK NEXT AKihabara" PR video produced by Pony Canyon-
The 'Voice Actor/Broadcasting Course' performed on stage the works they had prepared for this day. First-year students gave individual presentations such as narration, second-year students performed "Uirouri," which is widely known as a training material for people who use their voices in their work, and third-year students performed their own productions. A recitation of Shakespeare's "A Midsummer Night's Dream".
[Image 3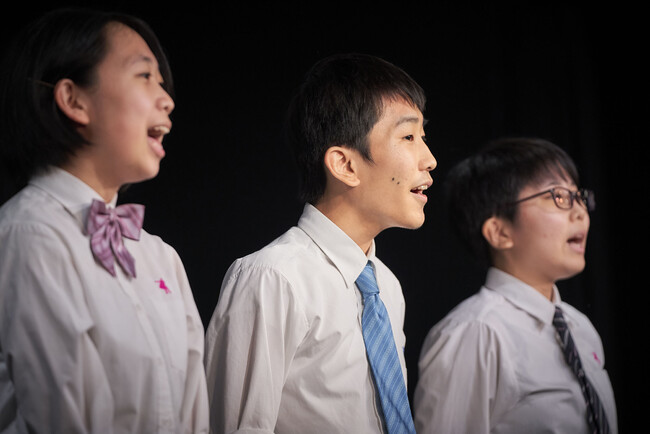 "Urouri" by second graders
In the "Manga/Illustration Course", each student's work was collaged on an A1 size panel and exhibited.
In the "Video Creation Course", they gave explanations of their own works, such as the works that won the previous "YouTube Koshien", on stage.
In the "Game/App Course", visitors were able to actually play their own games. [Image 4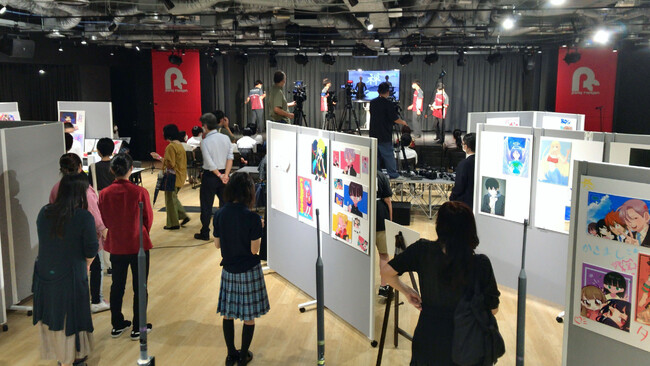 Inside the venue on the second day
The pattern of this "art festival 2022" is also distributed on the day, and the archive is open to the public.
CLARK NEXT Akihabara [2022 Art Festival 1st day]
https://www.youtube.com/watch?v=tbnTquohoa4
CLARK NEXT Akihabara [2022 Art Festival 2nd day]
https://www.youtube.com/watch?v=CIrgLw_mGGA
CLARK NEXT Akihabara [2022_Art Festival_Second Day_Separate Venue] https://www.youtube.com/watch?v=jZFt5y71knU
As a trial only for distribution, there is also a corner where the author himself explains the work of the "Manga / Illustration Course" and a corner where the creator of the game explains the game in the "Game / Application Course". It was a distribution that included a project that even untrained viewers could enjoy.
With the success of this event, which proved the high affinity between Pony Canyon, which has three pillars of business, animation, music, and video, and CLARK NEXT Akihabara, where you can learn an
entertainment curriculum, we will continue to collaborate. It's going to get deeper.
Comment from Mr. Takuma Nagai, Head of Clark Memorial International High School CLARK NEXT Akihabara Campus
I would like to express my heartfelt gratitude to the students, parents, instructors, and everyone involved in making it possible to hold a non-online art festival for the first time in three years. In each course, students have a strong passion for the art festival, and I am sure that the students will grow up through this art festival and learn the basics and society as a member of society. CLARK NEXT Akihabara is a school that supports students aiming for their dreams while leading a school life that has never existed before, driven by what they love. .
Comment from Mr. Ryosuke Takahashi (Voice Actor / Swallow affiliate) who directed the recitation play "A Midsummer Night's Dream" by third-year students of the "Voice Actor / Broadcast Course" at the art festival
I heard that the students hadn't had a chance to show themselves due to the effects of the coronavirus, so I directed the performance with the idea that by overcoming this art festival together, the past three years will become a treasure. This time, I think it was a high hurdle for everyone, but I chose this play because I thought that they would surely overcome it. What I was careful about in terms of production was that I made it with the awareness that the lines would be the voices of the people themselves. I'm sure everyone's personality was the same as the role.
Seeing from the audience, I was really moved by the fact that each individual practiced so much that the results exceeded my imagination. ◆ About Clark Memorial International High School
Opened in 1992 as the only educational institution that inherits the spirit of Dr. Clark, known for "Boys, Be Ambitious!" The main school is located in Fukagawa, Hokkaido, and more than 10,000 students are studying at over 50 campuses nationwide. Developed and introduced a new style of learning called "all-day education," in which students wear uniforms and go to school every day, even though it is a correspondence course, just like a full-time course. Taking advantage of the flexibility of the curriculum, we are developing various characteristic classes that meet the needs of students. Every year, many students enter overseas universities, national public
universities, and famous private universities.
◆ About CLARK NEXT Akihabara
"Akihabara = AKIBA" is a city of pop culture that boasts worldwide popularity and popularity, and is one of Japan's leading electric towns. In Akihabara, where many new cultures of MADE IN JAPAN are born, "Let's expand the 'future' from 'what you like'! ], we are working on education specialized in specialized fields unique to Akihabara.
Details about this release:
https://prtimes.jp/main/html/rd/p/000001444.000031071.html