Messe Munchen Japan Co., Ltd.
[Press Release] ISPO Munich 2022 International Sporting Goods Trade Fair Held in Munich, Germany
November 28-30, 2022 Messe Munchen

New perspectives on sports
ISPO Munich, which has been suspended for two years due to the impact of the new coronavirus, will be held at Messe Munich from November 28th to 30th under the motto "New perspectives on sports". "Future Lab" located in the center of the hall was newly added this year. All key issues related to innovation, retail, digitization, connectivity and more will be discussed and challenged there. Exhibitors and visitors will finally have the opportunity to meet again in all 10 halls.
The sports and sporting goods industries have evolved more in the last two and a half years than the last decade's worth of change. While subsegments of the sporting goods industry have posted positive sales results during the pandemic, they are also facing new challenges such as supply chain disruptions, changing order cycles and increased digitization. The problem of potential energy shortages could also have a major impact on the winter sports industry as a whole. ISPO Group President Tobias Grober said of the new concept of ISPO Munich, "That's why we need new perspectives on markets, consumers, retailers and sport itself." "In November, ISPO Munich will transform the central hall into an innovation lab. Key industry leaders will be here.
Get together and discuss what actions to take. We want to be a lobbying platform and show how important the place of sport in society is." Although the maximum exhibition area has been reduced to 200 square meters, exhibitors from 55 countries will participate in the trade fair to showcase their products.
Future Lab: The New Center of ISPO Munich
All 10 holes used in the trade fair were almost completely filled, and ISPO Munich secured a large area in the center of the hall for "Future Lab". The Innovation Lab is designed to be the new center of the trade fair. It will not only serve as a place to discuss new products and transformations, but also allow visitors and exhibitors to look beyond their industry's horizons in terms of retail, digitization and sustainability hubs. Become. The hall will also serve as a stage for many athletes who will be participating in the ISPO Awards and ISPO Cup Nights. The newly conceived ISPO Cup presentation will take place at the Future Lab on the opening night. The award is given to honor the initiative of athletes and sports influencers who have made a positive contribution to society.
The ISPO conference will also be held at the Future Lab. Industry leaders and experts from other industries will speak on today's key issues such as sustainability, inclusion and diversity, and challenges facing logistics and retail. Speakers include Merijn Dols, Global Director of Open Innovation and Circular Economy at Danone; Laura Santucci, former political adviser to the Obama administration and former Director of the World Food Program; CEO of Natural Capitalism Solutions and member of the Club of Rome Mr. Hunter Lovins is scheduled.
Many current and former players will also be attending ISPO Munich. Triathlete Sebastian Kienle addresses the issue of biohacking in a live recording of a Red Bull podcast. Christian Schenk, an Olympic gold medalist in the decathlon and who recently organized a festival open to people with and without disabilities, will speak about lobbying for diversity and goodwill. With the motto "Stories to be told", sessions organized by "Frauen Verbinden" (Women Connect) will introduce prominent female entrepreneurs, celebrities and athletes. Alpinist Kazuya Hiraide, who was the first Japanese to win the 17th Piolet d'Or Award, which is said to be the Academy Award of the mountaineering world, has also decided to attend.
The reopening of ISPO Munich will be unfolded with the help of a new advertising campaign entitled "New perspectives on sports".
"ISPO has long been more than just a sporting goods trade fair," said Lena Haushofer, exhibition director at ISPO Munich. "Despite some travel restrictions due to COVID-19, This year, 90% of the exhibitors at ISPO Munich are from outside Germany, making ISPO Munich a global hub that facilitates personal contact between manufacturers, specialty stores and other industry players. , underscores the important and valuable role played by ISPO Munich."
[Image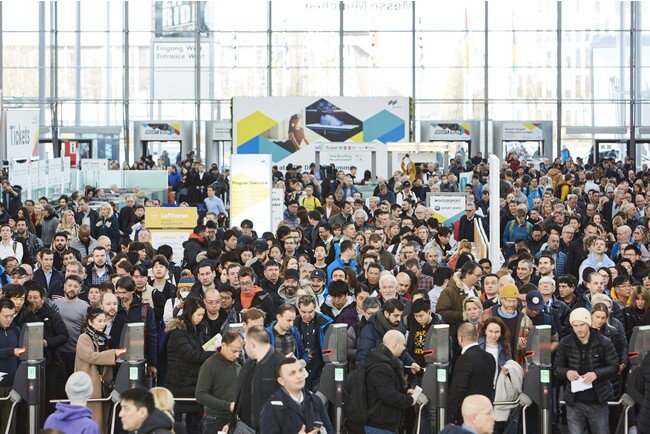 "ISPO Munich 2022" International Sporting Goods Trade Fair
URL: www.ispo.com/en/munich
Date: November 28 (Monday) to 30 (Wednesday), 2022 9:00 to 18:00 (last day 17:00)
Venue: Messe Munchen
Organizer: Messe Munchen
Admission ticket price:
・Business permanent ticket Retail EUR 25.00
・Business day ticket EUR 79.00
・Business permanent ticket EUR 149.00
-Purchase admission tickets from the dedicated site-
https://www.ispo.com/en/munich/trade-visitors/tickets
-Click here to search for exhibitors-
https://munichexhibitors.ispo.com/onlinecatalog/2022/start/
-ISPO Munich for trade visitors-
https://www.ispo.com/en/munich/trade-visitors
-Invitation to ISPO Munich (Japanese)-
https://www.messe-muenchen.jp/expo/2022/ispo/03.php
Please come and visit us!
–Notice of Change of ISPO Representative Office in Japan–
As of July 1, 2022, Messe München has transferred the operations of the ISPO Japan Secretariat to Messe München Japan Co., Ltd., the Japanese representative office of Messe München. From now on, we will continue to accept inquiries and consultations regarding ISPO, so we ask for your continued guidance and encouragement.
Details about this release:
https://prtimes.jp/main/html/rd/p/000000008.000082521.html