revcom
"MiiTel for Zoom" New Features Released
-Efficient review of business negotiations by searching from all transcription results-

RevComm Co., Ltd. (Headquarters: Shibuya-ku, Tokyo, CEO: Takeshi Aida) has added new functions to the AI-equipped online business negotiation analysis tool "MiiTel for Zoom", such as a function that allows you to search for all transcription results. has been released.
[Image 1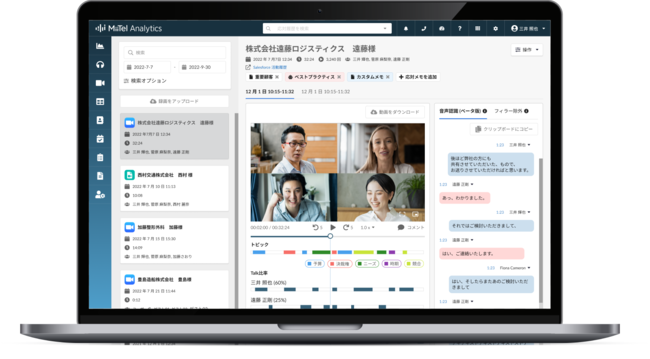 What's New in MiiTel for Zoom
・Business negotiations can be searched from all transcription results Previously, you could search for deals by title, participant name, tagging, etc. In addition, it is now possible to search for keywords from the transcription results (speech recognition results) of the content spoken during business negotiations.
[Image 2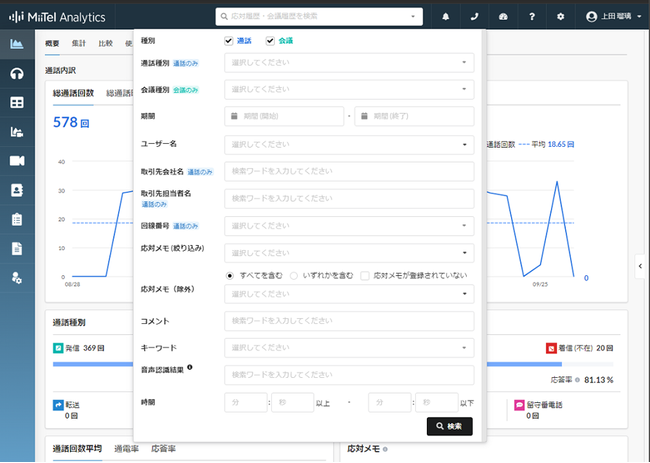 ・Meeting Dashboard (Beta version)
In the meeting dashboard (beta version), not only the aggregate value, but also the appearance rate for each topic, response note, and keyword can be displayed and filtered.
[Image 3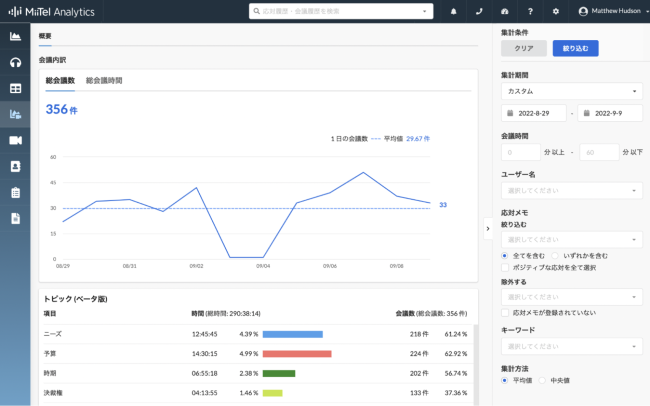 Full-text search function: https://support.miitel.jp/hc/ja/articles/360043385192 Meeting Dashboard (beta): https://support.miitel.jp/hc/en/articles/7122276654489 For more information, please check our support page.
Background of new feature release
Since the release of "MiiTel for Zoom" in July 2022, Revcom has been considering what functions are necessary to improve the convenience of users in online business negotiations and contribute to improving productivity. Among them, we received requests such as "I want to search for business negotiations to look back more efficiently" and "I want to grasp the overall trend of online meetings", so we updated the search function and dashboard. In the future, we plan to add a dashboard function that will enable aggregation on a user-by-user basis, enabling more detailed analysis of how online business negotiations proceed. We will work to expand the usage scenes of MiiTel for Zoom.
Revcom will continue to strive to improve the value provided by "MiiTel" and "MiiTel for Zoom" under the mission of "reinventing communication and creating a society where people care about others", contributing to the improvement of corporate productivity. increase. What is MiiTel for Zoom?
"MiiTel for Zoom", an AI-equipped online business negotiation analysis tool, adds AI-based transcription and talk analysis functions to Zoom business negotiations, making it possible to visualize Zoom business negotiations and share them internally, improving sales productivity. This is a new service under the "MiiTel" brand. It can be used to improve work efficiency and promote self-coaching by automating meeting minutes creation work and sharing online business negotiation analysis, and by linking with customer management systems such as Salesforce, it is possible to centrally manage Zoom business negotiations with customers.
Official site https://miitel.revcomm.co.jp/jp/forzoom
Document request: https://miitel.revcomm.co.jp/document-request-zoom RevCom Co., Ltd. Company Profile
Based on the philosophy of "reinventing communication and creating a society where people care about others", we are a company that solves communication problems with voice technology and AI.
The voice analysis AI phone "MiiTel" is used for visualization of talks in sales and call center operations, self-coaching, and building a telework system, mainly in the inside sales market. In addition, the online business negotiation tool "MiiTel for Zoom" enables analysis and review of online business negotiations by multiple people, which will dramatically increase the sales contract rate.
So far, he has won and won various competitions by B-Dash Camp and TechCrunch, including the adoption of Google for Startups Accelerator, Forbes JAPAN "Japanese Entrepreneur Ranking 2021", Weekly Toyo Keizai "Amazing Venture 100" has also been selected.
・ Company name: RevComm Co., Ltd.
・ Location: 1-3-9 Shibuya, Shibuya-ku, Tokyo 150-0002 Hulic Shibuya 1-chome Building 7F
・Representative: Takeshi Aida
・ Business description: AI x voice software database development ・Company website: https://www.revcomm.co.jp/
Details about this release:
https://prtimes.jp/main/html/rd/p/000000125.000037840.html