Yushin Sake Brewery Co., Ltd.
Yushin Brewery, the developer of Rice Power (R) No. 11, has released a special Christmas coffret with a limited edition sheet mask.
Founded 169 years ago, Yushin Sake Brewery (Representative Director Takashi Tokuyama, Ayuta-gun, Kagawa Prefecture), the only sake brewery in Japan that develops "Rice Power No. 11," which has the effect of "improving skin's ability to retain moisture," has created an original From December 1, 2022 (Thursday), we will release three types of special kits only for Christmas from the brand "RAIZ (R)".
[Image 1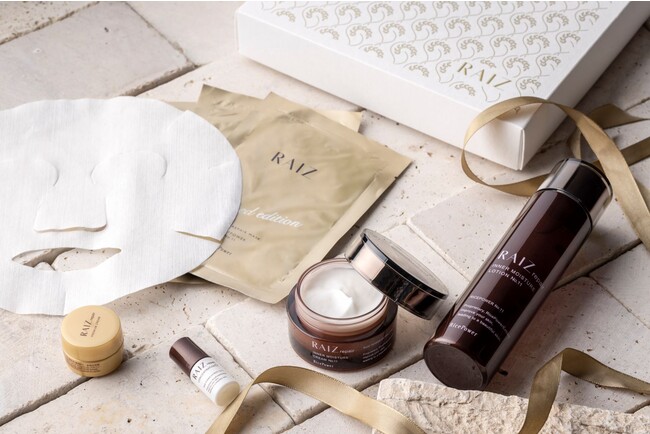 -Beauty of bare skin evolves.
Give you an unprecedented brilliance. –
The theme of the 2022 Christmas coffret delivered by "RAIZ", a "skin care that nurtures bare skin", is "evolving bare skin beauty". All 3 types of kits that allow you to feel the effects of Rice Power No. 11 in line use, and the limited item "Rice Total Repair Mask" (limited not for sale) that takes your usual care to a higher level. A luxurious sheet mask containing about a month's worth of beauty essence, with an unprecedented immediate effect, it gives your skin a translucent feel and a firmness that makes you want to touch it. This year's Christmas coffret will boost your skin that you've grown every day. Get translucent skin that shines from the inside with a higher-grade skincare.
[Christmas limited design BOX]
Rice, the origin of rice, is designed with modern ideas.
In addition to expressing the brand itself, which continues to explore new value of rice that is not only delicious, the infinitely expanding pattern is associated with the possibilities of your skin beauty, which is endlessly beautiful, and is the theme of the kit. Produces a gorgeous bare skin beauty.
[Outline of limited coffret]
-Release date-
On sale December 1st (Thursday)
-Reservation start date-
Tuesday, November 1
Toll free number 0120-73-4141 or available at department stores. For inquiries, please check the Christmas coffret special site below. https://www.ricepowershop.jp/cp/2022xmaskit.html
-Handling-
・Rice Power Shop https://www.ricepowershop.jp/
・Mitsukoshi Rice Power Corner https://www.ricepowershop.jp/company/shop.html Nihombashi Mitsukoshi Main Store/Nagoya Sakae Mitsukoshi/Takamatsu Mitsukoshi/Matsuyama Mitsukoshi/MI Online
*MI Online handles only the "Rice Repair Holiday Complete Kit 2022" limited to department stores.
[Product information]
Christmas coffret 3 types
[Image 2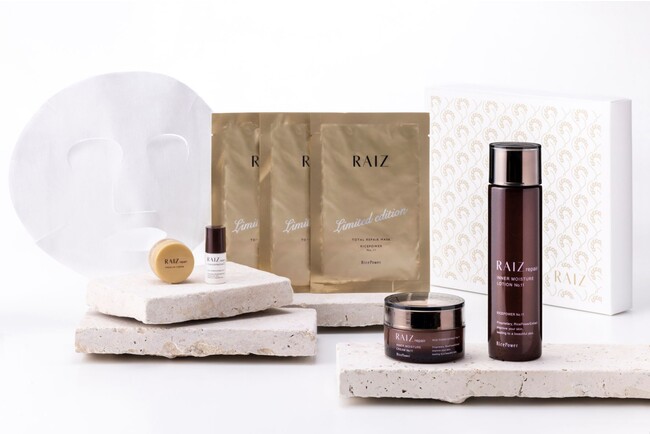 Rice Repair Holiday Kit 2022 ¥17,600 (tax included)
Rice Power's highest peak * 1 series "Rice Repair" is a full line, and a luxurious kit that allows you to try a limited edition sheet mask at the same time. A limited edition sheet mask that contains a generous amount of beauty essence for about a month in one sheet. Please experience the beauty of bare skin that is richly moisturized, translucent and full of firmness.
-Set Contents-*From the right of the image
・Rice Repair Inner Moisture Lotion No. 11 120mL (actual product) Brand name: Medicinal No. 11 Lotion a
・ Same cream No. 11 40g (actual product) Trade name: Medicinal No. 11 cream b ・Rice Total Repair Mask 3 sheets Brand name: Medicated Moisture Mask AN ・Same Concentration D 3mL Brand name: Medicinal Concentrated Essence R-1 ・Same premium cream 5g Trade name: Medicated PC
[All quasi-drugs]
* The number of holiday kit design packages is limited. Please apply as soon as possible.
[Image 3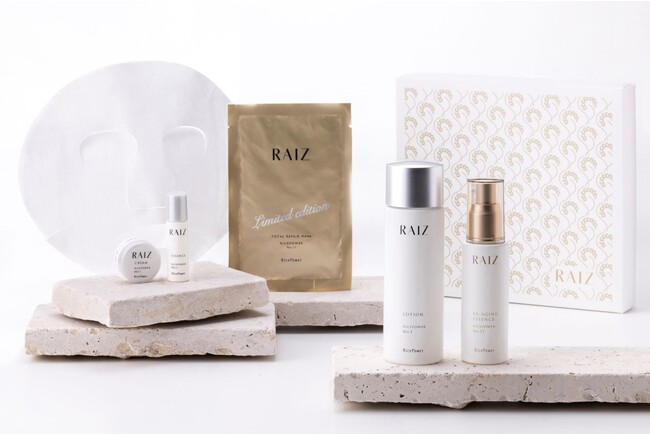 Rice Active Holiday Kit 2022 ¥10,120 (tax included)
Standard aging care starting from Rice Power No. 11 * From the 2 series "Rice Active", a great value kit that allows you to try the full line of care appears. This kit is recommended for first-time users, and is recommended for those who want to try it when their skin condition does not improve no matter what kind of care they take. -Set Contents-*From the right of the image
・ Rice Active Reaging (R) Essence 50mL (actual product) [Quasi-drug] Trade name: Medicinal No. 11S
・ Same lotion 120 mL (actual product) Trade name: Rice lotion ・Rice Total Repair Mask 1 sheet [Quasi-drug] Trade name: Medicated Moisture Mask AN
・Rice Active Essence 8mL
・Same cream 5g
* The number of holiday kit design packages is limited. Please apply as soon as possible.
[Image 4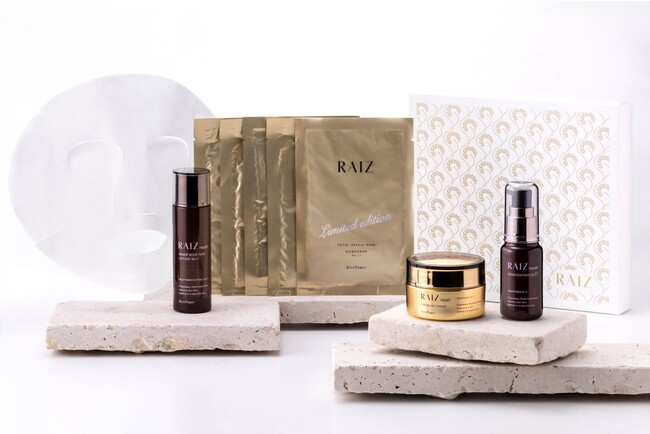 Rice Repair Holiday Complete Kit 2022 ¥27,500 (tax included) *Department store limited item
Among the three types of coffrets we will deliver this time, the most special complete kit is a department store limited product that allows you to fully experience the effects of Rice Power No.11.
Highly-concentrated, highly-functional items work on the roots of various skin problems to enhance the power of the skin*3, bringing you closer to ideal skin with a burst of moisture and a youthful sense of transparency.
-Set Contents-*From the right of the image
・Rice Repair Concentration D/W 30mL (actual product) Trade name: Medicinal Concentrate R-1, R-2
・ The same premium cream 40g (actual product) Trade name: Medicated PC ・Rice Total Repair Mask 5 sheets Brand name: Medicated Moisture Mask AN ・Same Inner Moisture Lotion 50mL Brand Name: Medicinal No. 11 Lotion a [All quasi-drugs]
Department store limited sales / dealers: Nihonbashi Mitsukoshi Main Store, Nagoya Sakae Mitsukoshi, Takamatsu Mitsukoshi, Matsuyama Mitsukoshi, MI Online
*Not available on our EC site.
*Rice Repair Concentration can be selected from two types.
* The number of holiday kit design packages is limited. Please apply as soon as possible.
[Image 5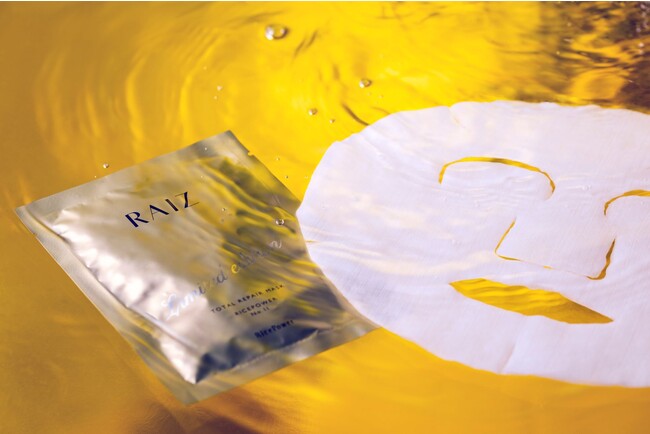 Rice total repair mask *Limited item not for sale
A luxurious blend of about 1 month's worth of mask serum containing Rice Power No. 11 in one dose. The skin is sealed with the finest texture, and rice power No. 11 is generously distributed to the depths of the skin * 4, and the moment you remove the mask, you will be moisturized, transparent and firm that you will want to touch. Brings You can be satisfied not only as a daily reward but also as a rescue item.
* Included in all kit contents.
Click here for details on Rice Total Repair Mask
https://www.ricepowershop.jp/products/skincare/raizspecial/totalrepairmask.html ○ Item information
Product Name: Rice Total Repair Mask
[Quasi-drug] Brand name: Medicated Moisture Mask AN
Formulated with Rice Power No. 11, fragrance-free, coloring-free, and free of animal-derived ingredients
Capacity: 22mL 1 piece
Material: non-woven fabric
[About the brand]
RAIZ
-I love my current skin
-Can't wait for future skin
Rice's "skin care that nurtures bare skin"
Rather than simply supplementing what is lacking,
Focusing on 5 items that work within the body to enhance the skin's natural power.
A skin care brand.
It's my skin that I'll be with forever, so I won't cheat on the spot. If you understand the essence of your worries and face them sincerely, your skin will respond with its own power.
Well, you can also think from the bottom of your heart that "I like my current skin the most"
Why don't you grow a really beautiful bare skin?
・Rice Power HP: https://www.ricepowershop.jp
・ Official Twitter: https://twitter.com/RAIZrepair
・ Official Instagram: https://www.instagram.com/raizskincare_official/ [Reference materials]
-Skin care that nurtures bare skin-
The skin is naturally equipped with a mechanism that creates healthy skin and keeps it in a beautiful state without worries by being reborn. If the natural power of the skin is normal, the skin will be reborn every day, and the skin will always be filled with healthy cells, and you will have healthy and beautiful skin that does not cause skin problems in the first place.
Rice's "skin care that nurtures bare skin" draws out the natural power of this skin*6 and prepares the rebirth of the skin by encouraging it to create and grow healthy cells with its own power every day. It is important for the skin itself to develop a beautiful bare skin. This is the only answer that Yushin Brewery has arrived at, and it is the skin care that only Rice Power No. 11, which has the only effect in Japan, can do.
[Image 6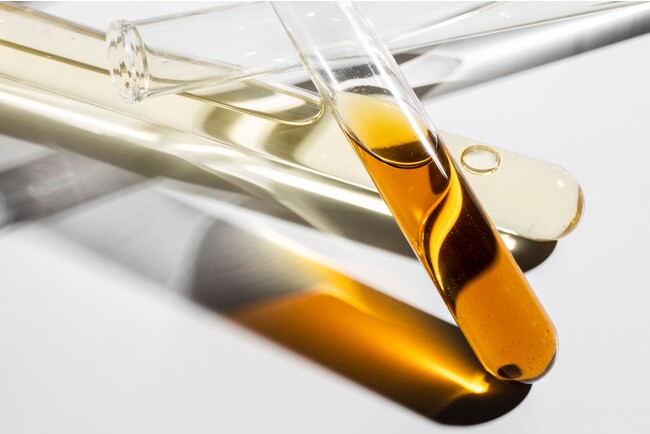 -What is "Rice Power No.11"-
It is one of the original ingredients developed by Yushin Shuzo, "Rice Power Extract", and the only active ingredient of quasi-drugs in Japan that has the effect of "improving skin moisture retention". Since it was approved in 2001, no ingredient with the same effect has been developed, making it a unique ingredient.
Instead of temporarily supplementing, it awakens the skin's original power*7 and conditions it from the inside according to your own rhythm. We have made innovative skin care that makes it possible to nurture healthy skin with power.
[Image 7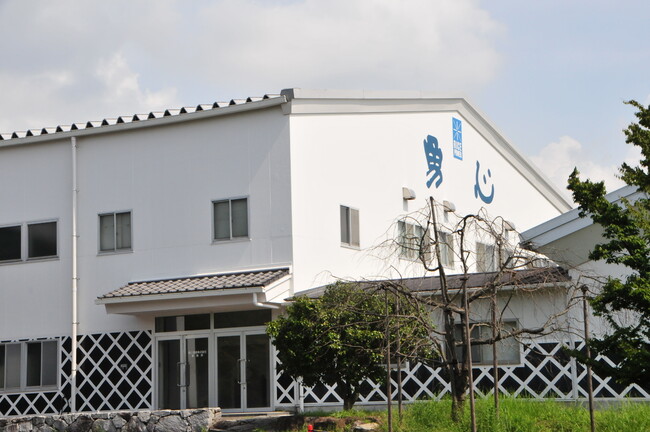 -About Yushin Brewery-
Founded in 1854 as a sake brewery.
As a sake brewery, we have devoted ourselves to brewing and
fermentation technology for a long time, and various factors such as the type and combination of microorganisms, temperature, humidity, and aging period interact in a complex way. and started developing cosmetics. Fermentation, a mysterious activity in the natural world that is beyond human knowledge, is a result of passionate research and conviction to search for infinite fermentation methods. I came to. We are working diligently every day on research and development to create rice power extracts with new effects so that everyone can live with a smile without worrying about skin problems.
Yushin Brewery Co., Ltd. HP: http://www.yushin-brewer.com/
[Manufacturer/Seller/Product Inquiries]
Yushin Sake Brewery Co., Ltd.
2088-1 Ono, Ayagawa-cho, Ayuta-gun, Kagawa Prefecture 761-2307 Toll free number 0120-73-4141
(Reception hours: Monday – Friday 8:30 – 19:00, Saturday 9:00 – 18:00, closed on Sundays, public holidays, year-end and New Year holidays, and summer holidays)
Rice Power, Rice, and Reaging are trademarks of Yushin Brewery Co., Ltd. *1 Within the brand
*2 Care according to age
*3 *5 *6 *7 Rice Power No. 11 improves skin moisture retention *4 Basal layer
Details about this release:
https://prtimes.jp/main/html/rd/p/000000015.000060708.html