Shippio Co., Ltd.
Shippio Selected for LinkedIn TOP STARTUPS 2022
10 Japanese startups that can withstand headwinds

Shippio Co., Ltd. (Headquarters: Minato-ku, Tokyo, Representative Director Takanori Sato, hereinafter "Shippio"), which provides the international logistics platform "Shippio", has been selected as one of LinkedIn's "TOP STARTUPS 2022 Edition". i will let you know. [Image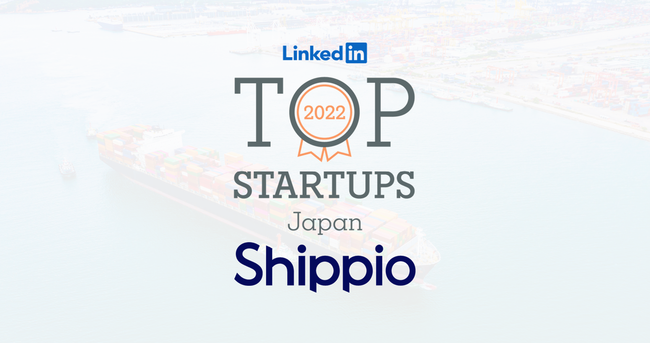 LinkedIn TOP STARTUPSOverview
LinkedIn TOP STARTUPS is a survey conducted by LinkedIn, the world's largest business-specific social networking service, to clarify the startups with the most momentum. , "Interest in recruiting", and "Ability to attract top talent" based on our own analysis.
Survey period: From July 1, 2021 to June 30, 2022
Survey target: Companies that have a company page on LinkedIn that have been in business for less than 8 years, employ 30 or more employees, are unlisted companies, and are headquartered in Japan A start-up company that fulfills all needs
https://bit.ly/3UTbhmq
About Shippio Inc.
Shippio is Japan's first digital forwarder* that promotes DX in international logistics with the mission of "implementing the ideal logistics experience in society". We will build an international logistics platform and promote DX in the international logistics area by providing trade systems and international logistics forwarding services.
Trade name: Shippio Co., Ltd. (English name: Shippio, Inc.)
Representative: Takanori Sato, Representative Director
Location: Hamamatsucho Building 15F, 1-1-1 Shibaura, Minato-ku, Tokyo Established: June 2016
Business description: Planning, development and operation of digital forwarding services
Capital: 2.19 billion yen (including capital reserve)
URL: https://www.shippio.io/
* Opinion from the book supervised by IT expert Satoshi Uchiyama, "Understanding the latest cases from RPA introduction to business model reform! DX strategy viewing note" (P207, Takarajimasha, published on November 15, 2021)
* "Digital Forwarder" and "Digital Freight Forwarder" are registered trademarks of Shippio Co., Ltd.
Details about this release:
https://prtimes.jp/main/html/rd/p/000000032.000025761.html