Stripe International Co., Ltd.
Manami Enosawa and Maison de FLEUR are collaborating for the first time, and "Baymax" is now available from the popular Disney
Collection! -A lineup of 8 types of lifestyle goods that Mr. Enosawa is particular about-

The brand "Maison de FLEUR" developed by Stripe International Co., Ltd. (Headquarters: Okayama City, Okayama Prefecture, President: Takao Tachibana) will release the "Baymax" collection from the popular Disney Collection on October 8. It will be released on Sunday (Saturday) at Maison de FLEUR stores nationwide.
[Image 1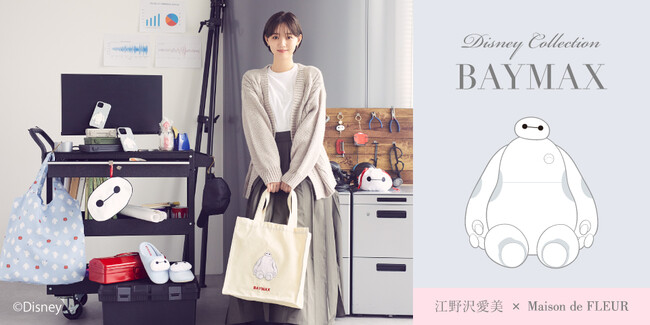 At Maison de FLEUR, the first collaboration project with Manami Enosawa, who is active as a model, has been realized. Mr. Enozawa has also served as the director of the apparel brand "ARUMDY" at our company since this autumn. This time, she worked on the Disney Collection of her favorite Disney character "Baymax".
The "Baymax" collection will have a total of 8 types of items that are easy to use on a daily basis. Among them, Mr. Enozawa's number one recommendation is room shoes with a "Baymax" face. This is an item that Ms. Enozawa herself wanted, and combined her favorite light blue base with the fluffy material "Baymax". Finished with an item that will give you healing at home.
In addition, Mr. Enozawa's special items will appear, such as a tote bag featuring a large emblem, an eco bag that turns into a "Baymax" face when folded, a face-shaped drawstring pouch, and a charm pouch that expresses a charging figure. .
This collection will be sold at Maison de FLEUR stores nationwide, as well as on the company's own EC site "STRIPE CLUB" and ZOZOTOWN from 20:00 on the 7th (Friday) the day before the store release date. Maison de FLEUR and Ms. Enozawa teamed up for the first time, and please enjoy the Disney Collection featuring her favorite "Baymax". ■ "Disney Collection "BAYMAX" / Aimi Enosawa × Maison de FLEUR" Sales Overview Release date: October 8th (Sat)
Sales locations: Maison de FLEUR stores nationwide *Excluding Ikspiari and OUTLET stores
Own EC site "STRIPE CLUB" (https://stcl.page.link/LQ19), ZOZOTOWN Products for sale: 2 types of bags, 2 types of pouches, charms, room shoes, towels, iPhone cases (8 types in total)
■ "Disney Collection 'BAYMAX' / Aimi Enozawa x Maison de FLEUR" Item Details *All prices include tax
[Image 2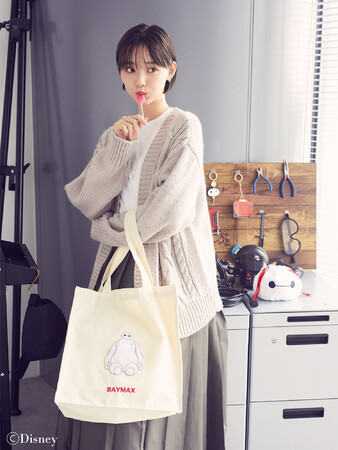 BAYMAX/Square Tote Bag
Price: ¥5,720
Color: Ivory
《Comment from Mr. Enosawa》
This is a tote I made because I wanted to use a large patch. The large size has a gusset to make it easier to use.
The point is the red line!
[Image 3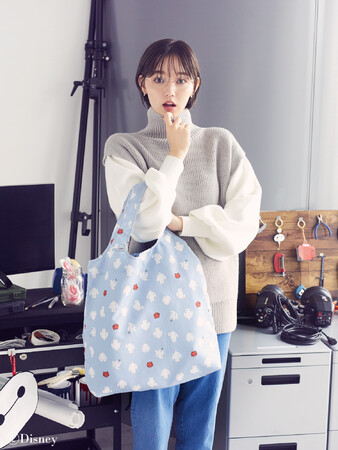 [Image 4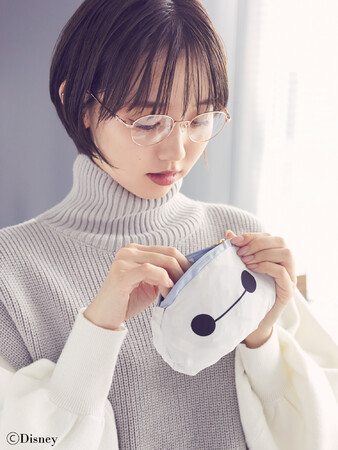 BAYMAX/Eco bag
Price: ¥5,200
Color: Sax
《Comment from Mr. Enosawa》
This is an eco bag that I made because I thought it would be nice if it could be easily folded.
"Baymax" will protect you even if you crumpled!
Easy to put in your bag and recommended as a gift!
[Image 5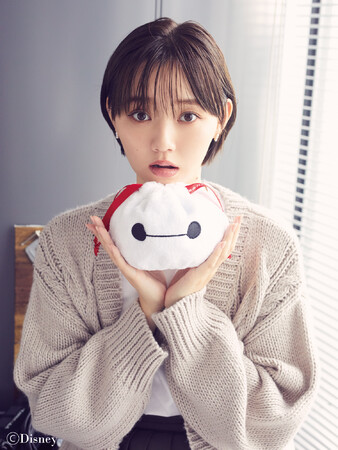 BAYMAX/drawstring bag
Price: ¥4,400
Color: White
《Comment from Mr. Enosawa》
Taking advantage of the fluffy feeling of "Baymax"
I wanted a pouch, so I made one.
I like drawstring pouches, so I asked "Baymax" to be a drawstring pouch! I was particular about the brand logo and thickness of the ribbon, so it became my favorite pouch!
[Image 6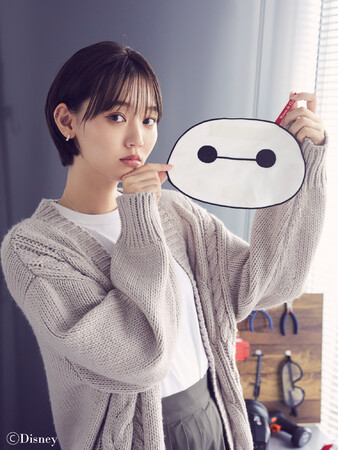 BAYMAX/ towel handkerchief
Price: ¥1,760
Color: White
《Comment from Mr. Enosawa》
I want to use "Baymax" as a towel! A towel that I made.
I was particular about the fluffy texture of the fabric, the length of the ribbon, and the size of the logo.
I really like the special feeling of making it girly with a ribbon. [Image 7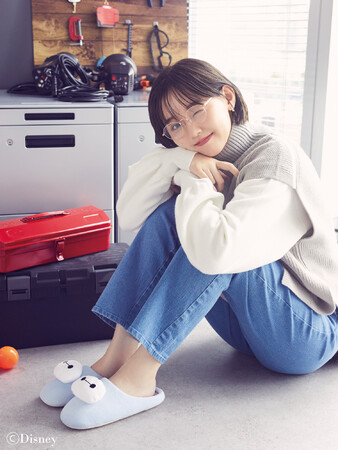 BAYMAX/room shoes
Price: ¥4,620
Color: Sax
《Comment from Mr. Enosawa》
It's my number one favorite item.
I've been wanting "Baymax" room shoes for a long time, so I made them this time! smile
I really like the combination of my favorite light blue and "Baymax". The logo that you can see when you take it off, and the logo inside when you take it off, makes it look cute even when you put it in the entrance.
[Image 8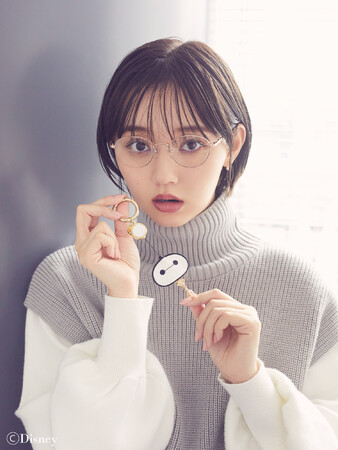 BAYMAX/key cover
Price: ¥3,520
Color: White
《Comment from Mr. Enosawa》
This is an item that I wanted to make one that is unique to Maison de FLEUR. I think I was able to create a cute cuteness with the gold charm and "Baymax"! The focus is on usability. I want you to put it in your bag! [Image 9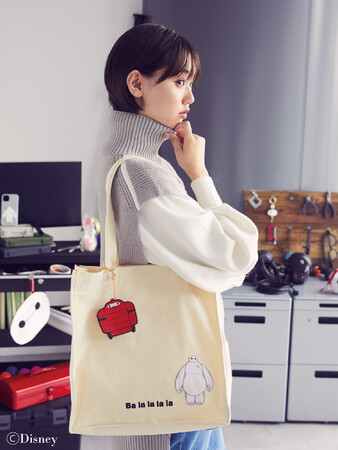 BAYMAX/bag charm pouch
Price: ¥4,800
Color: Red
《Comment from Mr. Enosawa》
I like "Big Hero 6" while it's charging, but I don't have any "Big Hero 6" goods at this time, so I wonder if I can make something. Thought it was a charm pouch that I thought.
Put in earphones and candy.
I would be happy if you could enjoy it for various purposes. [Image 10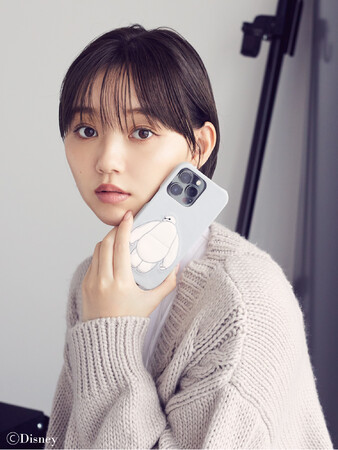 BAYMAX/iPhone13・13Pro case
Price: ¥4,800
Color: Sax
《Comment from Mr. Enosawa》
This is a product that I am proud of, which is a combination of Maison de FLEUR's girly colors and "Baymax".
It's the first item I decided to make because I thought it would be nice if I didn't come across a "Big Hero 6" iPhone case.
It's really cute, so I'm looking forward to using it.
[Image 11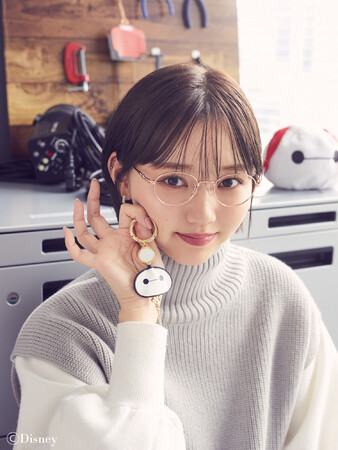 Manami Enosawa
Born November 1, 1996. Height 173 cm.
Currently an exclusive model for "non-no". Since her teenage years, she has appeared on many covers of fashion magazines. She has appeared in large-scale fashion events and has been used as a model for many corporate advertisements.
He is the director of the brand "ARUMDY", which debuted from Stripe this fall.
Details about this release:
https://prtimes.jp/main/html/rd/p/000000577.000036659.html