TeraDox Inc.
New Year's card web creation service "GLAM PRINT" Sales of New Year's cards, mourning postcards, and winter greetings will start from October 3rd
Added new original designs and started accepting free trial prints
TeraDox Co., Ltd. (Headquarters: Shibuya-ku, Tokyo, CEO: Keiji Saito), which operates the simple and stylish New Year's card web creation service "GLAMPRINT https://glam-print.com/", will start from October 3rd. We have started accepting print orders for New Year's cards, mourning postcards, and winter greeting cards for the year of the rabbit in 2023.
"GLAM PRINT" underwent a major renewal of its website last year. We have started accepting direct mailings to the post office and revised the shipping fee, etc., and have been promoting the enhancement of services to improve the convenience of users.
This year, we will start "free trial printing", which was highly requested by users. In addition, it is now possible to create more fashionable New Year's cards by adding original designs and renewing the background colors that can be selected when creating designs. [Image 1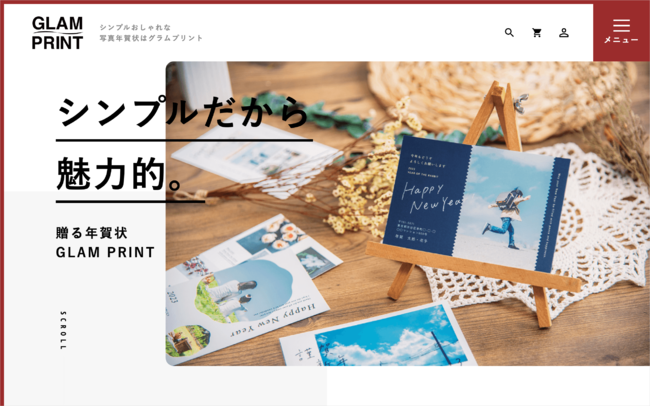 ■ GLAM PRINT website
https://glam-print.com/
Started the highly requested "free trial printing" service. You can try both glossy and non-glossy textures.
[Image 2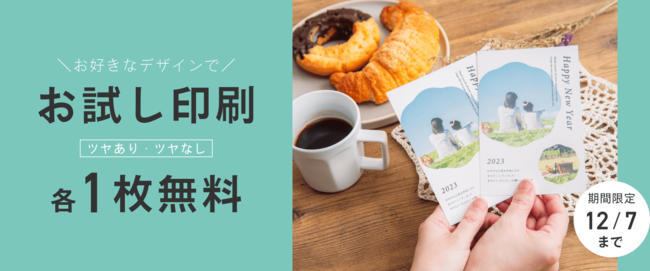 When printing New Year's cards, there are many people who are worried about whether the colors of the photos used will be printed
beautifully, and who have experienced that the New Year's cards they ordered were not what they had hoped for. Is not it.
In order to solve such anxieties and worries, GLAM PRINT will start a "free trial printing" service from this year.
For GLAM PRINT New Year's cards, you can choose from two textures, "glossy" and "non-glossy".
"Glossy" is characterized by vivid color development and expresses photos clearly. This year, we have updated it to a more calm luster than before, and you can enjoy an even more elegant texture. "No Gloss", which has overwhelming support from repeat customers, is characterized by its gentle texture with a moist matte texture and a soft atmosphere.
In the "free trial printing" that will start this time, you can check the texture of both "glossy" and "non-glossy" with your favorite design.
You can proceed with New Year's card making without anxiety or failure because we print using the same method as the actual order.
▶︎Details of the free trial printing service and how to order https://glam-print.com/trial
▶︎ Reception period
From October 3, 2022 to December 7, 2022
*May end early.
*The first shipment is scheduled for October 26th.
Added simple and stylish original new design. Selectable background color is also renewed according to the trend
[Image 3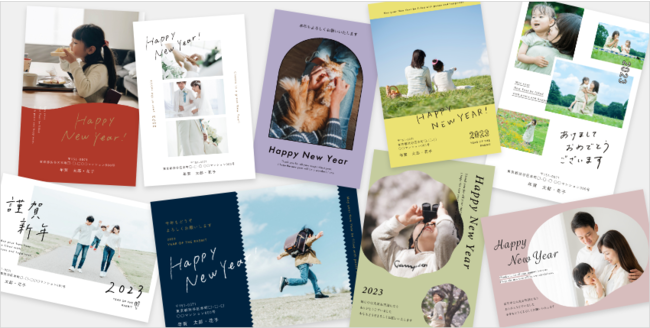 The "NICO STOP collaboration New Year's card
(https://prtimes.jp/main/html/rd/p/000000032.000053809.html)" provided last year was very well received, and this year we have abundant new photo designs. We have prepared.
The concept of GLAM PRINT is "simple". We are pursuing a simple design that makes the photos stand out by eliminating flashy decorations and stamp functions.
The new design adopts photo trimming such as jagged and elliptical that has never existed before. Handwritten New Year's greetings and one-point rabbit illustrations add a little accent to the simplicity to create a stylish New Year's card.
In addition, we have renewed the background color that can be selected when creating a photo New Year's card design. With the addition of trendy dull colors and deep colors that go well with any photo, it is now possible to create more diverse patterns for New Year's cards. You can choose according to your preference.
▶︎ List of New Year's card designs
https://glam-print.com/card
"Early Discount" will start at the same time.
From October 3rd, an early order discount "Early Discount" will also start. The first edition will be offered at a large discount of 60% off the basic fee + 25% off the print fee. Users of the pre-campaign "Declaration to make" entry will receive a further discount, which is a great deal.
The deadline for the first early bird discount is for orders placed by 13:00 on November 7th.
In addition, you can purchase the "Mourning Postcard", which requires early preparation, and the "Winter Greeting", which is being accepted in advance, at a 20% discount on the print fee for orders placed by November 7th.
About GLAMPRINT
GLAM PRINT is a service that allows you to easily and easily order stylish, high-quality New Year's postcards online. "GLAM" means "attractive". You can create a unique New Year's card with
high-quality special paper made by lamination, special 6-color printing, and templates that make use of photos.
In addition to New Year's postcards, we also offer winter greetings and mourning services for those who want to send messages to their loved ones in a more meaningful way.
Our industry-leading finishes at reasonable prices have earned us high satisfaction ratings every year.
[Services operated by TeraDox]
Japan's largest furisode portal site "My furisode.com" https://myfurisode.com/ Japan's largest hakama portal site "My Hakama" https://myhakama.jp/ Seven-Five-Three Festival photography portal site "Shichi-Go-San Club" https://my753.net/
Maternity photo portal site "Mamany" https://mamany.jp/
New Year's card "GLAM PRINT" that can be ordered online https://glam-print.com/ Kimono and photo studio industry "specialized" recruitment site "My Job" https://mykyujin.com/
Shrine portal site "My Shrine" where you can make prayer reservations https://myjinja.com/
Electronic contract system "Contract Minister" specialized for SMEs and freelancers https://keiyaku-daijin.com/
[Company Profile of TeraDox Co., Ltd.]
Company name: TeraDox Inc.
Location: Shimizubashi Yabe Building 9F, 3-10-3 Honmachi, Shibuya-ku, Tokyo Representative: Keiji Saito, President and Representative Director URL: https://teradox.jp/
Details about this release:
https://prtimes.jp/main/html/rd/p/000000046.000053809.html