Tokyo
Toei bus x movie "Top Gun Maverick" GPS digital stamp rally will be held!
Tokyo Metropolitan Transportation Bureau has tied up with the Blu-ray/DVD release of the blockbuster movie "Top Gun Maverick" starring Tom Cruise. will be carried out.
This digital stamp rally is an event that collects digital stamps at 7 metropolitan bus stops in cities full of adult charm such as Nishi-Azabu and Roppongi using the GPS (location information service) function of smartphones. Depending on the number of stamps obtained, a total of 106 (Tom) people will be presented with a lottery for the movie "Top Gun Maverick" enamel pin badge and original goods of the city bus.
When participating, the "Toei Bus One-Day Pass" is a great deal for 500 yen (adult), which allows unlimited rides for one day. One of the charms of traveling by bus is that you can get off at any time you want while looking out the window.
This autumn, why not rediscover the charm of Tokyo's adult town while collecting "Top Gun Stamps" on a convenient Toei bus that covers the city center area in detail.
Implementation period
October 6th (Thursday) to November 20th (Sunday), 2022
way to participate
1. Toei bus x movie "Top Gun Maverick" Access the dedicated site for the GPS digital stamp rally https://stamprally.digital/tobus-topgun 2. When you are near the designated spot (bus stop), check in (read GPS) and collect "Top Gun Stamps".
3. Prizes will be awarded by lottery according to the number of "Top Gun stamps" acquired.
Participation award
Get 1 stamp: "Top Gun Maverick" digital wallpaper as a gift
Application award
Get 3 stamps: Top Gun patch + Minkuru Pochi bag (1 set of 3 types) will be presented by lottery (36 people)
Get 5 stamps: Top gun enamel pin badge by lottery -not for sale- [Image 1
https://www.kotsu.metro.tokyo.jp/bus/kanren/topgun/
1. Jingumae 6-chome (Haya 81, Ike 86 lines)
2. Nishi-Azabu (Miyako 01, RH01, Kuro 77, Shibu 88, Shina 97 lines) 3. Roppongi Hills (RH01, anti-96 line)
4. Ebisu 4-chome (Field 87 line)
5. In front of Azabu-Juban station (Miyako 06, Hashi 86, anti-94, anti-96 lines) 6. In front of Akabanebashi station (Miyako 06, Hashi 86, Anti 94 lines) 7. Shirokanedai 5-chome (Kuro 77, Hashi 86, Shina 93 lines)
*You can check the location of bus stops and operation information by route on the Toei Bus Operation Information Service (tobus.jp).
https://tobus.jp/blsys/navi
[Image 2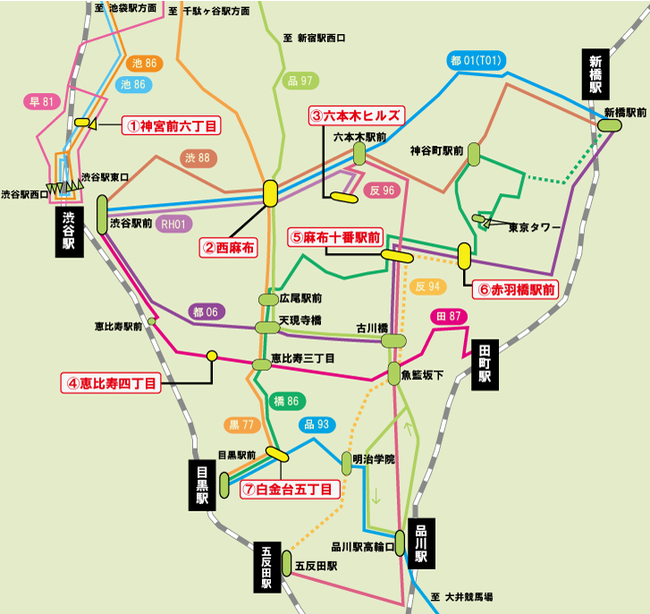 Bus route map
Toei Bus One-day Pass / Toei Bus IC One-day Pass (500 yen for adults, 250 yen for children)
・You can ride the metropolitan bus (excluding the Koto 01 route, the same below) within the 23 wards as many times as you like for one day. ・On the day of use, in addition to cash, PASMO, Suica (Apple Pay PASMO, (including Mobile PASMO and Mobile Suica).
* "PASMO" and "Mobile PASMO" are registered trademarks of PASMO Co., Ltd. * "Suica" and "Mobile Suica" are registered trademarks of East Japan Railway Company.
* "Apple Pay" is a trademark of Apple Inc.
[Image 3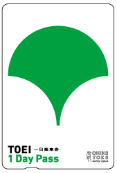 Details about this release:
https://prtimes.jp/main/html/rd/p/000003637.000052467.html