Unilever Japan Customer Marketing Co., Ltd.
Freshly washed glossy hair that lasts all day * 1 Lux Bass Glow Series TikTok "#Turrin Challenge after returning home" starts October 10th (Monday)
Popular TikTok creators such as Satomi Shigemori, Lisa Watanabe, and Shinako are also participating! There is also a chance to win Shibuya Vision appearance rights and QUO card Pay

The total beauty care brand "LUX" developed by Unilever Japan Customer Marketing Co., Ltd. (Headquarters: Meguro-ku, Tokyo, President: Joy Ho) keeps freshly washed glossy hair for a day. In the "Lux Bass Glow Series", TikTok's participatory campaign "#Turrin Challenge after returning home" will start on Monday, October 10th.
[Image 1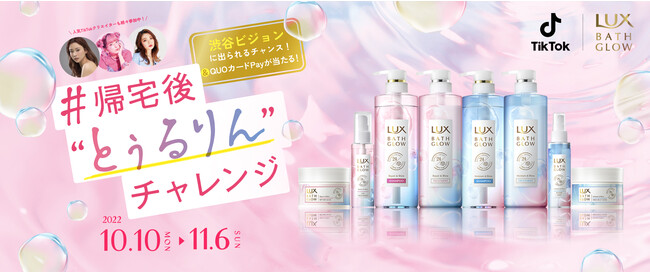 ◆ Campaign site: https://www.lux.co.jp/campaign/bathglow/tiktok The Luxe Bath Glow series was born from the many requests that they wanted their hair to stay together and shiny all day long after taking a bath. Lux Bath Glow is a series that allows you to spend the best day in your own way by keeping freshly washed and glossy hair all day long.
This time, an original TikTok effect will appear that allows you to simulate the features of this product.
This effect, which allows you to experience the lustrous hair created by bass glow along with rhythmic music, expresses the bath time scene and the night scene after a day has passed with bubbles, clocks, and sparkling effects. The bubbles displayed on the shooting start screen are a playful mechanism that starts to move when you blow on them. When you experience hair care with bass glow with bubbles that fill the screen, time passes and the scene suddenly changes to the night scene. With a sparkling effect that expresses the moisture and luster of the hair, you can feel the glossy hair that continues to be moisturized over time.
Furthermore, for those who have purchased the product, by projecting the product on the screen at the start of shooting, it is possible to shoot a more realistic video, as if bubbles were coming out of the bass glow.
[Image 2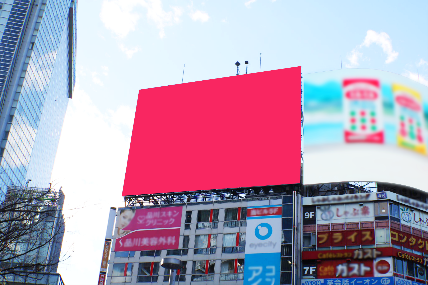 If you participate in the "#Toururin Challenge after returning home", you will also have a chance to win the right to appear in Shibuya Vision and QUO Card Pay. If you show the product at the time of shooting, the winning rate will be further increased, so please feel free to participate after experiencing the lustrous finish of Bass Glow.
In addition, three video creators, Satomi Shigemori, Lisa Watanabe, and Shinako, who are extremely popular among young people on TikTok, are also participating in this challenge. Enjoy the unique challenge videos of each creator.
[Overview of "#Tururin Challenge after returning home"]
◆ Application period
October 10, 2022 (Monday) to November 6, 2022 (Sunday) 23:59 ◆ How to apply
Please add the hashtag "#Tururin Challenge after returning home" to TikTok and post using original effects and music.
◆ Prizes
Special prize: Shibuya outdoor vision video appearance right (about 3 people * minimum 3 people ~)
Excellence Award: QUO Card Pay 1,000 yen gift (100 people)
[TikTok creator profile]
◆Satomi Shigemori
[Image 3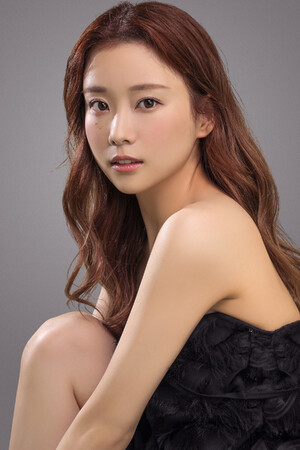 Born September 4, 1988.
Her spontaneous remarks and her innocent and bright character have been supported, and she is active in variety shows.
Representative works include Nippon Television's information program "PON! ], Fuji TV variety show "Mecha x 2 Iketeru! "and so on. In 2020, the self-made rap video released on his YouTube channel became a hot topic, and the number of views exceeded 30 million.
◆ Lisa Watanabe
[Image 4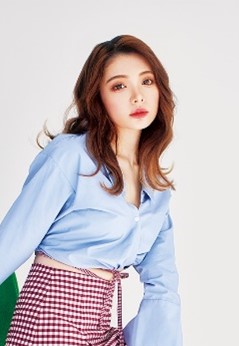 Born March 1, 2002.
Since the age of 14, he has been active through SNS, and is half Brazilian and half Japanese.
In 2022, he was selected as an exclusive model for "GIANNA" and became a hot topic as the magazine's first video creator. She has gained a lot of support for her wide range of activities as a mom, model, and creator.
◆ Shinako
[Image 5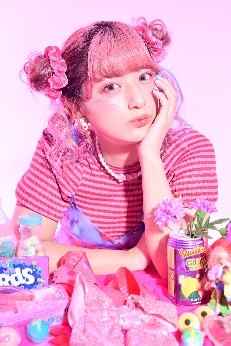 Born March 11, 1996.
A Harajuku influencer who loves Harajuku.
Produced products such as baby bottle soda and unicorn tears at SWEETXO on Takeshita Street. Focusing on SNS such as YouTube and TikTok, we are transmitting a unique world view with the theme of GIRLY × Colorful.
[Comment from hairdresser Aki Saito]
[Image 6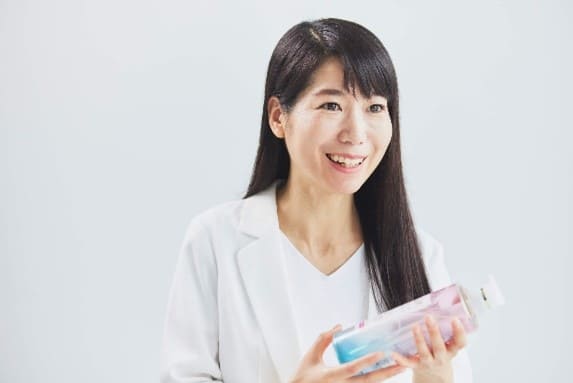 The main component of hair is a protein called keratin, which is made up of amino acids. The important thing to keep your hair hydrated is to supplement the amino acid components in your daily care. The amount of moisture in the hair also decreases due to daily damage and dryness, so it is important to give the hair moisture and increase its water retention capacity. Especially from autumn to winter, when the temperature drops and the air becomes dry, it becomes easier for your hair to become dry. In addition, due to external damage such as UV rays and coloring in the summer, the damage progresses to the inside of the hair, making it easier to cut and swell. It is very important to take care of your skin at home, such as daily moisturizing and repairing treatments, and focusing on ingredients with high water retention.
[Lux Bass Glow Series]
The Lux Bath Glow series is a product based on the concept of "water retention beauty" that contains 24 kinds of beauty aminos * 2 and white fungus extract * 3 to keep moisture and gloss like freshly washed. For the first time in the history of Lux, 24 types of beauty amino formulations deliver moisture to the core of the hair, while at the same time repairing damaged hair and suppressing dryness. In addition, the formulation contains white jellyfish extract with high water retention, which is also used in high-end cosmetics, to achieve glossy hair that continues to be moisturized over time.
[Lux bass glow series lineup]
[Image 7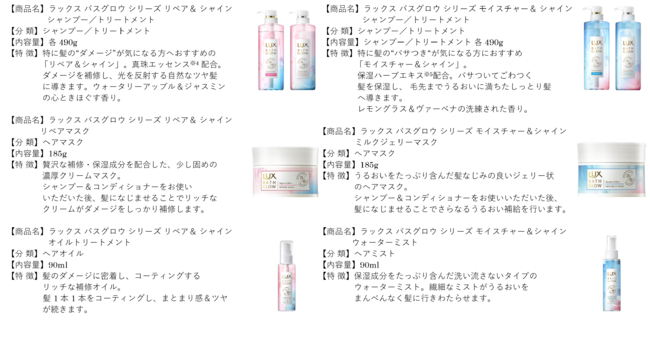 * "Lux Bathglow" site URL: https://www.lux.co.jp/bathglow/
[About Lux]
In 2022, Lux is approaching its 50th anniversary as a gift cosmetic soap in Japan. Since then, we have continued to research the hair of Japanese women, responding to changing hair care needs and providing hair care products that always lead to shiny and shiny hair. It is sold in many countries and regions, and has achieved No. 1*6 sales in the hair care market in Japan for six consecutive years. In the meantime, in 2021, based on the belief that seeing yourself as beautiful will give you confidence and lead to the courage to take a step forward, and that the attitude of taking that step is beautiful, we have set up a new "BRAVE VISION 2030". Started as a new Lux. Through making people's hair beautiful, we aim to create a society where people can enjoy their own beauty.
*1: Excluding hair mask, hair oil, and hair mist
*2: Glutamic acid, glycine, leucine, histidine HCl, histidine, serine, valine, threonine, alanine, isoleucine, phenylalanine, arginine, proline, lysine HCl, aspartic acid, PCA-Na, PCA, ectoine, tyrosine, tryptophan, methionine, Betaine, cysteine, cystine: Repair and moisturizing ingredients
*3: Tremella fungus polysaccharide: moisturizing ingredient
*4: Hydrolyzed pearl: repair ingredient
*5: Chamomile water, rosemary leaf extract: moisturizing ingredients *6: INTAGE SRI shampoo and conditioner market January 2015 to May 2021 amount
Details about this release:
https://prtimes.jp/main/html/rd/p/000000053.000086691.html