Prolab Holdings Co., Ltd.
You can acquire medical level knowledge in just 4 hours. From tomorrow, you will also become a specialist of "warm activity" x "intestinal activity". Start a new qualification course that is advantageous for maintaining family health and changing jobs to the beauty industry!
-Learn directly from an active doctor, a specialist training course for warm and intestinal activity-

General Incorporated Association Onkatsu Meister (R) Association (OMA) (Minato-ku, Tokyo / Chairman Hiroyuki Sasaki: hereinafter this Association) has decided to release the "Certified Onkatsu Meister (R) Qualification Course" on Tuesday, November 15, 2022.
In this course, in just 4 hours, you will be able to acquire knowledge at the medical level about "warm activity" and "intestinal activity", which are the essence of health, from active doctors and warm activity specialists. Why don't you take a course to protect the health of your family and important people, of course, yourself?
In addition, a professional qualification that supports health will be advantageous for changing jobs and job hunting in the beauty industry. With the spread of the new coronavirus, the public's awareness of health is increasing, and there is an increasing movement to increase self-immunity and natural healing power with warm life.
Through this course, we will contribute to extending the healthy life expectancy of mankind by having as many people as possible deepen their knowledge of warm activities and intestinal activities. On November 15th (Tuesday), the release date of this course, a free pre-seminar will also be held. Please join us for this opportunity. * ZOOM simultaneous delivery available
▼ Official Onkatsu Meister (R) Qualification Course
https://onkatsu-meister.jp/
[Image 1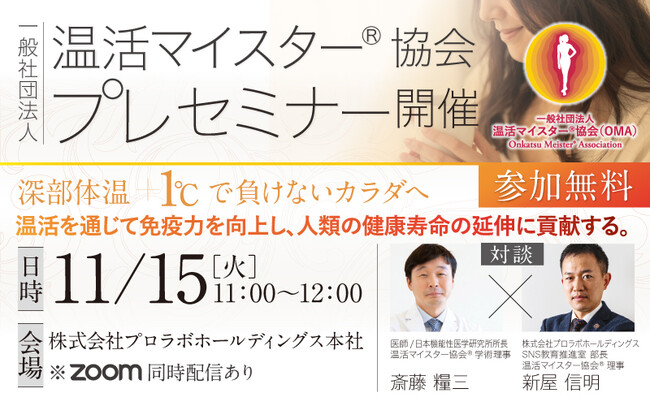 Official Onkatsu Meister (R) qualification course pre-seminar Three features of the "Certified Onkatsu Meister (R) Qualification Course" 1. Zero knowledge is okay!
Beginners can feel at ease with lectures that can be learned from the basics by active doctors and onkatsu specialists.
The text, which uses a lot of photos and illustrations supervised by doctors, is very easy to read even for beginners. In addition, even beginners can take the course with confidence, as you can directly learn the basics and the latest information on warm and intestinal activities from active doctors and specialists in warm activities. 2. A practical course where you can play an active role as a warm activity x intestinal activity specialist from tomorrow in just 4 hours!
Professional qualifications that are useful for changing jobs and side jobs. The "Authorized Onkatsu Meister (R) Qualification" certified by our association, which can be obtained after completing the course, is a proof that you can play an active role as a warm activity x intestinal activity specialist from tomorrow.
You can also use your qualifications to play an active role as an advisor who can solve the problems of many people. In addition, professional qualifications will be advantageous in changing jobs and finding employment.
3. You can learn online at home!
Acquire medical-level knowledge in your spare time.
In a short time, you can learn medical-level knowledge online at home about warm activity and intestinal activity. In addition, since it is a video lecture, you can watch it again and again to deepen your understanding if you did not understand it in the first time. – Join for free! -Decision to hold a pre-seminar for the "Certified Onkatsu Meister (R) Qualification Course"
A free pre-seminar will be held on November 15, 2022 (Tuesday), the release date of this course.
Please feel free to apply from the application URL below as it will be held at the venue and online at the same time.
▼Click here to apply
https://onkatsu-meister.jp/about/application/
Date: Tuesday, November 15, 2022
Time: 11:00-12:00
Venue: Prolab Holdings Co., Ltd. Headquarters 5th Floor Seminar Room *ZOOM simultaneous viewing available
Recommended for
[Image 2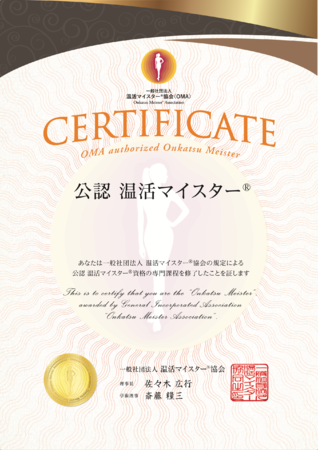 Official Onkatsu Meister (R) Qualification Course Diploma
☑ If you or your family are suffering from coldness or hypothermia, Those who want to learn about the relationship with nutrition, points for improvement, etc.
☑ Those who are interested in promoting health, such as body temperature, autonomic nerves, blood flow improvement, immunity and sleep quality improvement
☑ Those who want to learn about the beauty effects and benefits of warm life and the relationship with intestinal health
supervising lecturer
[Image 3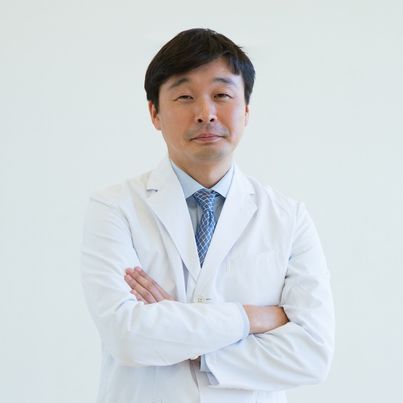 Academic Director: Seizo Saito
Academic Director: Seizo Saito
Physician/Director of Japan Functional Medicine Research Institute After graduating from Nippon Medical School in 1998, became an obstetrician and gynecologist.
Currently, he is the director of the Japan Functional Medicine Research Institute and the head of the anti-aging outpatient clinic at Nagumo Clinic Tokyo. He was one of the first to introduce delayed food allergy testing, introduced next-generation medicine and functional medicine to Japan that lead to a radical cure for chronic diseases such as allergies by regenerating the intestinal environment, and became the first Japanese certified doctor.
[Image 4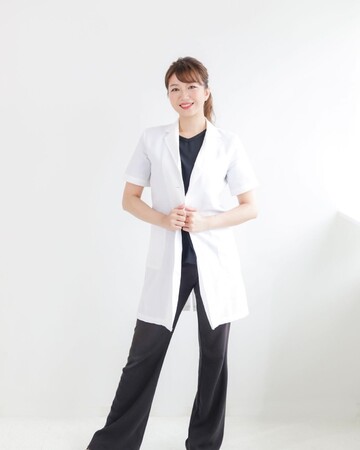 Director: Yukiko Koyama
Director: Yukiko Koyama
Onkatsu Doctor Labo Co., Ltd. Representative Director
Operates "Custom-made proportions RYU-RU Minami Aoyama" in Minato-ku, Tokyo. As the only "Onkatsu Sensei (R)" in Japan, he conducts educational activities to convey the importance of warming the body. Worked on the spread of "onkatsu exercise" and is active in numerous magazines and TV programs about onkatsu.
What is Onkatsu Meister Association (R)?
The General Incorporated Association Onkatsu Meister (R) Association (OMA) warms the body and discharges waste products, aiming for a body temperature of +1 ° C. A new era of aging care with the synergistic effect of "warm activity" and "intestinal activity". It is an academic research organization established for the purpose of realizing true inner beauty and wellness through "onkatsu" and "intestinal activity" and contributing to the extension of healthy life expectancy for human beings.
The main research themes are "warm activity", "intestinal activity", "immunity", "coldness", "sleep", "infertility", etc. We will disseminate knowledge with evidence at the medical level.
[Image 5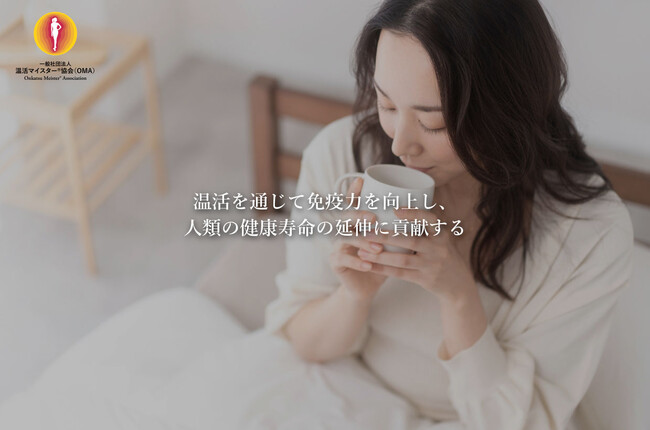 Onkatsu Meister (R) Association
There is a lot of evidence that there is a close relationship between "intestinal function" and "body temperature".
Our association believes that two things are the essence of human health: "onkatsu," which is an activity that warms the body and raises the basal body temperature to the optimum temperature, and "intestinal activity," an activity that maintains the harmony of the intestinal environment. is convinced that it is important to "warm up the body and enhance immunity", shorten the gap between average life expectancy and healthy life expectancy, which is still a problem, reduce medical expenses, which is said to be the highest ever last year, and extend the healthy life expectancy of mankind. We will continue to contribute to
[Qualification overview]
▼ Tuition fee
41,800 yen (tax included)
▼Admission fee
[Image 6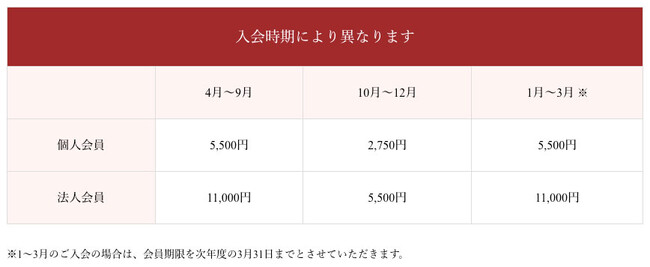 Admission fee
▼Class format
Online (video viewing) + venue
*4 hours (two-part system)
▼Certification conditions
To attend the course and submit a prescribed report
▼Course schedule
Pre-seminar-free to attend: Tuesday, November 15, 2022, 11:00-12:00 Tokyo held: December 8, 2022 (Thursday) 12: 00-16: 15
Osaka held: December 19, 2022 (Monday) 12: 00-16: 15
▼Venue
Prolab Holdings Co., Ltd. Tokyo Head Office
THE ITOYAMA TOWER 7F, 3-7-18 Mita, Minato-ku, Tokyo 108-0073 Prolab Holdings Co., Ltd. Osaka Branch Office
532-0011 TAIYO Center Building 5F, 4-9-28 Nishinakajima, Yodogawa-ku, Osaka-shi, Osaka
[Association Overview]
Onkatsu Meister (R) Association
Chairman: Hiroyuki Sasaki (Chairman and CEO of Prolab Holdings Co., Ltd.) Head Office: THE ITOYAMA TOWER 5F, 3-7-18 Mita, Minato-ku, Tokyo 108-0073 Established: June 1, 2022
URL: https://onkatsu-meister.jp/contact/
Details about this release:
https://prtimes.jp/main/html/rd/p/000000054.000018221.html