Avex Communications Broadcasting Corporation
Coming to Japan at "Tokyo Comic Con 2022"! The movie "Jumper" starring Hayden Christensen from the "Star Wars" series will be distributed on dTV

Hayden Christensen became a global star after playing Darth
Vader/Anakin Skywalker in the Star Wars series. His return to the role of Anakin again this year has attracted a lot of attention, and his visit to Japan at "Tokyo Comic Con 2022" has been decided, and attention is increasing.
The movie "Jumper" starring him in 2008 has started distribution on the video distribution service dTV.
[Image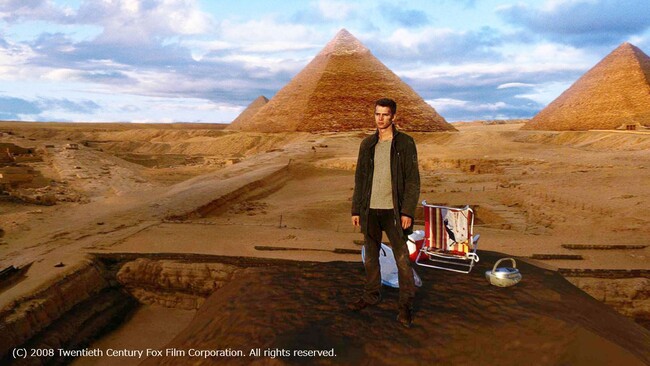 Hayden Christensen plays 'Jumper' David Rice, who has the supernatural power of teleportation.
David was a shy boy, but when he was 15 years old, he drowned in the frozen sea and panicked, for some reason he was transferred to the library. He discovers that he has the power of teleportation. He found that he could move instantly to "a place he knew", and used that ability to steal a large amount of money from a bank vault. While flying around the world with his abilities, he began to live a luxurious and carefree life, and 10 years later, he was able to openly approach Millie, who he had a crush on when he was a boy.
What appeared there were the people of the organization "Paladin" whose purpose was to eliminate the "Jumpers". In particular, Roland, who has hunted numerous jumpers, has his eye on David.
He meets Griffin, who is also a "jumper", and together they try to take back Roland's attack, but Roland's attacks become more intense… What will be the outcome of the fateful battle!?
The highlight of this work is the spectacular action that unfolds while flying around the world with the ability of "Jumper".
You will be drawn to the fast-paced battles where the background changes one after another, and the brain battle of the "Paladin" side, who makes full use of various weapons against gifted people. Japan also appears in the second half of the movie! The many scenes where Hayden Christensen and others actually visited Japan and shot on location in Japan are a must-see.
Hayden Christensen expresses delicate acting skills of David, who seeks love from the bottom of his heart, as well as brilliant action. In addition, Samuel L. Jackson, a famous actor such as the "Avengers" series, enthusiastically plays Roland, who relentlessly pursues David. It is also noteworthy that it will be the first co-star with Hayden Christensen since "Star Wars".
"Jumper" is a sci-fi action blockbuster directed by "The Bourne Identity" director Doug Liman.
Before Hayden Christensen comes to Japan, why not check it out on dTV?
■ "Jumper"
~Outline~
Director Doug Liman of "The Bourne Identity" and "Mr. & Mrs. Smith" makes an action epic based on Stephen Gould's sci-fi novel.
~Synopsis~
David (Max Thieriot/Hayden Christensen) was a dull high school student who lived with his drunken father after his mother ran away from home when he was young. Awakens his ability. Having become consciously able to use his ability as a "jumper" with the ability to teleport, he enjoyed jumping around the world at will, taking out as much money as he wanted from the bank. Without knowing that there is an organization chasing him…
Work URL: https://bit.ly/3EDduwl
Copyright: (C) 2008 Twentieth Century Fox Film Corporation. All rights reserved.
dTV service overview
[If you want to see live performances, dTV]
In addition to popular movies and dramas, K-POP and other popular music live performances are being added!
Unlimited viewing for 550 yen per month. *1*2 In addition, the latest online live performances are also distributed every month, making it No. 1*3 in the number of music live performances!
In addition to blockbuster movies and popular dramas, there is also a full range of music content such as live footage and music videos of popular artists. This is a video distribution service that allows unlimited viewing*1*2 of a variety of works, including exclusive works that can only be seen on dTV and original dramas, for a monthly fee of 550 yen.
You can also watch the latest online live performances and new movies by paying an additional fee.
It supports not only smartphones, but also TVs and projectors, so you can enjoy live music and movies on a large screen full of presence. And if you download it on Wi-Fi, you don't have to worry about communication restrictions!
Anyone can easily register and cancel from the WEB or application, and those who register for the first time can try it for free for the first month. ※Four
*1 650 yen (tax included) for purchases on the App Store and Google Play. *2  There is some individually charged content
*3 Researched by GEM Partners / As of November 2021
Music content is counted, excluding movies, dramas, and animations (music movies, musicals, etc.) that are available for unlimited viewing on major domestic flat-rate video distribution services. *4 Only when applying for the first time during the campaign period (from November 1, 2014), the initial free period of 7 days will be extended to 31 days. Other applicable conditions are the same as the first 7 days free. However, during the 31-day initial free period, some content may not be viewable due to the rights holder's
circumstances.
Customers who have received the 7-day first-time free trial in the past, but who have not yet applied for this campaign, are eligible. App Store, Google Play, and use of dTV prepaid cards are excluded. When this campaign ends, we will inform you on the DOCOMO website. The contents of this campaign are subject to change without notice. * Separate packet communication charges apply.
*Some content may not be viewable on some devices.
*Customers who do not have a DoCoMo line contract will need a "d account (R)" to use this service. The service content and payment method may differ from those of the "sp-mode (R)" contract. In addition, payment of the usage fee is only possible by credit card. * "dTV", "d account" and "sp mode" are registered trademarks of NTT DoCoMo, Inc.
Details about this release:
https://prtimes.jp/main/html/rd/p/000000735.000022141.html