Baseball Hall of Fame and Museum
Baseball School 2022 Symposium commemorating the 150th anniversary of the introduction of baseball

The Baseball Hall of Fame and Nippon Professional Baseball will host the 150th anniversary symposium to look back on the history of baseball and think about the future as the third project of "Baseball School 2022".
[Image 1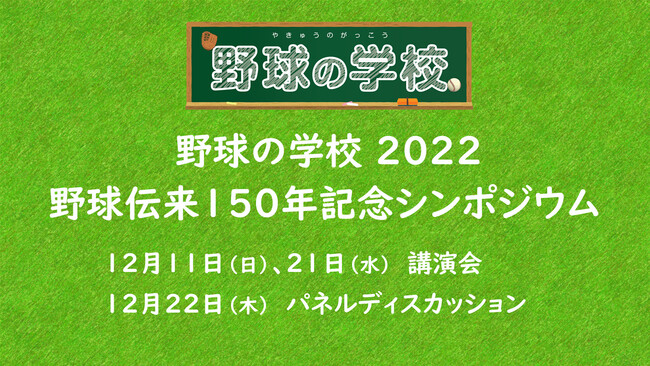 The Baseball Hall of Fame and Nippon Professional Baseball will host the 150th anniversary symposium to look back on the history of baseball and think about the future as the third project of "Baseball School 2022".
This symposium consists of lectures by four lecturers and a panel discussion in which representatives of each organization in the baseball world gather together.
We look forward to your participation.
[Lecture]
Day 1 December 11th (Sun) *Opening hours will be changed from 10:00 to 16:00. 16:45-17:45 Mr. Hiroyuki Yamamuro (baseball historian, former representative of the Giants team) [New Year 1945, 8 consecutive professional baseball games under air raids]
18:00-19:00 Mr. Hideki Kuriyama (Manager of Japan National Baseball Team) Day 2: December 21st (Wednesday) *Opening hours will be changed from 13:00 to 16:30.
17:30-18:30 Mr. Kimiyasu Kudo (2016 Baseball Hall of Famer)
18:45-19:45 Hiroko Yamada (President, All Japan Women's Baseball Federation) [Expansion of women's baseball players and its future vision]
■ Venue Baseball Hall of Fame Museum, Baseball Hall of Fame Hall ■ Reception method Local viewing and live distribution
Reception on the museum website from 12:00 on November 23 (Wednesday) (https://baseball-museum.or.jp/news/baseball-school-3/)
*Reception is scheduled to end at 12:00, 3 days before each event date. ■Viewing cost Local viewing and live streaming 1,100 yen each day *Viewing fees are paid online by credit card.
*Only the lecture by Mr. Kimiyasu Kudo will not be missed.
* A separate admission fee is required for local viewing.
■Capacity            Onsite viewing                         is been scheduled for 30 people each day (*first-come-first-served basis, acceptance will be closed as soon as the capacity is reached)
[Image 2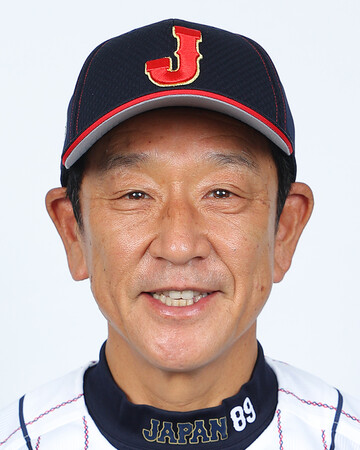 Mr. Hideki Kuriyama (Japan National Baseball Team Manager)
[Image 3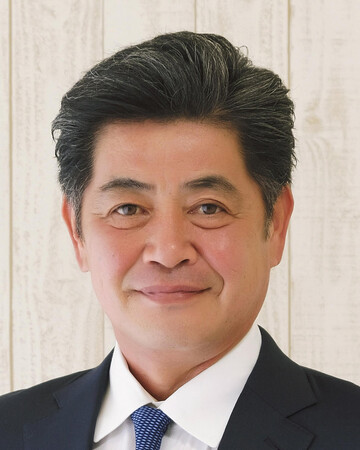 Kimiyasu Kudo (Baseball Hall of Fame 2016)
【panel discussion】
150th anniversary of the introduction of baseball "The shape of the past and the future"
A panel discussion by representatives of professional baseball and amateur baseball organizations will provide an opportunity to report on the activities that each organization has conducted so far and to think together about the future shape of baseball toward the 200th anniversary of the introduction of baseball.
■ Date: December 22, 2022 (Thursday) 14:30-16:30
■ Venue: Konami Riverside, 2-1-3 Tsukuda, Chuo-ku, Tokyo
■ Cooperation: Konami Digital Entertainment Co., Ltd.
■ Panelists
Mr. Minoru Hirata, Baseball Promotion Office Manager, Nippon Professional Baseball
All Japan Baseball Association Executive Director and Secretary General Yuji Nagakubo
Mr. Kazuhiko Yatabe, Managing Director, Nippon Baseball Federation All Japan University Baseball Federation Executive Director Masayuki Naito Mr. Yoshimasa Ogura, Executive Director, Japan High School Baseball Federation All Japan Women's Baseball Federation Chairman Hiroko Yamada All Japan Rubber Baseball Federation Executive Director Saburo Kobayashi ■ Reception method: On-site viewing: Reception on the museum's website from 12:00 on November 23 (Wednesday)
(https://baseball-museum.or.jp/news/baseball-school-3/)
* First-come-first-served basis, viewing fee is free
■Capacity: 30 people scheduled for on-site viewing
■ Live distribution Scheduled to be distributed on YouTube. The distribution URL will be posted on the museum website at a later date.
About the Baseball Hall of Fame and Museum
A museum run by the entire Japanese baseball world (professionals and amateurs). It introduces the history and present of baseball in an easy-to-understand manner, and can be enjoyed by a wide range of generations, from adults to children. Permanent exhibitions are divided into professional baseball, amateur baseball, history of baseball, etc. Special exhibitions are held for a limited time in the event hall and special exhibition room. There is also a library with about 50,000 books. (Advance reservations required)
As of 2022, 212 people have been inducted into the Baseball Hall of Fame, which honors people who have contributed to the development of baseball in Japan.
Baseball Hall of Fame and Museum Information
◆Baseball Hall of Fame and Museum Homepage
https://baseball-museum.or.jp/
◆ Twitter
Baseball Hall of Fame and Museum (@BaseballHOF1959)
https://twitter.com/BaseballHOF1959
Baseball Hall of Fame Museum Library (@librarybaseball)
https://twitter.com/librarybaseball
◆ YouTube
https://www.youtube.com/channel/UCN2XkIVAZk9kWOKH-YVMe4A
◆ Closed days
Mondays (holidays, baseball days at Tokyo Dome, open during spring and summer vacation), year-end and New Year holidays (12/29-1/1) ◆Opening hours
Weekdays 13:00-17:00, Saturdays, Sundays, and holidays 10:00-17:00 (Admission until 30 minutes before closing)
* Closes at 18:00 on days when official professional baseball games are held at Tokyo Dome.
Closed days and opening hours are subject to change.
◆Admission fee
600 yen for adults, 400 yen for high school and university students, 200 yen for elementary and junior high school students, 400 yen for seniors over 65
*Please check our website for the latest opening information.
Details about this release:
https://prtimes.jp/main/html/rd/p/000000087.000065589.html