Brembo Japan Co., Ltd.
Brembo presents three motorcycle products for the first time at EICMA 2022
At the world's largest international motorcycle trade fair, the environmentally friendly brake pad GREENANCE, the new 19RCS Corsa Corta RR race replica model radial master cylinder, and the improved GP4-MS caliper.
Tokyo (Japan), November 21, 2022 – EICMA 2022 – Brembo presents the newly developed "GREENANCE" brake pads at the Milan Motorcycle Show (EICMA) 2022, the world's largest motorcycle trade fair. . Our aftermarket brake pad series will be gradually replaced with this series in the future. The new brake pads, which use compounds ranging from sintered to carbon ceramic, can match the characteristics of a wide range of motorcycles such as public roads, off-road and scooters.
[Video 3: https://prtimes.jp/api/movieim.php?url=www.youtube.com/watch?v=YKKXYWvaWpg]
Brembo GREENANCE pads are designed for consistent performance even at high braking temperatures and offer excellent heat resistance. In fact, dynamic dynamometer efficiency tests showed a more stable coefficient of friction than conventional products at high
temperatures and high speeds, recording an average coefficient of friction that was 10% higher than comparable products on the market. In addition, Brembo GREENANCE pads have a 15% lower wear rate than comparable products on the market in an independent bench test. Brembo GREENANCE pads are copper- and nickel-free in their materials, antimony- and asbestos-free in terms of ceramic compounds. In addition, by eliminating the use of methane gas in the production process, we can reduce greenhouse gas emissions by approximately 176 tons of CO2 equivalent annually.
[Image 1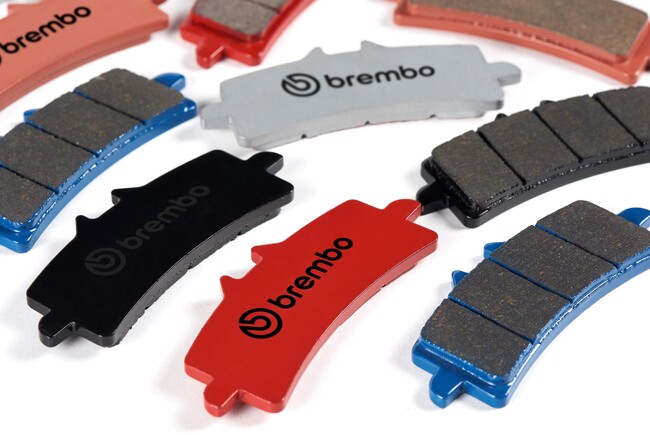 The Brembo GREENANCE pad, whose name derives from "GREEN" and "PERFORMANCE", has the performance that meets the expectations of customers, and at the same time fulfills the desire to contribute to a sustainable environment. increase. Even so, it does not compromise on braking performance, and exhibits braking power equal to or greater than that of conventional compounding materials.
In addition, the Brembo GREENANCE pad is ECE R 90 certified and uses the NUCAP retention system as a gripping technology that bonds the friction material to the back plate and increases heat resistance. In addition to the GREENANCE pads, Brembo also unveiled the new 19RCS CORSA RR-Race Replica master cylinder and improved GP4 MS brake caliper at EICMA.
Machined from billet like the master cylinders used in MotoGP and SBK, the new Brembo 19RCS Corsa Corta RR is as lightweight as possible while still being as race-specific as possible. I'm here. The titanium gray hard anodized aluminum body surface provides excellent wear resistance and greatly reduces friction between moving parts. Compared to the previous model, the 19RCS Corsa Corta RR has a darker and deeper color, making it even closer to the appearance of the Moto2 and Moto3 class models.
[Image 2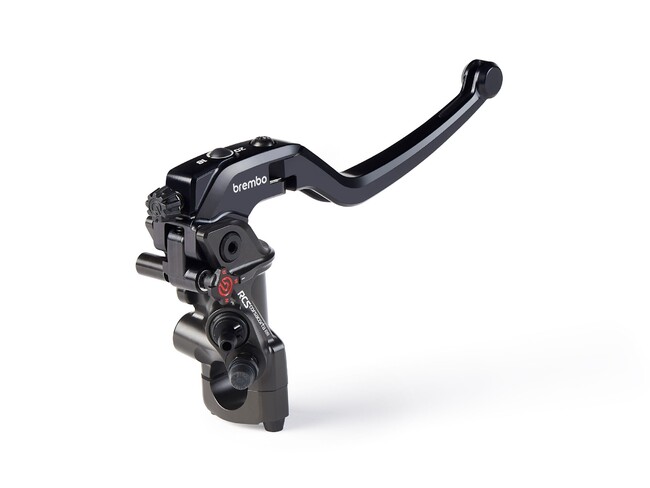 The floating pistons and gaskets use the same components as MotoGP, as do the bleeder bolts and nipples. The bleeder bolt and nipple are tilted more than 30 degrees to the body, making it easier to bleed the master cylinder.
Quickly switch between braking response and bike feel just by changing settings.
[Video 4: https://prtimes.jp/api/movieim.php?url=www.youtube.com/watch?v=kVLMfzFx0Ac]
The third unveiled product is the latest model of the Brembo GP4 series, the modified GP4-MS caliper. It meets the needs of modern motorcycles and the expectations of demanding track enthusiasts. Designed and developed for powerful on-road bikes, the GP4-MS is a circuit-inspired road-legal brake caliper.
[Image 3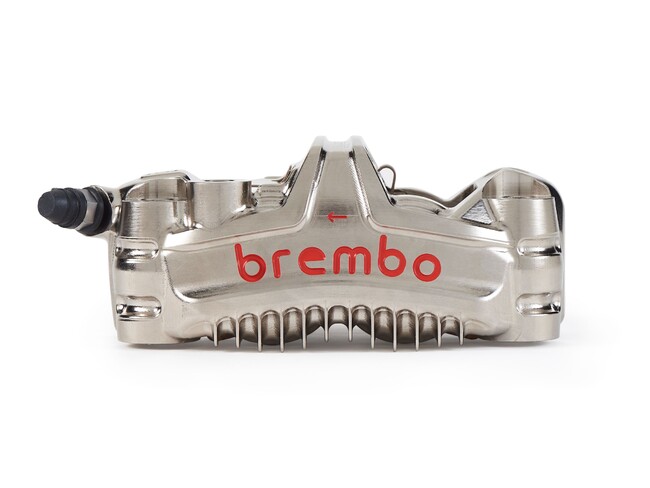 Like the Brembo calipers used by pro riders in MotoGP, the improved GP4-MS is born from a combination of aluminum billet and monobloc design. Compared to cast brake parts, machined aluminum billets allow us to take advantage of the material's properties, exhibiting high stability even in harsh driving environments, and as a result, the overall brake system without compromising durability. performance can be improved.
Due to the popularity of the conventional GP4-MS caliper (mounting pitch 100mm), which is compatible with the standard radial fork used for large European motorcycles, this improved version has a mounting pitch of 108mm for Japanese supersport bikes. joined the
Reinforcing ribs on the front surround the four aluminum pistons, maximizing system rigidity and giving the bike a sense of stability and confidence while riding. One of the features of the Brembo GP4 series is the surface treatment with a nickel coating that
demonstrates its original strength and performance even in high temperature environments.
In particular, the ventilation fins attached to the outside of the body promote heat exchange in the brake system and improve cooling efficiency. The air circulation caused by running, of course, is more important than the air movement caused by the rotation of the brake discs and wheels.
The latest model of Brembo GP4-MS caliper is also aesthetically pleasing with a nickel surface finish, giving it a bright and sleek look while ensuring durability, wear resistance and optimum
performance on the road, without compromise. You can achieve a smooth running.
Click here for the English version of the news for each product. https://www.brembo.com/en/company/news
You can download images and videos here. https://www.mediakit.brembo.com/ About Brembo SpA
Brembo SpA is a world leader and recognized innovator in automotive braking technology. Brembo supplies high-performance braking systems to the world's leading manufacturers of cars, commercial vehicles and motorcycles, as well as clutches and other components for racing. Brembo is also a leader in racing, winning more than 500
championships. Brembo currently has 29 production sites and offices in 15 countries on three continents and employs more than 12,200 people, around 10% of whom are engineers and product specialists working in research and development. Sales in 2021 were €2,777.6 million (31 December 2021). Brembo operates through the Brembo, AP, AP Racing, Breco, Bybre, J.Juan, Marchesini and SBSFriction brands. doing. brembo contacts
Brembo Japan Co., Ltd.
brembo performance
Manager: Yoshihiro Bando
Email: y.bando@brembo.jp
TEL: 03-3726-9185 FAX: 03-3726-7605
Brembo Japan Co., Ltd.
https://www.brembo.com/jp
Details about this release:
https://prtimes.jp/main/html/rd/p/000000028.000083573.html