cars inc.
-Event Report-Exhibition at Messe Nagoya 2022
"AI assessment" x "AI appraisal" powers up the marketing automation tool "cars MANAGER"!

Global Car Life Tech Company cars Co., Ltd. will jointly exhibit at Messe Nagoya 2022, Japan's largest cross-industry exchange exhibition, to be held from November 16 to 18, 2022, together with Toyotsu Automotive Creation Co., Ltd., a member of the Toyota Tsusho Group. did.
About Messe Nagoya
[Image 1

Messe Nagoya is a cross-industrial exchange festival that started in 2006 as a project that inherits the principles of the Aichi Expo (environment, science and technology, and international exchange). This is one of Japan's largest business exhibitions, inviting exhibitors from a wide range of fields and regions, transcending the boundaries of industries and business categories, to expand trade between exhibitors and visitors, to disseminate information, and to promote cross-industry exchanges.
About co-creation exhibition
At this exhibition, we exhibited the concept of the co-creation service of "cars MANAGER", a marketing AI employee in the automobile industry, together with the smartphone inspection application of Inspektlabs, which is handled by Toyotsu Automotive Creation Co., Ltd., a Toyota Tsusho Group company.
[Image 2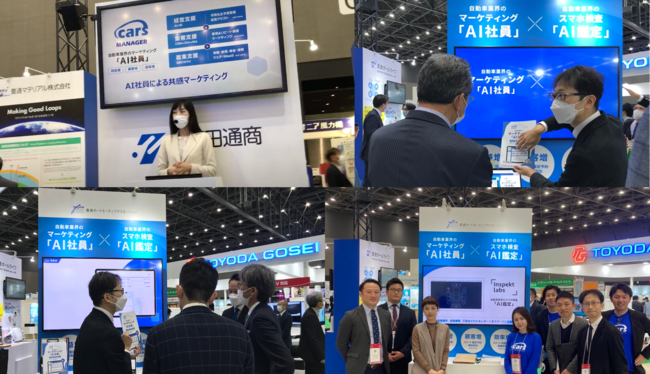 [Video 2: https://prtimes.jp/api/movieim.php?url=www.youtube.com/watch?v=sqm0U54r9sU]
About "cars MANAGER"
This is an empathetic marketing automation service that is close to the car life of customers in the automobile industry. By collecting and analyzing car life data of people and cars using AI, we will utilize it for "management support", "customer attraction support", and "multi-business support", and achieve "profit increase", "customer increase", and "efficiency" through sustainable growth. We are realizing an increase.
[Image 3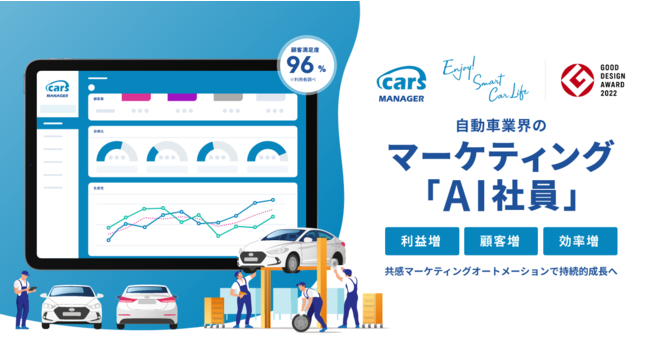 "cars MANAGER" service site
https://cars-enjoy.com/biz/manager/
* "cars MANAGER" is a registered trademark of cars inc.
About cars
cars is a global car life tech service that provides people around the world with an enjoyable and smart car life based on the concept of "Enjoy! Smart Car Life."
[Image 4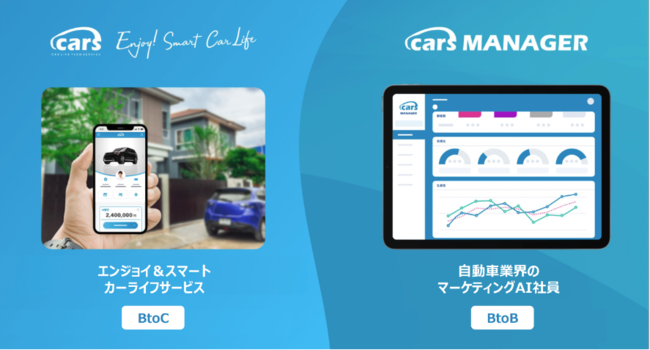 Site URL
https://cars-enjoy.com/
Company Profile
Company name: cars Co., Ltd.
Location: WeWork Shibuya Scramble Square, 2-24-12 Shibuya, Shibuya-ku, Tokyo Founded: 1960
Representative: Takaaki Todo, President and Representative Director Business description: Planning, development, and provision of car life tech services under the global car life tech service "cars" brand URL: https://cars-enjoy.com/corporate/company/
Details about this release:
https://prtimes.jp/main/html/rd/p/000000035.000091408.html