CDG Co., Ltd.
Proprietary development of "IP Trend Compass" that analyzes over 200 IPs such as anime and characters and predicts trends
Created more than 20 original personas of IP fans and analyzed them in combination with IP characteristics and topicality

CDG Co., Ltd. (head office: Kita-ku, Osaka, President: Hideo Konishi, hereinafter referred to as "CDG"), which provides a wide range of marketing solutions, analyzes the characteristics, targets, and trend forecasts of IP (*), and plans for clients. We have developed and started offering an analysis tool "IP Trend Compass" that facilitates proposals.
*IP (Intellectual Property) literally translates to "intellectual property" and refers to various contents such as movies, anime, manga, games, and novels.
[Image 1


CDG is engaged in planning and planning in the marketing area centered on promotion ("IP x digital x real"). There is a track record of collaboration campaigns and commercialization. As a company that is strong in IP, we will quickly propose IP that has an affinity with brands and products to our clients, as well as IP that will become popular in the future. We have developed the IP analysis tool "IP Trend Compass".
Currently, more than 200 IP targets and characteristics are set in the "IP Trend Compass", and we plan and propose optimal collaborations. ■ Main functions of "IP Trend Compass"
1. Label function
Set items such as targets, genres, and features for more than 200 IPs. IPs registered for each item can be narrowed down.
2. Graph function
By combining the popularity index designed by CDG's unique calculation method for each IP with the target sex age, it is possible to compare IPs.
[Image 2


3. IP fan persona classification function
Classify IP fans into 8 categories, and create more than 20 unique personas from there. Analyzing IP trends based on IP fan personas and proposing optimal collaborations.
[Image 3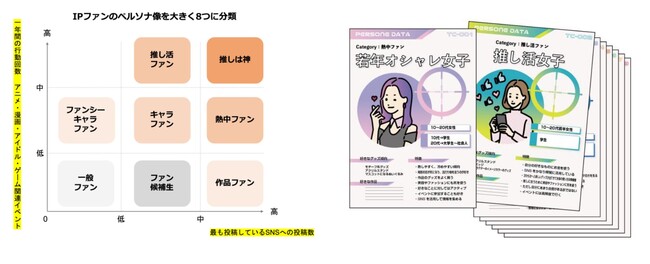 4. Trend prediction function
The number of followers of the IP's official SNS and topicality on SNS are quantified, and a unique "Popularity Index" is created that quantifies the popularity of the IP. By looking at it in combination with the persona image of IP fans, it is possible to understand the current trends and analyze which IPs are popular in each target layer. In the future, we will aim for more precise analysis by combining sales data of merchandise.
Using the IP Trend Compass, we plan collaborations that will please our clients and consumers, and provide them with more fun in their daily lives. We will continue to push forward every day so that we can realize this.
Details about this release:
https://prtimes.jp/main/html/rd/p/000000049.000025413.html