Aurora Alliance Co., Ltd.
[December 16th (Friday)] Aurora Alliance, Information on "Healthcare x How to proceed with new business" free seminar with product examples of human augmentation

As an initiative to accelerate the spread of human augmentation in society, the Aurora Alliance invites digital health experts to hold free seminars on how to proceed with business development in the healthcare field, including product examples of human augmentation. It will be held on Friday, December 16th.
[Image 1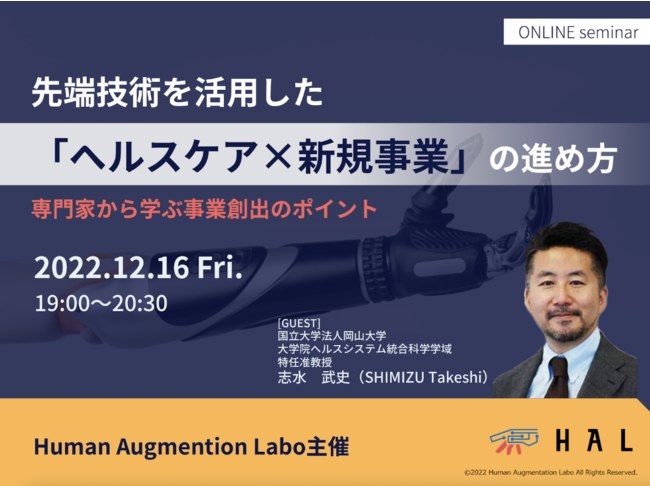 【detail】
The change in the social environment caused by the new coronavirus has become a tailwind, and digital technology has been used
The healthcare business (digital health business) is attracting attention. The global market for digital health is expected to reach
approximately $500 billion by 2025, and the number of new entrants from other industries is steadily increasing. Among those involved in the launch of new businesses and product development, there are probably more than a few people who are interested in creating businesses in the healthcare field.
On the other hand, when challenging a domain other than the company's own business domain, it is often the case that the speed of business creation does not progress as expected because the key points such as rules and customs specific to that domain are unknown.
As we support the development of human augmentation* products that fuse "people" and "technology" and disseminate information, we strongly feel that our knowledge of business development unique to the healthcare field will greatly affect the speed of social
implementation. became. With the aim of supporting the spread of the human augmentation business and the digital health business in society, this time, we will introduce a digital Invite health professionals
I would like to talk about the business development process in the healthcare field.
This seminar is recommended for those who:
・ Those who are considering entering the healthcare field but do not know where to start
・ Those who are worried about new business development and product development using their own technology
・ Those who want to quickly grasp the appearance of business development in the healthcare field
seminar session
1. opening
2. Utilization example of "health care domain x advanced technology" seen from human augmentation products
3. How to build a successful healthcare business
4. Question-and-answer session
Overview of the event
・Date and time: December 16, 2022 (Friday) 19:00-20:30 *End time may vary slightly
・ Participation fee: Free
・Venue: Online (Zoom)
This seminar will be streamed live online. Instructions on how to watch will be provided after you apply.
・ Application: https://human-augmentation.jp/2022/11/20/1590/?utm_source=prtimes&utm_medium=prtimes Guest introduction
Mr. Takeshi Shimizu
Specially Appointed Associate Professor, Graduate School of Integrated Sciences in Health Systems, Okayama University
Presided over the open innovation platform "Okayama Living Lab" Specialty: Healthcare business, management strategy, regional revitalization After working at The Japan Research Institute, Ltd., he assumed his current position in February 2019.
Familiarity with healthcare business measures, such as Ministry of Economy, Trade and Industry's support for the creation of industries that extend healthy life expectancy
About the background of the initiative
The Aurora Alliance publishes news about human augmentation and related technologies on Human Augmentation Labo (HAL), a media specializing in human augmentation. In addition, we have published a white paper summarizing the survey results, and have released two white papers so far.
Introduction to Human Augmentation: The Current Position of
Next-Generation Technologies Unleashing Possibilities
https://human-augmentation.jp/human-augmentation-white-paper-1/?utm_source=prtimes&utm_medium=prtimes ● Human Augmentation Case: A collection of overseas start-up companies in the perceptual field
https://human-augmentation.jp/human-augmentation-white-paper-2/?utm_source=prtimes&utm_medium=prtimes We support the development of products that utilize human augmentation technology by providing information through the media and providing human augmentation solutions, and are promoting the acceleration of social implementation and social dissemination.
About Human Augmentation
Human Augmentation refers to the technology that uses technology to augment or newly acquire the abilities and existence of humans. Human augmentation is categorized into "physical ability", "cognitive ability", "perception", and "existence" according to the application target, and research and development has been promoted in each field.
It has been picked up as an emerging technology trend overseas, and research is being conducted toward its practical application, such as smart contact lenses that expand the human eye and BMI (Brain Machine Interface) that controls the brain. In Japan as well, human
augmentation is being dealt with in the "Moonshot Research and Development System" led by the Cabinet Office, and the interest in this technology is increasing.
About Human Augmentation Lab (HAL)
Since the beginning of 2022, we have been considering activities to spread human augmentation to the world, but we have found that there is no specialized news media and it is difficult to collect
information. . Therefore, we launched our own media, disseminating the latest domestic and international news on human augmentation and our own way of thinking, and launched the "Human Augmentation Labo" to deepen our understanding of human augmentation.
https://human-augmentation.jp/
[Image 2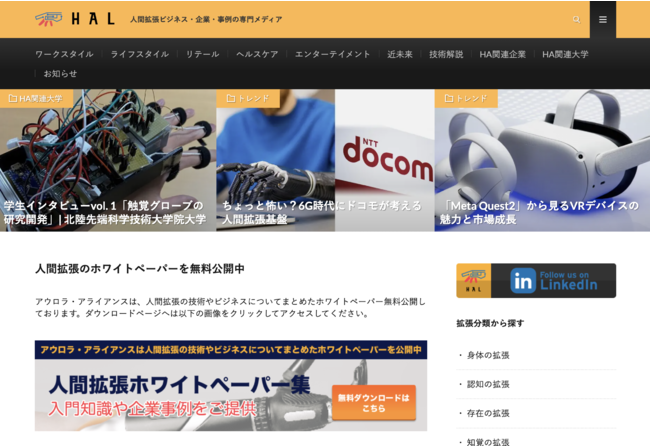 https://www.linkedin.com/company/human-augmentation-labo/
About Aurora Alliance Co., Ltd.
Aurora Alliance Co., Ltd. is working to implement human augmentation technology in society.
For corporate inquiries, please contact us using the form on the following page. https://aurora-alliance.jp/
Details about this release:
https://prtimes.jp/main/html/rd/p/000000006.000101920.html