Dream Produce Co., Ltd.
What is the occupation that matches each child's "current
individuality"? Released a function "Career Ability Report Card" that allows you to understand "Dream Produce" beta version Ver.2.0 (free for the first month!)
You can analyze children from the perspective of "8 non-cognitive abilities" necessary for all occupations! Know your child's current tendencies and aptitudes!

Dream Produce Co., Ltd. (Headquarters: Minato-ku, Tokyo, CEO: Masahito Nakano, hereinafter referred to as Dream Produce Inc.), a career education x EdTech startup, today, November 22, 2022, will deepen various occupations with parents and children. Web service "Dream Produce" that can be used has been upgraded to beta version Ver.2.0. In this version upgrade, we will inform you that the function of "Carrier Ability Report Card" has been added and that it can be used on tablets as well as PCs.
Service site: https://dreamproduce.net/ (Free for the first month!) Dream Produce Inc. is a post-seed start-up company that develops and operates educational tools for children.
[Image 1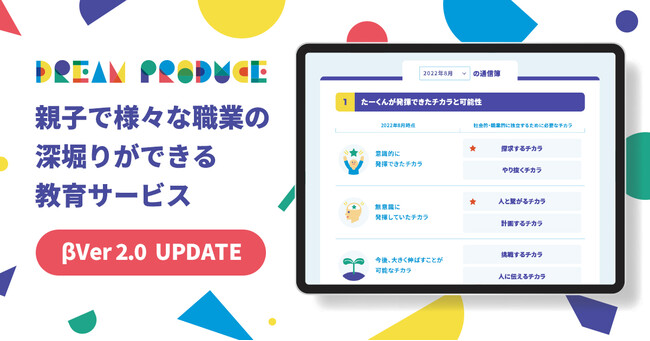 ■ What is Dream Produce's new feature "Career Ability Report Card"? The contents of the child's daily use of "Dream Produce",
Based on monthly parental surveys,
Analysis can be performed from the perspective of "eight non-cognitive abilities" necessary for all occupations, making full use of knowledge of behavioral characteristics, job performance abilities
(competencies), and non-cognitive abilities.
As a result, what is the occupation that matches each child's "current individuality"? can know
In addition, in each occupation that children are interested in, you can see which abilities can be demonstrated in which situation. [Image 2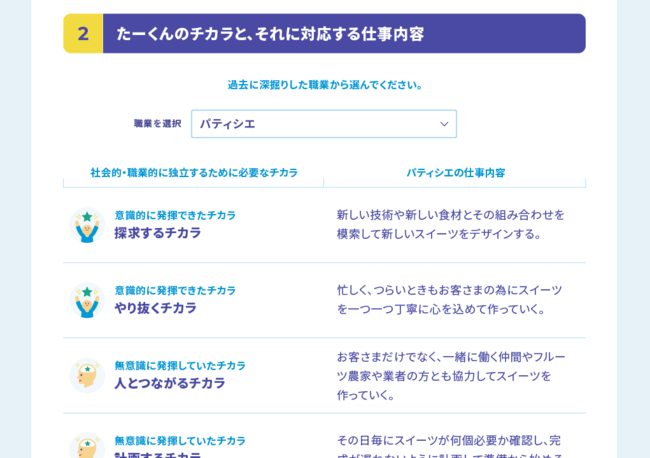 In the "Career Ability Report Card", you can also receive suggestions for activities that can extend each non-cognitive ability of your child.
In the future, as a beta version, we will add more and more
occupations in the service, so you can meet many unknown occupations.
* "8 non-cognitive abilities"
It gives children the strength they need to become socially and professionally independent.
As a beta version, we will continue to update the service while incorporating user requests.
===============
■ What is Dream Produce?
It is a web service that allows parents and children to dig deep into various occupations.
When a child completes an occupational digging, he/she can receive a "digital trading card" for each occupation, and it is a service that allows children to dig deep into various occupations as if they were playing.
Parents and guardians can gain knowledge and connections in various occupations, such as the "Q&A function with Dream Advisors," where parents and children can ask questions to dream advisors who are familiar with each occupation and supervise the contents of Dream Produce. , is a service that helps promote career education for children.
Click here for the release article of the service beta version: https://prtimes.jp/main/html/rd/p/000000001.000110406.html
■ Frequently Asked Questions about Dream Produce
(Q) Is this a paid service? How much is it?
(A) Yes. This is a paid service. Monthly plan is 320 yen / yearly plan is 3,200 yen. First month is free.
(Q)Will the number of occupations that can be dug deeper increase in the future? (A) Yes. The number of occupations and Dream Advisors will continue to increase in the future.
(Q) Will there be more types of digital trading cards?
(A) Yes. The number will increase for each occupation.
(Q) What is the target age?
(A) 10 to 15 years old, 5th grade to junior high school students. (Q)What is the recommended environment?
(A) Recommended browsers are as follows.
PC (Windows)
Google Chrome (latest version)
Microsoft Edge (latest version)
Mac
Safari (latest version)
Google Chrome (latest version)
iPad
Safari (latest version)
Android tablet (partial)
【Company Profile】
Company name: Dream Produce Co., Ltd.
Date of establishment: April 20, 2021
CEO: Masahito Nakano
Location: 2-21-14-505 Azabujuban, Minato-ku, Tokyo
Business: Development and operation of educational tools for children Contact: marketing@dreamproduce.info (Contact: Yoneda, Sato) HP: https://dreamproduce.inc/en/
Service site: https://dreamproduce.net/ (First month free!)
Details about this release:
https://prtimes.jp/main/html/rd/p/000000003.000110406.html