FMI Co., Ltd.
The world's best chef held a cooking class for the purpose of food education with children of motherless families.
Supporting children's "food" and "nutrition" through a network of chefs. Experience making SDGs gelato and pizza under the guidance of a first-class chef.

FMI Co., Ltd. (hereinafter referred to as FMI) supports the social activities of the NPO Little Ones, which conducts livelihood support for single-mother families mainly in Tokyo and raises awareness of child poverty. As an experiment, we jointly held a cooking class on Saturday, November 19th, where chefs teach children how to cook.
[Video 2: https://prtimes.jp/api/movieim.php?url=www.youtube.com/watch?v=btyR8kQoqVo]
Event overview
Together with chef Salvatore Cuomo, the world's number one pizza chef, and Hitoshi Sugiura, executive chef of the ONODERA GROUP group, FMI wanted to do something about food-related problems through food machines. I met the one's koyama representative, and the event was realized.
At this event, children from single-mother families experienced the basics of cooking, delicious food, and a food machine used by professionals.
Date: November 19, 2022 (Sat) 11:00-13:30
Location: FMI head office test kitchen
Organizer: NPO Little Ones
Planning: FMI
Cooperation: Chef Salvatore Cuomo, the world's best pizza chef ONODERA GROUP executive chef Hitoshi Sugiura
[Image 1


・20 pairs of 40 parents and children participated in the cooking experience while learning food knowledge.
On the day of the event, 40 people, 20 pairs of fathers and sons, attended the event, where two chefs gave lectures and cooking experiences, and enjoyed freshly prepared delicious food. A woman who is a parent of a child said, "I was able to have fun while
experiencing something that I would not normally have," "It was a dream-like time," and "Next time, I want to eat spaghetti."
A highly nutritious meal course by Chef Hitoshi Sugiura
While sharing knowledge about food that leads to health, such as the nutritional value of vegetables, we demonstrated and introduced vegetable dishes that can be made quickly and easily at home as "magical quick cooking."
[Image 2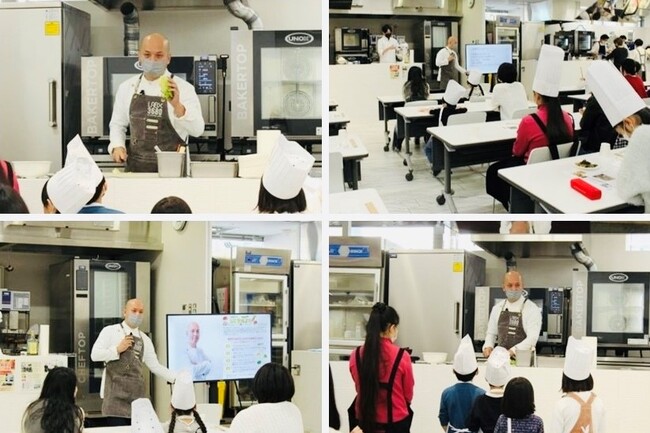 ◆Pizza making demonstration class and cooking experience by chef Salvatore Cuomo The children participated in the topping experience and felt the fun of cooking. The sight of the children enthusiastically eating their own pizza and the voices of "delicious!" resounded throughout the venue.
I was full of smiles.
[Image 3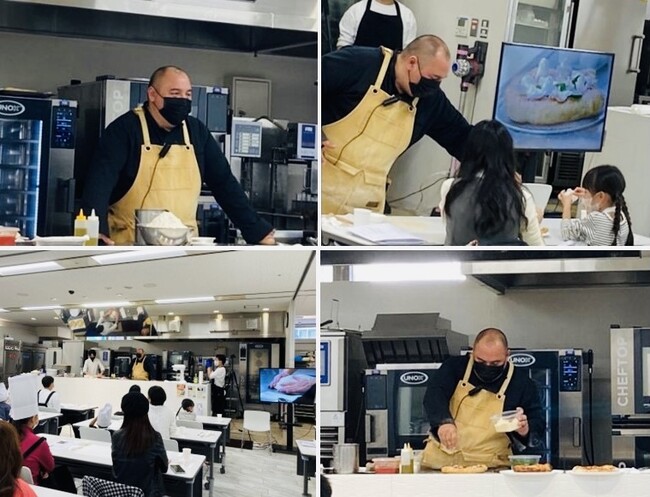 SDGs gelato provided by FMI's corporate gelatière Ogino chef, soft serve ice cream machine experience
Using safe and secure ingredients developed by Chef Salvatore Cuomo, who opened a gelato specialty store in Oita Prefecture, we provided SDGs gelato (*) that is also considerate of health. In addition, children enjoyed eating the "only one soft serve ice cream in the world" that they rolled and topped themselves. Adults were also fascinated.
*SDGs Gelato: Gelato made with non-standard fruits
[Image 4


・ Details of the project Salvatore Cuomo chef is working on to realize a sustainable society:
https://lab3680.com/
・Future activities
All over the world, single-mother households face poverty, and even here in Japan, there are a considerable number of children who have a future (*). We will continue to hold events with the aim of creating opportunities and mechanisms for them (the next event is scheduled for spring 2023).
* About 10,000 out of about 20,000 single-mother households are living in poverty. According to a survey by the Ministry of Health, Labor and Welfare, one in six children are in financial difficulties, and half of them are single-mother households.
・Voices of participants
"Even after I got home, I kept saying, 'Today was fun,' until I went to sleep." "It was the first time for me to go to such a cooking class, and it was a very valuable experience for my children."
"I learned for the first time that pizza can be fried!"
"Maybe he liked the cook hat so much that he wore it on the way home." ・Inquiries regarding this matter
FMI Co., Ltd.
Person in charge: Marketing Group Kondo (Ishibashi)
Email: info@fmi.co.jp
NPO Little Ones
E-MAIL: info@npolittleones.com
*It will be smoother if you contact us with questions by e-mail.
Details about this release:
https://prtimes.jp/main/html/rd/p/000000005.000009675.html