Five Group Co., Ltd.
From Good Meat Day to Christmas! At the steak house "Steak Lodge", you can eat a lot and enjoy a healthy treat "Chicken Steak" 1.5 times free campaign!

Five Group Co., Ltd. (Musashino City, Tokyo: President Kenji Sakamoto), an affiliated company of B-kyu Gourmet Institute Co., Ltd. (Headquarters: Musashino City, Tokyo, President: Kenji Sakamoto), operates a steak house " Steak Lodge", commemorating "Good Meat Day" on November 29, 2022 (Tuesday), during the period until December 25 (Sunday), the popular menu "Domestic Chicken Steak" will be served at no additional charge. We will carry out a campaign to increase the amount by 1.5 times.
[Image 1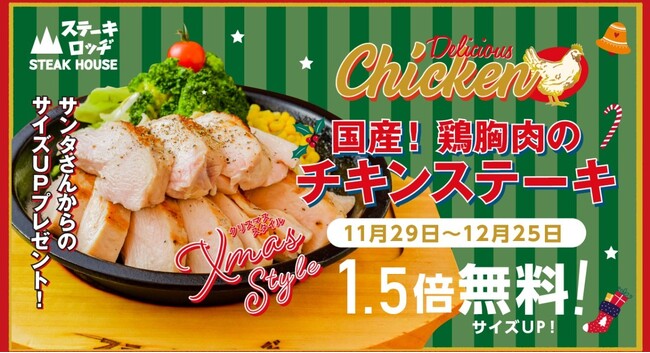 Enjoy plenty of "good meat day" with "chicken steak" where you can enjoy the Christmas mood!
Speaking of "good meat day", of course steak! On the other hand, the city is gradually turning into Christmas colors. At "Steak Lodge", we have prepared a "1.5 times free chicken steak campaign" where you can enjoy "domestic chicken steak" that is perfect for the beginning of winter. 1.5 times the amount of meat for the usual price! Please enjoy this opportunity to the fullest.
[Image 2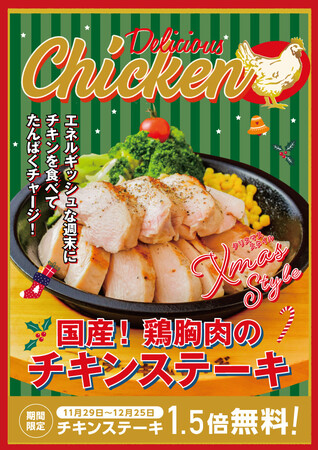 Healthy even if you eat a lot! Surprisingly moist and soft!
"Domestic chicken steak" is cooked at a low temperature to increase the moistness of domestic chicken breast meat, and is baked to a plump mouthfeel. Despite being high in protein and low in fat, this feast menu worthy of the name "steak" has always been one of the most popular dishes since its launch.
Because it is 1.5 times the amount, the fun of changing the taste is doubled! With more than usual "chicken steak", we would like you to try the special seasonings of "Steak Lodge". The most recommended is the "homemade powder of beer yeast" to bring out the flavor of the meat. Add accents with salt and pepper or smoked salt and pepper, soy sauce, and wasabi. At the end, with the firm taste of the homemade sauce. Chicken breast meat with a simple taste can be enjoyed in infinite ways depending on the seasoning. Please enjoy the taste change at this opportunity!
Good Meat Day, Christmas, and other events are happening now. Why don't you eat it properly and get both deliciousness and body make-up!
[Image 3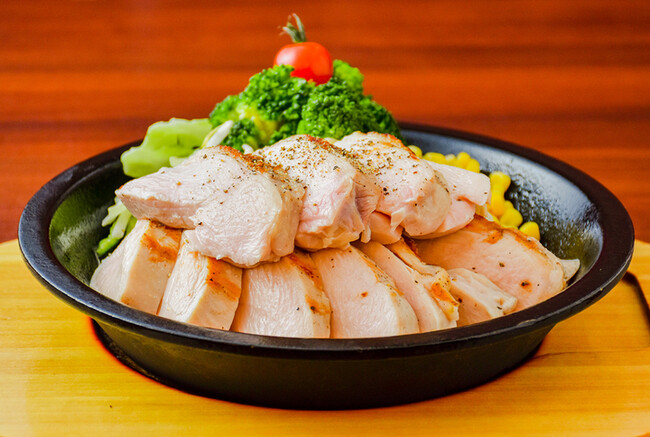 "Good meat day" campaign "chicken steak" 1.5 times free!
■ Period November 29th (Tuesday) to December 25th (Sunday)
■ Eligible stores: All Steak Lodge stores (Shibuya Udagawa store, Ikebukuro store, Ichikawa store)
■Price 250g → 375g 1,078 yen (tax included)
350g→525g 1,397 yen (tax included)
450g→675g 1,826 yen (tax included)
What is "Steak Lodge"?
If you look out from inside the mountain lodge-style store, the people coming and going in the city will be as if they were busy climbing a steep mountain. "Steak Lodge" was born with such a scenery in front of us, where we want you to heal your fatigue and recharge your daily energy in a warm space with a thick-sliced ​​rare steak that is particular about quality. Carefully selected meat from all over the world is kept at a low temperature without being frozen even once. We value the original flavor of the meat, and we are particular about the thickness and the degree of grilling.
"Steak Lodge" was born in Dogenzaka, Shibuya in September 2018. Opened in Ikebukuro in 2020, Ichikawa, Chiba Prefecture in 2021, and opened the Shibuya Udagawa store in January 2022. In the middle of the city, it is supported by people of all ages as a full-fledged steakhouse where you can always enjoy delicious meat at a reasonable price. https://steaklodge.studio.site/
Store overview
Steak Lodge (Shibuya Udagawa location)
Address: World Udagawa Building 1F, 36-6 Udagawacho, Shibuya-ku, Tokyo TEL: 03-6455-1729
Business hours: 11:00 to 7:00 (L.O. 6:30)
Steak Lodge (Ikebukuro location)
Address: Kubota Building 1F, 1-18-22 Minamiikebukuro, Toshima-ku, Tokyo TEL: 03-6709-0337
Business hours: 11:00 to 6:00 (L.O. 5:30)
Steak Lodge (Ichikawa location)
Address: 1-1-1 Ichikawa, Ichikawa City, Chiba Prefecture 02 Section Shapo Ichikawa A
TEL: 047-316-0029
Business hours: Weekdays 11:00-22:30 (L.O.22:00)
    Sundays and holidays 11:00-22:00 (L.O.21:30)
*Business hours may change depending on the situation.