FUGU INNOVATIONS JAPAN Co., Ltd.
Rakuten "Show !t" points 10 times! BLACK FRIDAY SALE held. At 20:00 on November 22nd, 4 types of security cameras, including an owl-shaped camera that can be installed anywhere with a special stand that does not require wiring, will be sold at 10% off.
[URL] https://item.rakuten.co.jp/show-it/c/0000000003/

Rakuten Ichiba "Show!t" will hold a BLACK FRIDAY SALE on January 22nd (Tuesday) from 20:00, and will sell 4 types of security cameras at a 10% OFF sale. In addition, a maximum of 10 times the points will be given (excluding some products), and you will participate in the Rakuten Shopping Marathon, which will be held from 20:00 on November 22nd (Tuesday) to 01:59 on November 27th (Sunday). To do. The owl-shaped security camera can be mounted on a wall and can be easily installed anywhere with a dedicated stand. It is convenient for watching over children's rooms and pets while out and about, as it allows two-way communication. It is also recommended for bulk purchases to install in multiple rooms.
[Image 1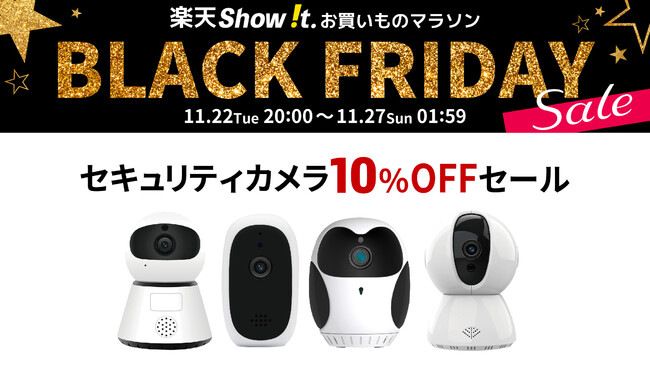 No wiring required! Wi-Fi camera with built-in owl-shaped battery FG-SCAM04-WH                       [Limited quantity] Sale price 7,180 yen (tax included) ← Regular price 7,980 yen (regular price) [URL] https://item.rakuten.co.jp/show-it/v_4571574634039/
[Image 2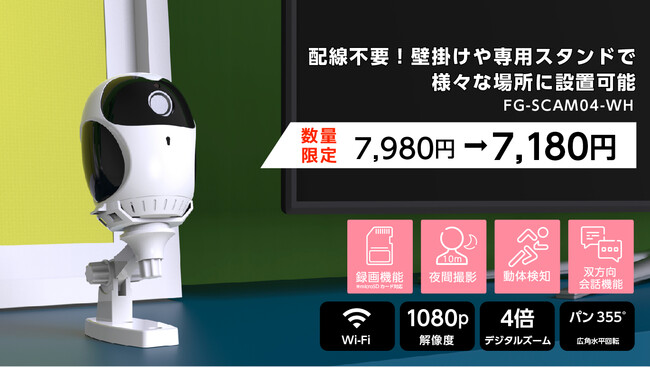 ・HD resolution makes it look clearer
・Remote confirmation anytime, anywhere with a mobile app
・Built-in 1200mAh battery keeps working even in an emergency ・355° wide-angle horizontal rotation with no blind spots
・Both sides can talk
・It supports infrared night vision and supports night photography. Easy connection for those who are not confident in Wi-Fi settings                           Wired/wireless LAN connection Small network camera FG-SCAM03-3-WH               [Limited quantity] Sale price 4,480 yen (tax included) ←Regular price 4,980 yen (tax included) [URL] https://item.rakuten.co.jp/show-it/v_4589490370771/
[Image 3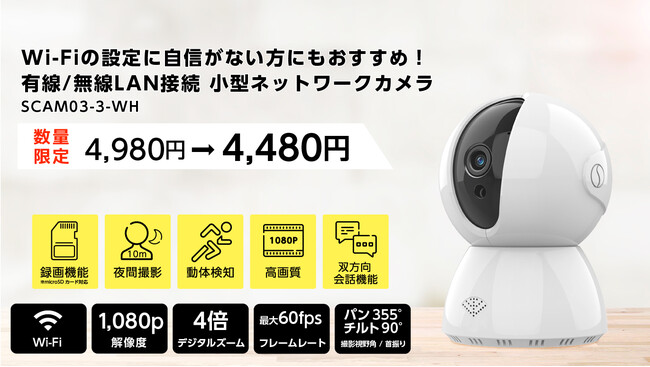 ・You can easily operate the smartphone app and check the state of your home from outside!
・Motion/audio detection & alarm notification
・ You can save a lot of videos with microSD support
・Equipped with two-way conversation function
・1080p high resolution
You can check the entire room from your smartphone in any direction you want to see up, down, left, or right
Small network camera FG-SCAM03-2-WH
[URL] https://item.rakuten.co.jp/show-it/v_40167336673438/
[Image 4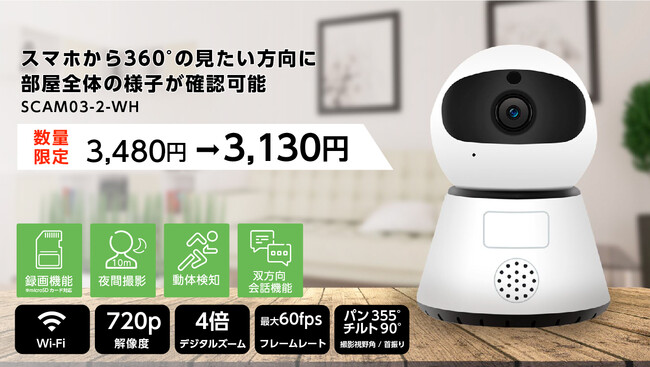 ・ You can easily operate the smartphone app and check your home from outside! ・ Motion/audio detection & alarm notification
・ You can save a lot of videos with microSD support
・ Equipped with two-way conversation function
・ 720p high resolution
It is safe to be able to watch the state of your home from outside! Wireless LAN connection Small network camera FG-SCAM03-1-WH [Limited quantity] Sale price 2,680 yen (tax included) → Regular price 2,980 yen (tax included)
[URL] https://item.rakuten.co.jp/show-it/v_40167336640670/
[Image 5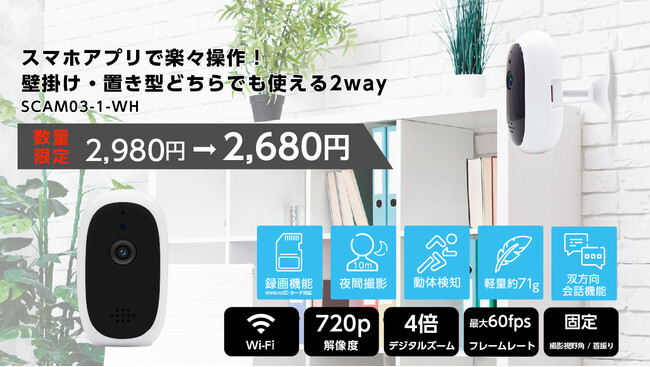 ・You can easily operate the smartphone app and check the state of your home from outside!
・ Motion/audio detection & alarm notification
・ 2-way type that can be used for both wall-mounted and standing type ・ You can save a lot of videos with microSD support
・ Equipped with two-way conversation function
・ Mounting angle can be adjusted up and down 130°
Details about this release:
https://prtimes.jp/main/html/rd/p/000000298.000047737.html