Fuso Co., Ltd.
[Sold out on the same day as Bungu Joshihaku Online with diary!!] All 10 types of "Paper-only transfer stickers" that can be pasted just by rubbing Pre-sale at Stationery Joshihaku 2022! !
It looks like it was originally printed. Transfer sticker for paper "irodo" JOURNAL STICKER

Fuso Co., Ltd. (Headquarters: Katsushika-ku, Tokyo / Representative Director: Shigeaki Tomita) has released a paper-only transfer sticker "irodo" (JOURNAL STICKER) that realizes a paper-like finish that looks like it was printed.・ Holiday) Pre-sale will be on Sunday, November 27, 2022.
[Image 1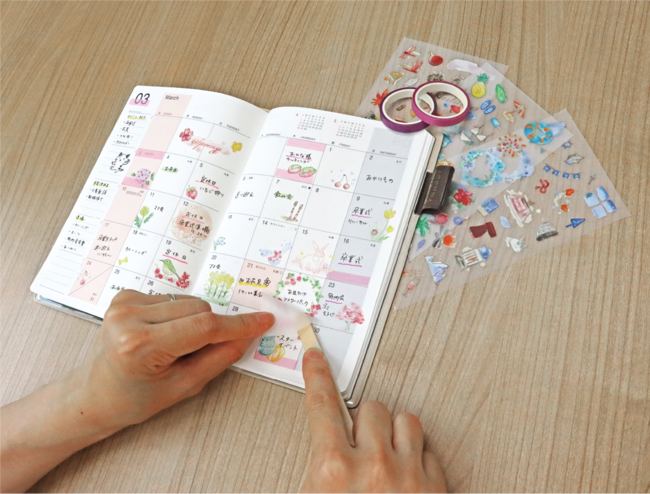 Journal decoration (spring)
Development background
We have received many comments such as the following during the development of the cloth transfer sticker brand "irodo".
In general, transfer stickers that can be pasted on paper are designed so that only the design remains on the pasted side by sticking the sticker and rubbing it from above with a hard stick, etc. There were a certain number of people who couldn't put it on.
In addition, if the sticker is thick when pasted on paper, there will be a difference in design when writing letters or illustrations with a pen from the top or back of the sticker, which impairs the design. There are many dissatisfactions, and users who are particular about it want "stickers that can be applied easily and blend well with paper". In response to this request, we have developed a paper-only transfer sticker.
[Image 2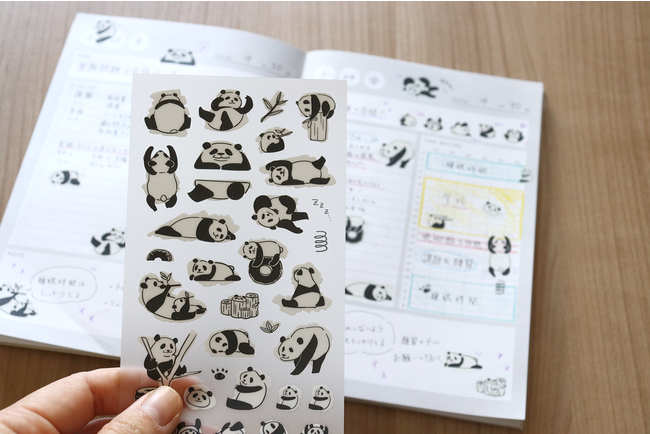 [Image 3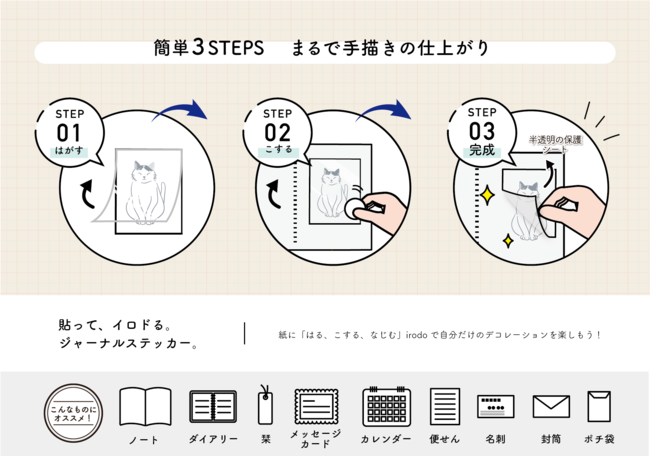 *In fact, when test sales were conducted at the Online Stationery Women's Expo 2022 with Diary held in August 2022, the number of sets planned for the first day of the exhibition was sold out.
About the lineup
A lineup of all 10 patterns including "cat" and "panda" that are perfect for diaries and notebook deco! !
You can make your schedule book gorgeous with the popular animal patterns "cat" and "panda", including the designs that feel the four seasons, "spring", "summer", "autumn", and "winter", or just stick them on ring notes and message cards.
[Image 4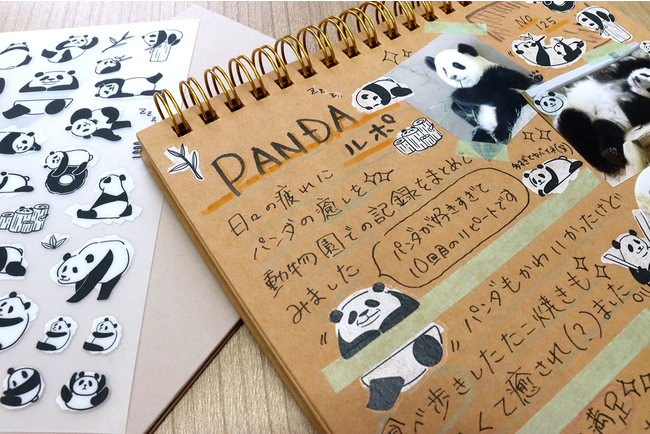 Ring notebook decoration (panda)
[Image 5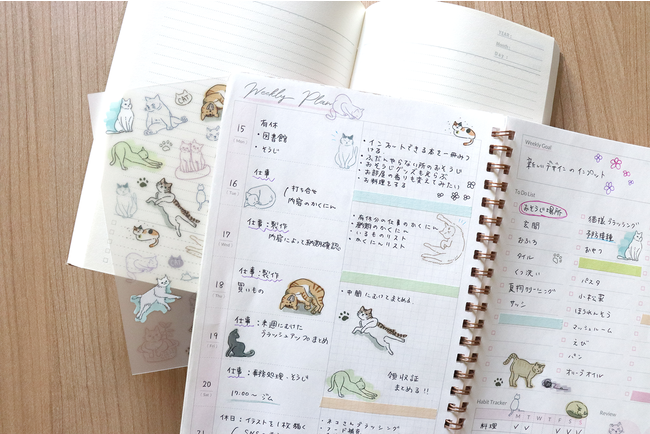 Diary decoration (cat)
[Image 6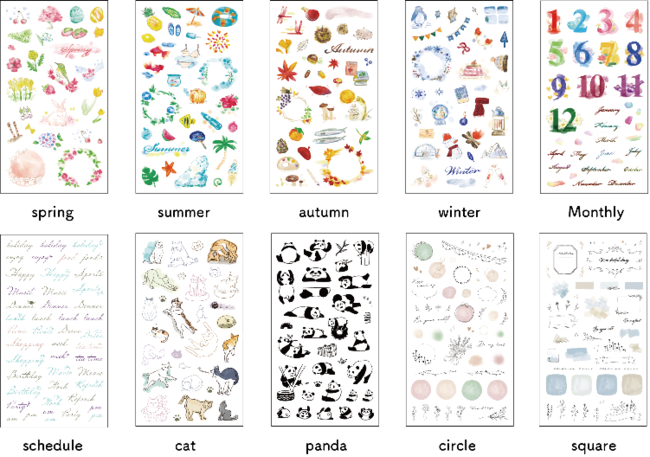 Paper-only transfer stickers line-up of 10 types
Product Summary
・Brand name: irodo journal sticker
・ Release date: Sunday, December 18, 2022
・Types: 10 patterns in total
・Price: 300 yen (excluding tax) 330 yen (including tax)
・Size: 148×85mm
・Material / Thickness: Polyurethane
・Production area: Katsushika Ward, Tokyo
・Store: EC: BASE, Amazon, etc.
・ Official website: https://irodo.tokyo/
About Fuso
● Fuso Co., Ltd.
Fuso was founded in 1964 in Katsushika Ward, downtown Tokyo. We have been specializing in the development and manufacture of transfer stickers, making use of our special transfer technology cultivated through half a century of experience. In 2016, the special transfer technology was recognized by Katsushika Ward, and the "magnificence" of the selected products and parts produced from the town factory in Katsushika Ward was named "Katsushika Brand" Katsushika Town Factory (Machikoba). ) Monogatari" was certified as a certified product. (Certification No.2802)
[Image 7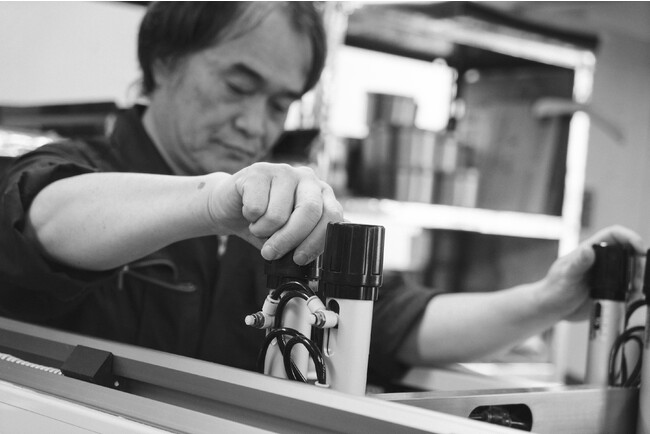 In addition, after winning the Grand Prize at the Tokyo Business Design Award 2017, we developed our first BtoC product product "irodo" and started exporting it not only to Japan but also to Taiwan, South Korea, Thailand, etc. and is in the process of being rolled out worldwide.
Event overview
[Image 8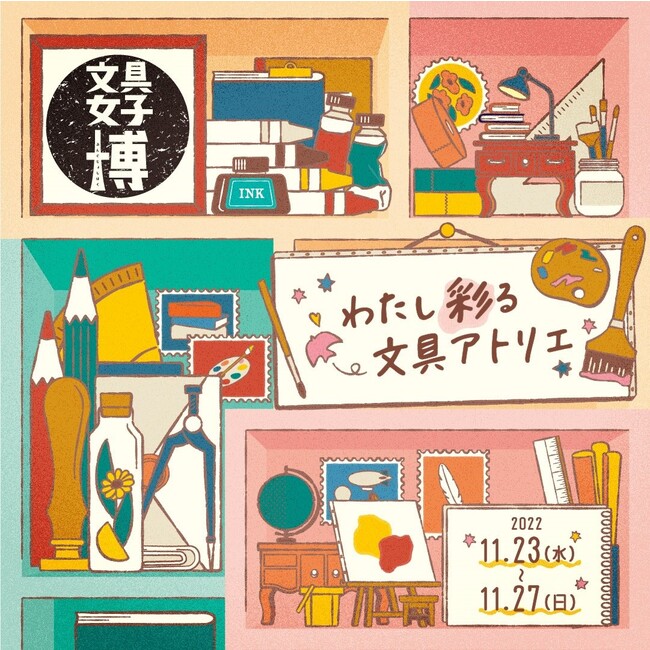 ★This product can be viewed at the following events. ★
This time, at Tokyo Ryutsu Center First Exhibition Hall A-D
It will be held from November 23 (Wednesday) to 27 (Sunday), 2022 We will exhibit at "Stationery Women's Expo 2022".
As well as product samples,
We also plan to set up a corner where you can actually experience trial pasting on the spot.
Please see below for details.
[Exhibition details]
Event name: Stationery Women's Expo 2022
(Organizer: Stationery Women's Expo Executive Committee)
Date: November 23 (Wednesday) to 27 (Sunday), 2022
November 23 (Wednesday/holiday) to 27 (Sunday), 2022
November 23, 2022 (Wednesday/holiday)
1.14:00-16:30 (Last entry 16:00) [Premium time]
2.17:00-19:30 (Last entry 19:00) [Premium time]
November 24th (Thursday) to 27th (Sunday), 2022
10:00-17:00 (Last entry 16:30)
Venue: Tokyo Ryutsu Center First Exhibition Hall A-D Halls
6-1-1 Heiwajima, Ota-ku, Tokyo
Exhibition booth: No. 52
Exhibition contents:
・ Venue pre-sale products
・Transfer sticker for paper
・Full lineup of irodo ・Limited colors ・Character collaboration designs (approximately 200 types)
・Try pasting experience corner
Exhibitor product search site
https://bungujoshi.com/stationery/irodo-11/
At the venue, we set up an experience corner for paper transfer stickers. We will present a novelty to customers who have experienced it.
Details about this release:
https://prtimes.jp/main/html/rd/p/000000013.000031933.html