Hana Cupid Co., Ltd.
Mai Shinnai and Hana Cupid support your 〇〇 anniversary!
Follow & retweet to get 100 Amazon gift cards, W chance to introduce an episode from Mr. Shinnai in a video and receive flowers

Hana Cupid Co., Ltd. (Location: Shinagawa-ku, Tokyo, Representative Director: Noboru Yoshikawa) will hold a collaboration project with Mai Shinuchi, who currently belongs to Cent Force at Motonogizaka 46, from November 21st (Monday). .
As the first project, if you follow and retweet the Hana Cupid official Twitter account during the period from November 21st to December 1st, you will receive an Amazon gift card for 100 people. Mai will select three episodes and introduce them on the official Hana Cupid YouTube channel. Those who are introduced will also receive flowers selected by Mai Shinnai at a later date.
This campaign is not only for special days such as "birthdays" and "wedding anniversaries" that occur only a few times a year, but also for finding and celebrating anniversaries in everyday life. I planned it because I wanted to have it. Mai Shinnai and Hana Cupid will support the anniversary of everyone who is working hard with flowers.
[Image 1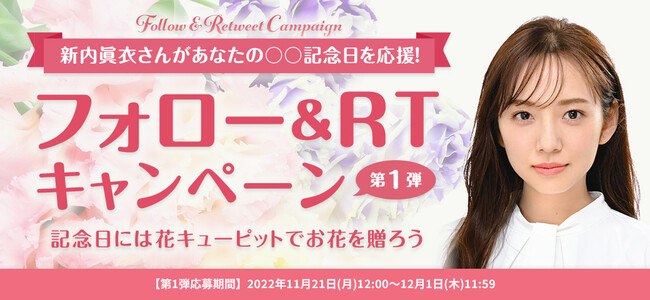 "Mai Shinnai supports your XX anniversary follow & RT campaign" first
[Video 2: https://prtimes.jp/api/movieim.php?url=www.youtube.com/watch?v=F4C5nv49qLQ]
Follow the official Hana Cupid Twitter account
(https://twitter.com/i8791) and retweet the specified post, and 100 people will receive an Amazon gift card worth 500 yen by lottery. In addition, three people selected by Mai Shinnai as a W chance will introduce an anniversary episode on the Hana Cupid official YouTube channel (https://www.youtube.com/c/I879com), and Mr. Shinnai I will give you the flowers of your choice.
【Application method】
1. Follow the official Hana Cupid Twitter account (https://twitter.com/i8791) 2. Retweet the campaign post on the Hana Cupid official Twitter account [W chance application method]
After following and retweeting, comment on the campaign post with an episode of "Good luck anniversary"
【Application period】
November 21, 2022 (Monday) 12:00 to December 1, 2022 (Thursday) 11:59 【prize】
・Amazon gift card worth 500 yen for 100 people
・Flower gift selected by Mai Shinnai for 3 people
Please check the campaign page (https://www.i879.com/campaign/c07/) for details. Mai Shinnai introduces your "anniversary that worked hard" on YouTube Hana Cupid official channel
Mai Shinuchi will select three episodes from the "Good luck
anniversary" that you applied for in the first campaign W chance and introduce them on the YouTube Hana Cupid official channel. In addition, Mai Shinnai will announce her own "anniversary of working hard".
In the second installment, we plan to hold a campaign where you can win a "3,000 yen flower gift coupon" by following & RT. You can also win the original "Shinnai-san signed support postcard" for this campaign with a double chance.
Earth-friendly flower gift Hana Cupid for SDGs
[Image 2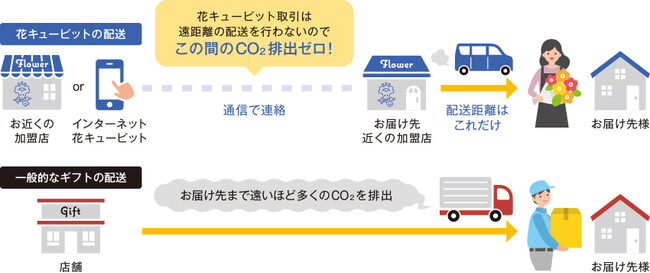 "Hana Cupid" is a service that is delivered directly by a flower shop near the destination.
Since the product is delivered from a member store near the
destination without long-distance delivery, it contributes to the reduction of CO2 emissions for the distance that was not delivered. In addition, the use of packaging materials such as cardboard is minimized, leading to environmental protection.
In the most recent year (April 2021-March 2022), the Hana Cupid Group as a whole (in Japan) reduced emissions by approximately 160 tons* when converted to CO2.
*The straight distance from the ordering store to the delivery store is calculated (period from April 2021 to March 2022). In addition, assuming that the distance was transported by a 10-ton diesel truck, calculations were made using the improved ton-kilometer method. (Supervision: Dr. Masahiro Nishio, Doctor of Engineering, National Institute of Advanced Industrial Science and Technology, Innovation Coordinator, Energy and Environment Zero Emission Research Strategy Department)
■ Future prospects
At Hana Cupid Co., Ltd., we will continue activities to enlighten the new flower-giving culture through various campaigns under the slogan "Gifts that make you smile beyond that".
■ Profile of Mai Shinnai
[Image 3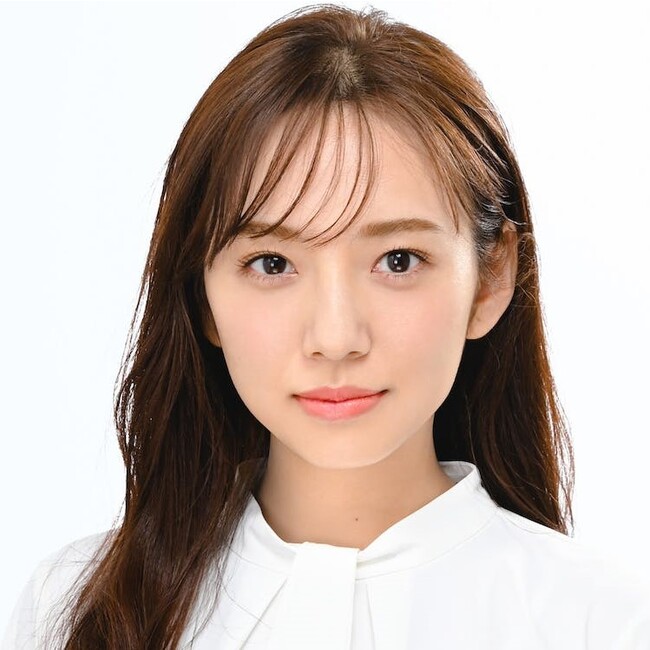 Born January 22, 1992. Born in Saitama prefecture. In March 2013, passed Nogizaka46 as a 2nd generation student. After working concurrently as an office lady at an affiliated company of Nippon Broadcasting, she became the main personality of "Nogizaka46's All Night Nippon". Graduated from Nogizaka46 in February 2022. Currently, he is an assistant MC on Nippon Broadcasting System's "Akiyuki Tsuchida Sunday Navel" and TV Asahi's "Bakumon x Hakuyama's Sashimi Rule!" Even after graduating, he has appeared on stage, including the 13th anniversary special performance "New Atami Murder Case Last Spring".
■ Hana Cupid Co., Ltd.
Representative: Representative Director Noboru Yoshikawa
Location: 4-11-9 Kitashinagawa, Shinagawa-ku, Tokyo Japan Flower Hall 2F Main business: Communication delivery order business for fresh flowers under the Hanacupid brand / flower material supply business / retail support business
URL: https://www.hana-cupid.co.jp/
Details about this release:
https://prtimes.jp/main/html/rd/p/000000060.000017925.html